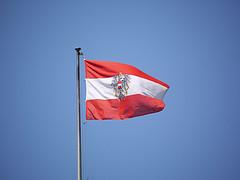 photo : Alexander Kirk
October 26th is an important date in the Austrian calendar. It's known as Nationalfeirtag- a national holiday to celebrate neutrality.
The Declaration of Neutrality
After a tumultuous period in Austrian history when first the German's annexed it during the Anschluß then the Allied Forces fought their way in, on October 26th 1955 the Federal Republic of Austria saw its second rising to independent power. The day before (25.10.55) the last of the American, British, French and Russian Forces had left the country and the Declaration of Neutrality was signed, marking a new start to the Austrian identity.
Neutrality basically means that if any belligerents –  countries that want to pick a fight with somewhere else – try to use Austria as a route through to the place they're picking on, the Austrians can oust them. Austria is a sovereign state that will remain neutral in any future war. Its people can't be recruited to fight for others and it won't provide munition power to anyone.
There are other neutral states, like Ireland , Switzerland and formerly Sweden, but none have a special standing like Austrian neutrality. It's part of what makes Austrians Austrian. They celebrate it with style.
Nationalfeirtag Celebrations
In towns and cities, Nationalfiertag is another day to bring out the bunting. The length and breadth of the land, red and white flags flutter in the alpine autumn air. There are televised events in Vienna. These include:
a Mass held at the Heldenplatz attended by the Federal President
the laying of a wreath on the tomb of the the unknown soldier at the Crypt of Outer Burgtor
a concert at the Vienna Staatsoper attended by the Government
and the swearing in of new recruits to the Austrian Armed Services.
The
Austrian Ambassador in Islamabad
has already hosted his country's celebration of National Neutrality in traditional style with a menu of gastronomic delights for his guests. And in Vietnam they're having a bit of a sing-song to celebrate. As these Austrians bask in the sun, you really should know that there's snow in Austria for their 26th October celebrations!
And for the other Austrians not involved in these ceremonial services, there's free access to federal museums; parades around the country; and private parties with fun and frolics.
But best of all (she says with tongue firmly stuck in cheek) there are many marches for fitness – presumably to stop them getting fat!  

Chalet Lowonahill is an all-season, rustic style  holiday home in Styria. It's the ideal place for you to discover the delights of the 9 provinces of Austria. To find out more, simply click here.