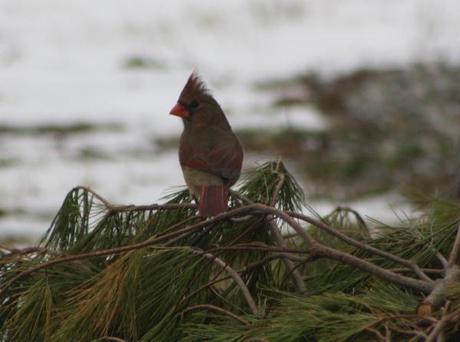 female Northern Cardinal in my yard on 1/16/2012
As I started out the new year, I was hoping to beat my year list of 340 species from last year. I received some news last week that due to budget cuts, my position as a Seasonal Field Biologist in Florida was no longer available. Now, I am going to try and beat my Pennsylvania state list from last year, which was 219 species. So far I have observed 63 species in Pennsylvania, but have not had a new bird since January 10. I have entered 66 eBird checklists so far this year. Nate's year list is up to 77 species.
We are really looking forward to waterfowl migration in the upcoming months and then passerine migration afterwards! There are a few events that can keep you looking for birds in the foul weather that January and February can bring your way. Among these are the Great Backyard Bird Count and Winter Raptor Surveys.
How are your year lists doing so far? Have you been reaching your 20 bird minimum daily requirement and entering at least one checklist into eBird for each day?
In the meantime check out some of the blogs in our blogroll. There have been awesome posts by many in the bird world since the new year.