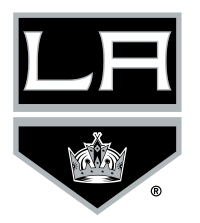 Way back in 1993 when I was only 14 years old, I remember sitting on the edge of my bed watching intensly as the
Los Angeles Kings
faced off against the Toronto Maple Leafs in the Conference finals that year. My room was decked with black and white propaganda; jerseys, towels, clocks and whatever else Kings related I could display proudly. LA made it past the Leafs that year, only to lose in the finals vs the Montreal Canadians. Since then, LA has never made it past the 2nd round of the post season and have in fact spent many a year not even making it to 'the dance'. Well, fortunes seemed to have shifted for my beloved Kings, and for the first time since that year they have now made it to the 2nd last round of the yearly championship.
If you had of asked me at the end of last season, you would have heard me talking about how the Kings were going to win it all next year. Now to be fair, I've said that same thing every year in and endless blind faith, but last year was different. I knew they had a solid team and I felt strongly that they were on the cusp of something special. If you had of asked me that same question in the middle of this season however, I don't think I would have been so gung ho on the idea. They had a miserable start to the season barley winning any games and many questions were being posed around the league about what was going wrong. I don't think I ever fully lost faith in the team though. Being that positive person I try to be, I always remained hopeful and the fact of the matter is, if you actually watched the team play you would have noticed that they were doing everything right... well, everything besides scoring that is. Half way through the season you would have heard me saying "If they could only find the scoring, they'd be a very dangerous team". Well, it seems that I was right and they found that scoring at the perfect time.
Los Angeles has been in playoff mode for months now in fact. After replacing Terry Murray with Darryl Sutter as the head coach mid way through the season, and picking up a tremendous player in Jeff Carter around that same time, LA surged to have the second best record in the
NHL
in the last 20 games. They fought very hard and through that determination, they squeaked into the Playoffs by landing in the 8th and final spot of the Western Conference. Time tells us that last place was perfect for this team as it appears that just making it was enough.
In the first round, LA faced the Vancouver Canucks who happen to be the team that eliminated LA two years ago in the first round of that years championship. LA had a chance for redemption this year and they certainly did do some redeeming. After suffering only one loss in that series, LA eliminated Vancouver in just five games, sending the President Trophy winners home packing. No doubt it was a tough loss for the Canucks who were early favorites to take home the prize in 2012. That one loss in the first round ended up being LA's only loss so far in the Playoffs as they found ways to win 4 games back to back against their next foe; the St. Louis Blues. St. Louis finished the season 2nd overall in the West, and like the Canucks were favorites to go very deep. LA again proved to be the better team and swept them off to the golf course, or whichever other venue the Blues team spends their summer. The Kings were so commanding in their victory over the Canucks and the Blues that they are now considered the number one team to beat in this years Playoff run. This is a feat that no analysis expected when this post season began, but it is certainly a feat I'm welcoming with open arms.
The team will now face the Phoenix Coyotes in the Western Conference finals, a series which will begin this week sometime. This is LA's 2nd ever time in the conference finals in franchise history, but it also the first time in franchise history that the 'Yotes' will be there. Both teams will no doubt be hungry to move on and both teams are packed with incredible goaltending at the moment (not to mention some fierce battling from the entirety of both teams to get the job done). There is no doubt in my mind that this series will be a hard fought battle, but being that positive person I am, I can't see LA losing. In my heart of hearts, I do see them playing in the finals. I don't know who with, but I foresee it happening and to go a step beyond, I see them winning that match up as well. Yes, for the first time ever, I truly believe that my yearly prediction of LA winning the cup will finally come true. I truly do.
No matter what though, I kind of feel like I'm 14 again riding along with the teams success, hoping a dreaming that their hopes and dreams come true. It's been an extremely long time since my favorite team has lasted anywhere near this long into the spring and I'm certainly eating up every single moment of it.  I may even have to break out all that Kings paraphernalia as I continue down this ride with them. With or without all that gear posted proudly throughout my dwelling though, I certainly will be cheering loudly as they continue down their destined path.
Go Kings Go!