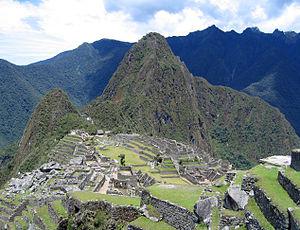 Image via Wikipedia
It's really an inspiration to those who language learners who seem to have uncertainties with their learning when they find out that there are young learners who stepped out from their doubts and learn their target language excellently. For someone who is foreign with all the things around her, especially the culture and the language, it would require great adjustments. But good for that learner, she stepped out from such hindrances and get to learn and comprehend the unfamiliar culture.
Just as this young lady, at the age of 11, did not only learn the language she is staying now, but also dared to let others learn her own language as well.
Posted by The Telegraph on its daily article post, St. Mary's Middle School welcomed Ariana Espinosa, an exchange student from Peru who did not only took time to learn English abroad but also allow the people around her to learn her language as well.
Native from the lands of Peru, she is basically fluent with Spanish language. Yet, because of her willingness and bold attitude, she was able to practice independence upon herself in her young age and get to know English more. She didn't really get an intensive training just to learn English at language school. She was already familiar with the idiom.
What's more amazing is that she's able to impart her language and country as well to her classmates and even to her own school. How? By giving a PowerPoint presentation on her home country and provided each of her classmates a copy to take home. She was detailing the geography of her country and really helped a lot to her classmates.
Just as the school's principal detailed, some of the pupils were not even sure where Peru was. "She showed the landscape of the country, one of the wonders (Machu Picchu, Lost City of the Incas) and a picture of a palace," said Principal Judy Kulp.
It's really good to welcome exchange students from various countries and allow them to explore our country, isn't it? But what's more exciting is that not only will they receive some things from us but they also impart something from them. Wouldn't it be great to get familiar with a particular culture since there is an ambassador willing to represent?