In a few points, women would find themselves needing to use a facial cleanser for their skin. This isn't really surprising considering how air pollution today can trigger various skin problems from the occasional pimple to heavy acne. The good news is that there are currently various face cleaner products out there today those women can use depending on their skin type.
Using a face cleaner brush is easy enough and can usually be done before going to sleep. Depending on the cleaner, the individual might need to lather the cream with water and slowly but carefully spread it over the face and massage it with the help of electric face wash brush. The cleaner acts as the soap, removing dirt and makeup that are filtered in the pores. After gently rubbing the lather all over the face, individuals can simply wash up with clean water. Surely, the indications may vary depending on the actual facial cleaner product.
The mildest face cleaner can be used as often as the individual wants. Some women usually apply the product in the morning and again before going to sleep. For those with oily skin, the more frequent application may be necessary. The same can be said for those who are constantly exposed to polluted air or perhaps have extra sensitive skin.
Depending on the product, cleaners may also work as exfoliates. This means that aside from removing the dirt from the face, the cleaner would also systematically remove dead skin cells from the surface.
Note that a facial cleaner doesn't just refer to cream products that are lathered on the face. Some items like cloths are also classified as cleaners for the face and should provide adequate results. However, they are typically harsher than the commercial cleaner and could therefore cause red spots on the face when used too often.
Keep in mind that with many facial clean items being sold today, it would be hard for individuals to choose the perfect one that works for them. This is why women are advised to read reviews about different products and make sure that they are not allergic to any of the ingredients.
Note that using body soap as a substitute for a face cleaner is not a good decision. The skin on the face is so much more sensitive and may react negatively when applied with a harsher soap.
So now that you know how a facial cleaner works, it's time to find out about a natural facial cleanser that's paraben-free and maintains younger more vibrant looking skin.
Finding the Best Face Cleanser Brushes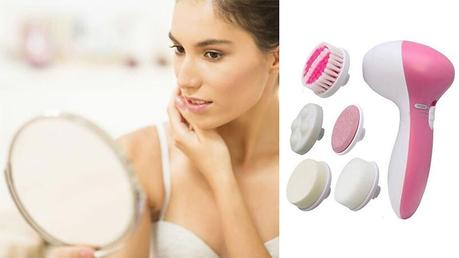 Looking for the best face cleanser is not as tough as most people seem to think. You only need to take the time and browse as much as possible before ultimately purchasing the product. Of course, it's important to set specific standards for buying to ensure that you would get the best product possible. That being said, the following are some tips on how to choose the best face cleanser.
Skin Type
There are different skin types today and the cleanser should correspond with what the user has. For example, those who have oily skin would want something specially developed to deal with the problem of oily skin. Some people might also be having difficulties with acne so a silicone face brush, especially for that, would be ideal. For those who just want a cleanser for maintenance, there are basic concoctions that should perform well.
Ingredients
This is important especially for individuals who have specific skin allergies. Some of the most common ingredients included in a facial cleanser are collagen and elastin. Collagen helps with maintaining skin firmness while elastin basically does the same thing. These will help prevent marks on the face, ensuring that the skin stays smooth and firm. Avoid products that have a distinct fragrance since this could trigger allergies. For those who want to smell nice, just use a favorite cologne or perfume.
Reviews
Of course, buyers should also take the time to read reviews about the product. Take note of what people have to say and take those into consideration. The best facial brush cleanser products are those that are effective without triggering any side effects on the body. For those who want to be sure, try buying a small portion of the cleanser and use it for one or two weeks. Observe how it works for the skin and if the results are stellar, then it's OK to buy bigger batches.
Of course, those aren't the only things to consider when finding the best face cleanser for an individual. Also, take note of the price of the product and how long it would last when used. Don't be fooled by commercial items that promise to be the leading in the market. The fact is that there are products out there that are just as good but not as expensive.
Note that for individuals with specific skin concerns, a visit to the dermatologist might be the best solution. The doctor should be able to provide a product that is perfect for cleansing their skin while at the same time protecting it.
About the Author
Edith Kennedy is a professional beauty products expert at soin-beaute.com. He likes to provide important information on a wide range of health and lifestyle topics, which can help you reach a logical and realistic decision on your health and lifestyle choices for many different problems.