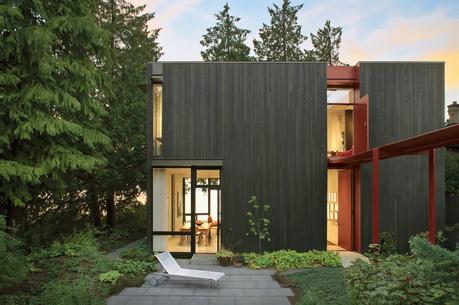 A second-story Dutch door above the canopy ushers in sunlight and breezes. "Light is really important in the Pacific Northwest because it's dark for most of the year," says the resident. The cedar-clad facade is pierced with thoughtfully placed windows, which frame views and "actively engage the idiosyncratic nature of the place," says architect Tom Kundig.
Project  Tansu House Architect  Olson Kundig Architects
Architect Tom Kundig's kinetic buildings commune with their surroundings through custom-made hardware and flexible design elements. For a 2011 Seattle residence he designed overlooking Puget Sound, his approach included a folded gate latch, gently curved banister, and a protective metal canopy. "We kept the house simple, but we did spring for the metalwork," says the resident. Steel is a natural choice for important elements in Kundig's structures. "Its strength and durability give me freedom to see those parts sculpturally," he says.