I met a mom today with two-year-old twins and she needs your help! Her girls are strong enough to unlatch the big red button on the car seats and get out. She said she will be driving down the highway and all of the sudden they are walking around the van! Yikes! She even went out and bought very nice and expensive new car seats by Peg Perego! She asked me if I had any ideas. I tried unlatching the car seats. It wasn't easy. I can't believe those little girls are so clever! If anyone has a suggestion for her, please let me know!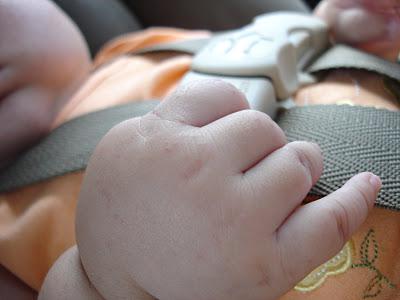 I found this suggestion from Car Safety.org.

You can try calling the manufacturer of your carseat to see if they have a buckle that requires more force to release, or a 2-piece chest clip instead of a "paperclip-style" chest clip. Using a seatbelt yourself sets a good example. Refusing to put the car in motion unless the child stays in their restraint is another. Also, try to keep your child entertained or distracted if possible, and NEVER make an exception and allow them not to use their child restraint. For severe cases, you can try a safety vest by E-Z-On (800-323-6598) that may be more difficult to remove.
-NewsAnchorMom Jen
Skin Dimensions, SB products are manufactured with Pharmaceutical-Grade ingredients. Products are not just "Feel Good Products," as they contain unique and innovative ingredients in concentrations that can assist you in the achievement of your own personal skincare objectives. Our products contain higher percentages of Glycolic, Vitamin A, C, E, Co-Q10, green tea than what you can usually purchase over the counter.