Hotlink added six devices for the Komunikasi Belia package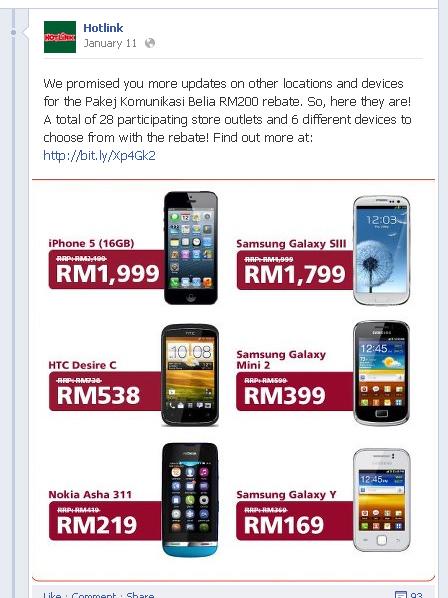 Hotlink has unveiled their Youth Privilege "Pakej Komunikasi Belia" with 6 devices for prepaid customers and 4 for postpaid. The company also announced the 28 participating outlets throughout the country. On a Facebook post, Hotlink stated, "We promised you more updates of other locations and devices for the Pakej Komunikasi Belia RM200 rebate. So, here they are! A total of 28 participating store outlets and six different devices to choose from the rebate!"
The 28 participating outlets are: -
Central
Alamanda
Gardens
Klang
KLCC
Pavilion
Selayang
Sunway Pyramid
Tmn Tun
East
Kota Bahru
Kuala Terengganu
Kuantan
North
Alor Star
Ipoh
Langkawi
Penang
Queensbay
Seberang Prai
Taiping
Sabah
Sarawak
South
BP Mall
Danga Bay
Mahkota Parade
Seremban City Square
Tmn Molek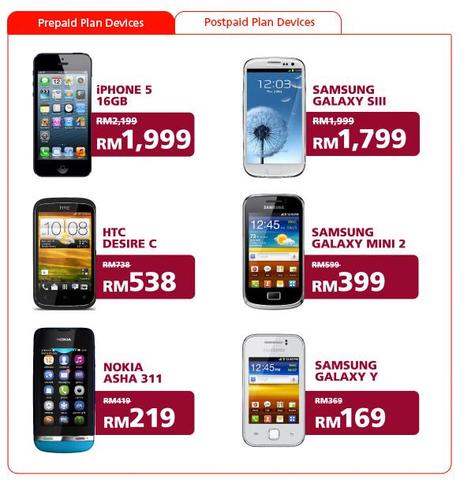 Devices for the Package include the following:
For pre-paid customers you may choose from any one of these devices: iPhone5 (16GB) for RM1,999,
Samsung
Galaxy SIII for RM1,799, HTC Desire C for RM538, Samsung Galaxy Mini II for RM399, Nokia Asha 311 for RM219 and Samsung Galaxy Y for RM169 and for Post-paid customers you can only choose from 4 devices, i.e, iPhone 5 (16GB) for RM1,199, Samsung Galaxy SIII for RM899, HTC Desire C for RM299 and Samsung Galaxy Mini II for RM199.
Elegibility for the package is listed below:
Malaysian youth aged between 21 and 30 years including students
Monthly income of RM3,000 and below
One 3G smartphone per youth
Maxis/Hotlink subscribers and Non-Maxis/Hotlink customers
Compulsory subscription to data plan
The only down turn on the offer I guess is the compulsory subscription to a data plan, even for a prepaid customer. However, for those who prefer to add the data plan to their subscription then this will be a welcome news.
For more information about the
Pakej Komunikasi Belia 
please click here, and for devices and Hotlink follow this link. [Source: Hotlink]
Hotlink added six devices for the Komunikasi Belia package