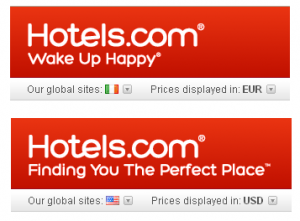 Anyone who has ever tried to brand a product or service for international markets knows there are many challenges. Language. Culture. Color meanings. And product life cycle.

Wake-up Call for Brand Identity outlines several of these challenges that Hotels.com faced when they separated the brand in the USA and all other markets… and then reunited the brand onto one logo and tag line.
Customer adjustment

Pocklington warns that any company making such fundamental changes to its branding should expect some nervous moments initially as customers adjust. He says that in the US, where Hotels.com stuck with its existing red color scheme, there was hardly any impact on sales. Internationally, though, the change brought about a notable slowdown.
While it appears that the company changed from the international yellow color scheme to the USA red, the tag lines have not yet made the switch. Their more emotional international tag line "Wake up Happy" is being adopted around the world, but when I checked their site this morning, it still had the more intellectual "Finding You the Perfect Place" tag line.