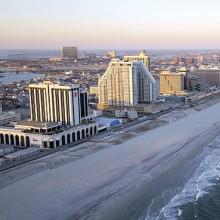 Atlantic City Boardwalk
At least once or twice a year I travel three hours from New York to Atlantic City, New Jersey, in order to partake of boardwalk/beach action, great casinos and, of course, the nightlife. Rarely do I ever spend more than an overnight and, strangely enough, I have never played one round of golf in Atlantic City!
The Atlantic City Golf Course (operated by Hilton Hotels) is undeniably a place to play a round of golf; the terms "Birdie" and "Bogey" were coined there, but it is to understand casino strategy and pull the one-armed bandits that I usually find myself in New Jersey.
I am not a heavy gambler; as a matter of fact, I rarely move past the quarter machines to the dollar machines, but I still like the action of pulling the slot handle and usually sit mesmerized until the wheels have made their stop. It is usually my husband who will meander with me through the roulette and blackjack tables in order to find the dealer that "feels" right.
Also, the drinks are free in Atlantic City casinos...definitely a "plus"!
Being that I have stayed and played (even briefly) in almost every resort in Atlantic City (including off-boardwalk premises), here are a few hotel and casino reviews to make the most of your vacation.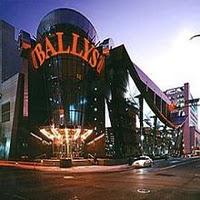 Caesars brands include probably the largest conglomerate of hotel rooms and casino space in Atlantic City, perhaps with the Trump Organization weighing in a close second. On the boardwalk, four uniquely different interconnected resort hotel buildings are Caesars, Ballys, Wild West Casino and Claridge Hotel; a very brief five-step walk from the door of Caesars to the door of Trump Casino makes this a five-casino hotel connection (Trump Hotel and Casino should be investigated...it's as glitzy as some of "The Donald's" New York City hotels and I have won in the casino!)
Not only are the hotel buildings all an indoor walk to each other, Caesars has reopened a beautiful indoor mall shaped like a ship which has a wonderful water show every half hour on the hour. This means that, for people who want to explore but don't wish to wander the boardwalk, everything you could ever need or want is indoors; gambling, food and fun!

For those people who would prefer staying at a resort which is about a half-mile stroll to the center of the boardwalk, I suggest the Hilton Casino Resort, next to Tropicana hotel. The Hilton provides a lovely beach bar, elegant surroundings and, in my humble opinion, good odds. Also, right next door to Hilton is the Tropicana, a huge resort complex for when you feel you need more excitement and a change of scenery. The Tropicana also has so many dining options and is so large that you may lose your way!
On the opposite side of the boardwalk, and for fans of New Orleans, stop by the Showboat. House of Blues makes its Atlantic City home at the Showboat and it is also right next door to the once glamorous Resorts Hotel and Casino. I personally liked the Showboat Hotel more in the past, when there was a live band in the lobby and the musician who wandered around entertaining and teaching guests to play the spoons in the hallway but cutbacks, I guess, have made these entertaining treats unaffordable.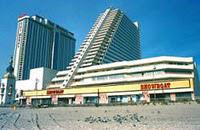 Showboat Hotel and Casino with House of Blues
I am content to visit Atlantic City at least once or twice per year although it is certainly not as bustling as the
Las Vegas strip
(it also isn't a five-hour flight away). I might eventually play golf in Atlantic City but for now, it's the long stretch of boardwalk and entertainment keeps me coming back for more.