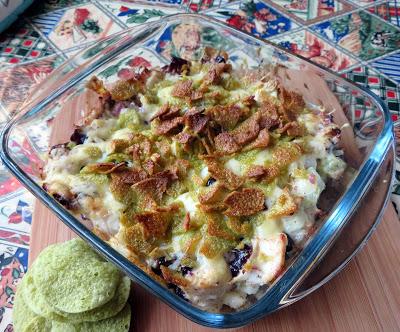 Every month I am the lucky recipient of a Degustabox.  Once a month, around the middle of the month, I am gifted with one of these lovely boxes which contain a delicious assortment of all things foodie.  I just love these boxes.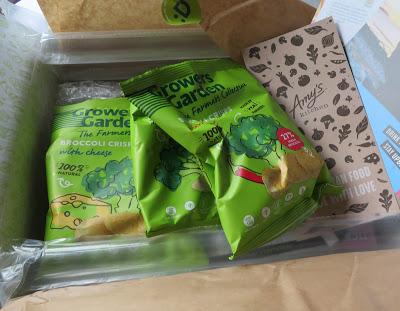 Opening each one is tiny a bit like opening a Christmas gift. Always a surprise, and always filled with things that pique my interest and desire to try.
Degustabox
is a monthly foodie subscription service that sends out a range of 10 to 15 specially selected foodie products. I even have a code that  can give you which will  give you a £5 discount off of your first box. I will tell you about that at the end. I have been getting these boxes for a couple of years now and I have to say I have never been disappointed.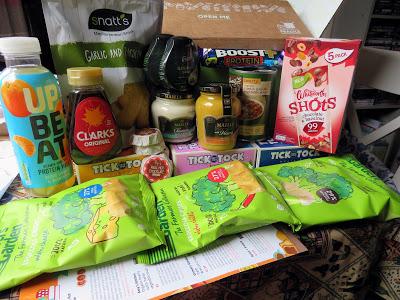 There's always a great mix of new products that I haven't tried before, as well as plenty of treats from more established brands. Quite often you will have the opportunity to try  new products before they arrive in the shops, so it can be a bit of a sneak peak! Each Degustabox costs only £12.99, delivery costs are included in the price, and there is no fixed contract involved. You can cancel at any time. I love getting these boxes! In my opinion, they are great value for money spent.  The October box had a Home Comforts theme!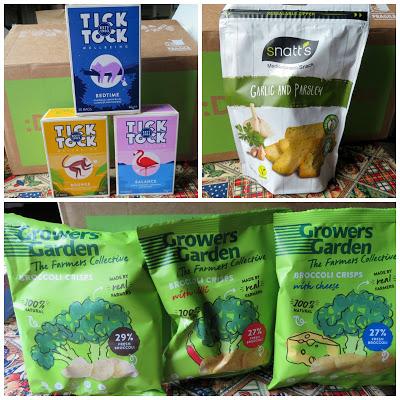 TICK TOCK TEA 3 X £2.05 One of Britain's most beloved independent tea brands. Tick Tock, has launched three new well being teas - BALANCE, BOUNCE and BEDTIME.  These naturally caffeine free infusions combine the benefits of delicious natural herbs and spices with anti-oxidant-rich rooibos to help tea lovers everywhere be well, feed good and keep smiling.
Available at Waitrose, Ocado and
ticktocktea.com 
SNATT'S
Garlic & Parmesan Mediterranean Baked Snacks 1 X £1.49 Authentic Mediterranean baked snacks. Ideal with a topping, or as a pre-dinner snack. 100% Natural ingredients. Oven baked, Vegan, no MSG or Palm Oil. 
GROWER'S GARDEN
Fresh Broccoli Crisps 3 X £1.29Grower's Garden FRESH Broccoli Crisps is one of the most innovative snacks to launch this year.  Made using broccoli grown on their own farm, they have developed a snack with is a healthier alternative, less than 99 calories per bag, low in saturated fats gluten free and vegan!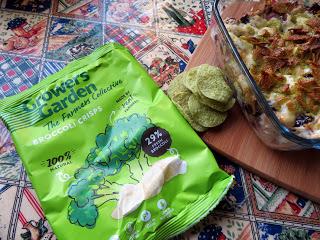 This is the product that I decided to use in a recipe. More about that later!  These are delicious absolutely delicious. I was really surprised.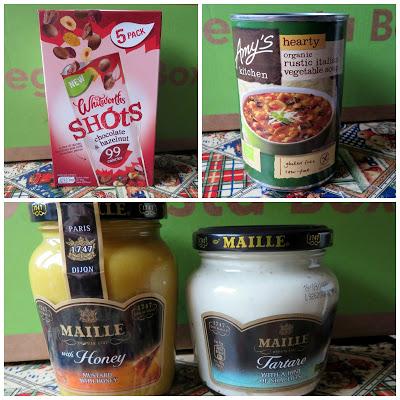 WHITWORTH SHOTS  Chocolate and Hazelnut 1 X £1.89The good-natured snack - healthier mixes of fruits, nuts and/or seeds with a hint of indulgence.Available on
whitworths.co.uk
AMY'S KITCHEN
  Organic hearty rustic Italian Vegetable Soup 1X £2Packed with organic ceci beans (that's Italian for chickpeas), vegetables, brown rice, mushrooms and traditional herbs, this recipe is inspired by the founders and head Chef's trips to Europe.  Gluten free, Dairy free, Vegan and Kosher.Available in all major supermarket chains.
MAILLE
Mustard with honey 1 X £1.99 
A perfect combination of the tart warmth of mustard and contrast of sweet honey. Maille Dion with honey is perfect served with Welsh rarebit, pork, as a honey mustard marinade for chicken, or as a special addition to a cheeseboard. 
Tartare Sauce 1 X £1.99 Add a touch of luxury with this gourmet take on a classic tartare sauce.  They have created an exceptional twist to the traditional tartare sauce with the addition of shallots giving the sauce a savoury sweet note. Both sauces available in all major supermarket chains.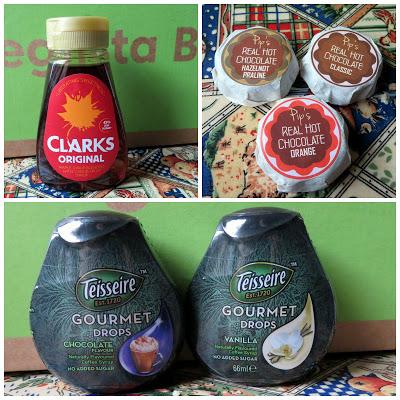 CLARK'S
Original Maple Syrup 1 (280ml)  X £2Clark's Original is a natural blend of pure Canadian Maple Syrup and Carob Fruit Syrup. This means they can offer a delicious maple syrup for 45% less sugar than granulated white sugar (per 100g). Perfect for porridge and pancakes on a wintery morning and suitable for vegetarians and Vegans.Available in all major supermarket chains. 
PIP'S REAL HOT CHOCOLATE Coins 3 X £1.50Pip's Real Hot Chocolate Coins are single-servings of high quality drinking hot chocolate, hand-made in Wales since 2015. Available in a great range of flavours with variations suitable for vegans and those watching their sugar, and everything is always trace-free of gluten and nuts!  Best Luxury Hot Chocolate Retailer 2019Available at
www.pipschocolate.com
and at independent shops. 
GOURMET DROPS
Chocolate/Vanilla 2 X £3.99Guilt free and full of flavour, Gourmet Drops are the perfect alternative to sugar heavy syrups in your coffee or baking. Vegan friendly, sugar-free, carb-free, gluten-free and fat-free.  Gourmet Drops are naturally flavoured offering 20 servings of indulgent guilt-free flavor. Available via Amazon, just search for Gourmet Drops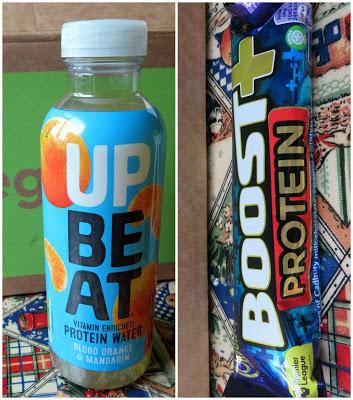 UPBEAT DRINKS
Juicy Protein Water 1 X £1.79  Blood Orange and MandarinUpbeat have launched a range of juicy protein waters with a whopping 12g of protein. Not only are they packed with protein, but they're all sugar free and are bursting with the flavor of real fruit. The perfect accompaniment to your lunch, gym session or just to hydrate you on the go.
BOOST + PROTEIN
1 X £1.49Protein crisps enrobed in layers of chew caramel and delicious Cadbury chocolate for delicious Boost taste with a protein hit.  That's 12g of Protein in every bar.Available at a number of major supermarkets and retail chains.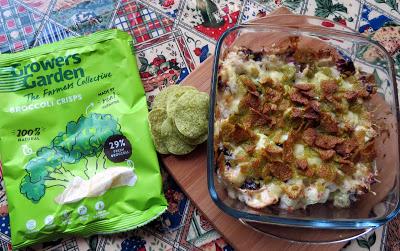 So the product that I chose to highlight with a recipe this month was the Growers Garden fresh Broccoli Crisps.  These were amazingly delicious. I almost gobbled them all up without using them in a recipe, but I exercised some restraint and saved some for on top of the casserole!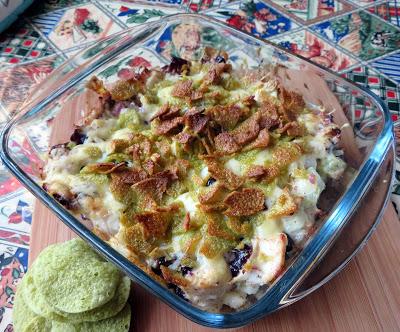 Hot poultry salads are one of my absolute favorite things to bake and eat. I think its fairly safe to say that over the next 4 or 5 weeks we are going to be eating a lot of turkey!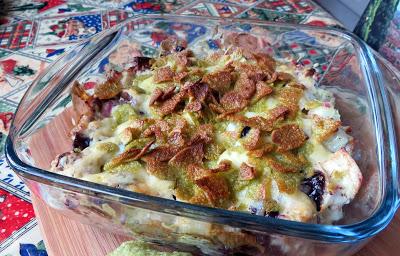 This hot turkey salad is a great way to use up some of that leftover roast turkey.  I have also sized it perfectly to fit two people for the smaller family.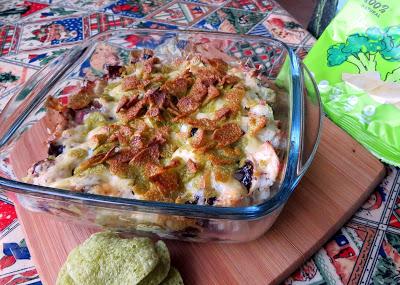 You can also double it to feed more if you like, quite easily!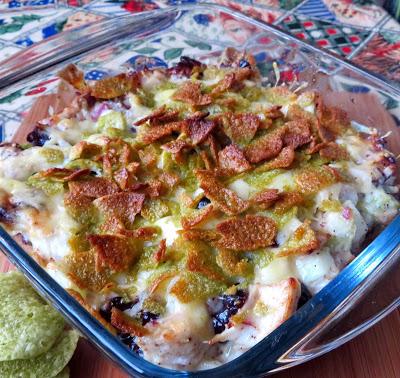 Its also very quick and easy to make.  You just pile everything but the cheese and crisps into a bowl and mix it all together and then bang it into a casserole dish.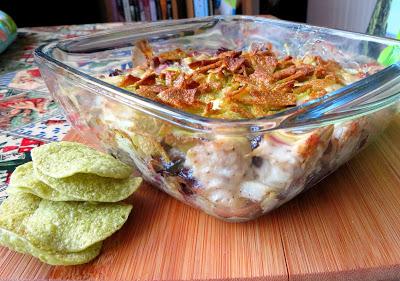 Sprinkle it with the cheese and crumbled crisps and bake!  Easy peasy!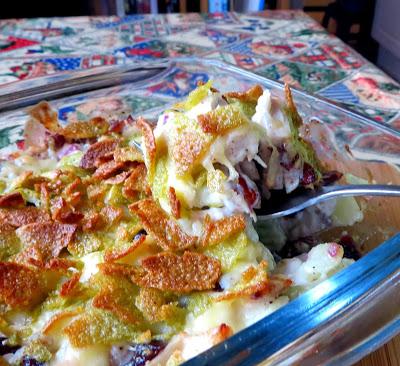 It only takes 15 minutes and its done, and boy oh boy it is so delicious.  I like to add dried cranberries for a bit of color and a bit of sweet.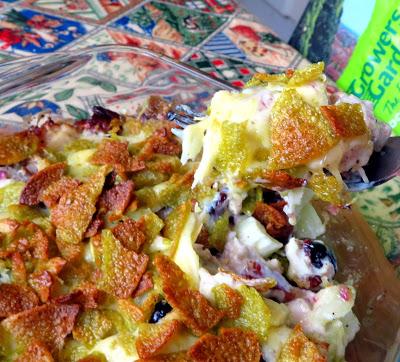 Toasted pecans for a bit of crunch.  The broccoli crisps were perfect on top.  Broccoli and turkey are perfect partners and these worked beautifully as a crisp and tasty topping!
Yield:
2
Author:
Marie Rayner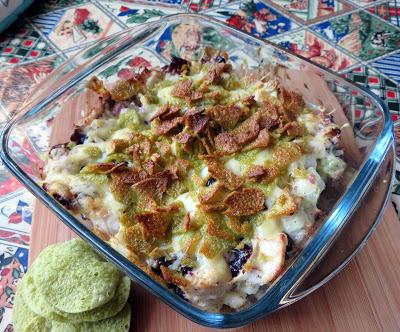 Hot Turkey Salad
A down-sized recipe of an old favourite, perfectly sized for just two.  Easy and delicious!
ingredients:
125g of cubed cooked turkey (1 cup)
2 sticks celery, diced
60g chopped toasted pecans (1/2 cup)
50g dried cranberries (1/2 cup)
1 TBS minced red onion
1/2 tsp salt
1/4 tsp ground black pepper
110g mayonnaise (1/2 cup)
1 TBS lemon juice
30g grated strong cheddar cheese (1/4 cup)
a small packed of crumbled potato/broccoli crisps (chips)
instructions:
How to cook Hot Turkey Salad
Preheat the oven to 230*C/450*F. gas mark 7.  Butter a 7 inch square baking dish. 
Mix together the turkey, celery, onion, pecans, cranberries, pepper and salt in a small bowl. Add the mayo and lemon juice, mixing to combine well together.  Spoon into the prepared baking dish. Sprinkle the cheese on top and then crumble the crisps over top of the cheese. 
Bake in the preheated oven for about 15 minutes, until heated through and the cheese has melted on top. serve immediately.
Did you make this recipe?
Tag @marierayner5530 on instagram and hashtag it #EnglishKitchenCreated using
The Recipes Generator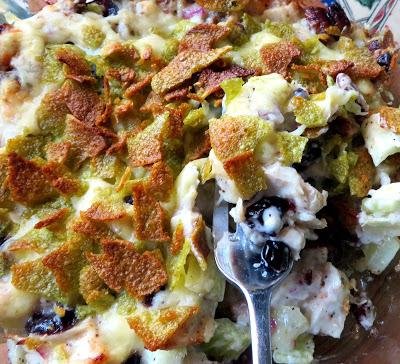 I really
d
o
make great use of and enjoy many of these fabulous products I am sent each month to try out. 
Many thanks to Degustabox UK for gifting me this box. I have to say I really look forward to getting my box each month. There are always lots of things in it to enjoy and new products to try out. I highly recommend. You can also tailor the boxes to your own likes and dislikes by filling in your own Taste Profile.  If you like the sound of this box, why not sign up now! I find them to be really good value for money spent and I really enjoy trying out new products that I have not tried before.   Included is also a detailed information card  which tells you all about each product included, and other extras such as recipes, etc.   
Follow them on Facebook 
Follow them on Twitter  
So, that was the October Degustabox - a nice selection of products as always. We loved it. The price of each Degustabox is £12.99 (including delivery). To order your box, visit www.degustabox.com 
Use the code 2ROE0 to get £5 off your first Degustabox, free delivery – enjoy! 
I was gifted with the box free of charge, however any and all opinions are my own.