Hot Slut Of The Day!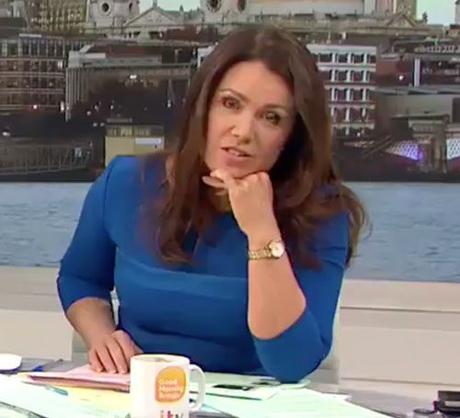 Susanna Reid, the long-suffering morning show anchor who became a hero when she burned insufferable dick wart Piers Morgan on Good Morning Britain!
Piers Morgan is not only the US editor-at-large of the highly-esteemed international literary journal The Daily Mail and professional Twitter troll, but he's also been a main presenter on Good Morning Britain for a couple of years, alongside other presenters who wonder what they have done to deserve such an awful punishment. That includes Susanna Reid who earned many new fans (including me) and made the angels leap through the heavens with pure joy when she dissed Piers to his face.
During Good Morning Britain on Wednesday, the factory-defected enema spewed out a geyser of hypocrisy when he blabbered on about how family members constantly talk about politics on Facebook and he just wants them to shut up and post a picture of their kid. Susanna Reid represented the people when she rolled her eyes with her entire body and pretty much held up a mirror to Piers' face when she said that she too wishes that certain fart holes would give the people around them a break from their stupid views. Here's the clip that made many sing, "Oh what a beautiful moooooornin'!"
This moment was just too beautiful for words, @susannareid100… @piersmorgan @CharlotteHawkns pic.twitter.com/hK2n88nBS4

— Good Morning Britain (@GMB) June 28, 2017
Susanna and Piers' love-hate-thing (mostly hate) is their schtick. But unlike Piers Morgan's wife, I don't think Susanna has to fake it too hard. As Jezebel points out, the site Joe.co.uk made a supercut of Susanna making a "please put me out of my misery" face whenever Piers spits out a dingle.
And even if she is turning up her hate for Piers for the sake of ratings, Susanna Reid still should be inducted into the Guinness Book of World Records for the longest internal scream in history.
Pic: @GMB
Source: Hot Slut Of The Day! 
8 total views, 8 views today