Hot Slut Of The Day!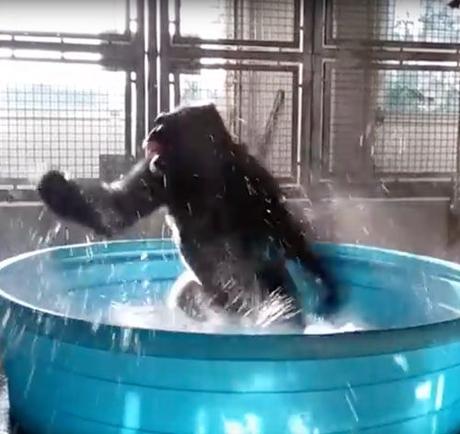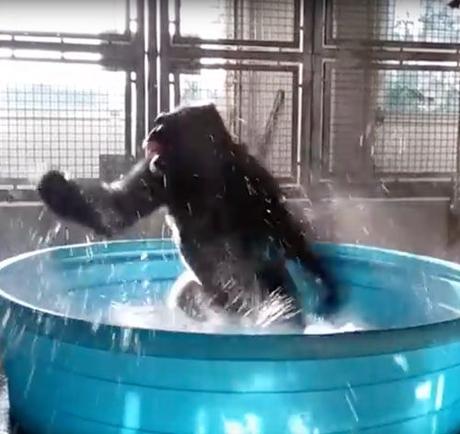 Zola, the Silverback gorilla from the Dallas Zoo who has became a giant internet STAH because of the raw emotions that leaped off of his body as he performed an interpretive dance in a kiddie pool!
On Tuesday, the Dallas Zoo uploaded a video of Zola delivering a dance that Gene Kelly would deliver if Singin' In The Rain was a dark, dramatic indie choreographed by the Fuerza Bruta people. The video quickly ended up everywhere and people have eaten it up as much as they ate up Sasha Velour releasing an American Beauty poster full of rose petals from her ginger wig during last night's RuPaul's Drag Race finale. Zola's water dance of the gods has over 1 million views so far and I'm sure every one of your aunties has shared it on Facebook several times. And it deserves all of the attention it's getting, because Zola gave, gave, gave and gave some more and left it all on the dance floor. Or in this case, the kiddie pool.
When I first watched the video of 14-year-old Zola dancing like he was on So You Think You Can Dance? and trying to win over guest judge Mia Michaels, I wondered if maybe he wasn't happy and was stressing out. But Dallas Zoo's mammal curator (that job title) Keith Zdrojewski tells The Washington Post that Zola loves water and splashes in the rain too. And Tara Stoinski of The Dian Fossey Gorilla Fund International says that if Zola was stressed out, he'd be all withdrawn and quiet and shit, and that "gorillas often like to play in water or even use as a mirror to look at themselves."
This isn't the first time that Zola has served up moves that should get him inducted into the National Museum of Dance and Hall of Fame. Six years ago, Zola starred in a mini reboot of Step Up when he danced in a puddle at the Calgary Zoo.
And finally, @BobHagh gave the internet what it really needed: Zola busting out the washing machine dance to Maniac.
I added some music to this. pic.twitter.com/UwjhTKpaeu

— Bob Hagh (@BobHagh) June 22, 2017
If those evil whores in Hollywood ever decide to butcher Flashdance by doing a reboot (which they will), they should at least make one right decision by casting Zola in the lead. That is dance. That is emotion. That is Zola!
Pic: YouTube
Source: Hot Slut Of The Day!
4 total views, 4 views today