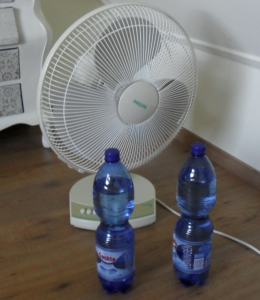 Cheap air conditioner!
My husband and I are having some very hot nights!
But not in a good way. Our bedroom is in the attic, on the side of the house that catches the sun. All day long.
So by the time we go to bed it's like an oven in there. We don't have airconditioning so we use a ventilator to get some relief. But if I'm honest, all it does is blast us with more hot air. Then I got a great tip!
'Put two frozen (plastic) bottles of water in front on your ventilator. This will work as airconditioning!'
I tried it last night, and I have to say: 'I think if kind of works!' At least I felt a tiny chill in the air coming from the ventilator! You can see our cheap air conditioner on the left. The picture was taken this morning, and all the water had melted. I'm going to put the bottles in the freezer again.
Does anyone else have some frugal tips to cool down?