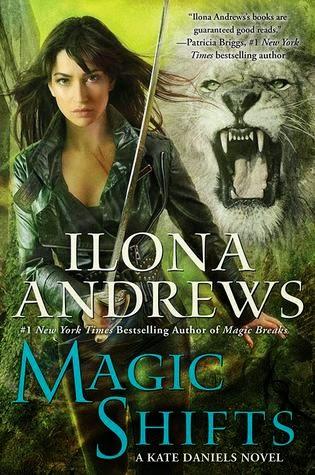 MAGIC SHIFTS
by Ilona Andrews
Author's Website
 | 
Author on Goodreads
Genre: Urban FantasySeries: Kate Daniels Series - Book 8 | 
Goodreads
Expected publication: August 4, 2015Read a deleted scene
Kate Daniel Series Complete Reading Order

Blurb from Goodreads
In the latest Kate Daniels novel from #1 New York Timesbestselling author Ilona Andrews, magic is coming and going in waves in post-Shift Atlanta—and each crest leaves danger in its wake…                                                                                      

After breaking from life with the Pack, mercenary Kate Daniels and her mate—former Beast Lord Curran Lennart—are adjusting to a very different pace. While they're thrilled to escape all the infighting, Curran misses the constant challenges of leading the shapeshifters.                                                                                                 

So when the Pack offers him its stake in the Mercenary Guild, Curran seizes the opportunity—too bad the Guild wants nothing to do with him and Kate. Luckily, as a veteran merc, Kate can take over any of the Guild's unfinished jobs in order to bring in money and build their reputation. But what Kate and Curran don't realize is that the odd jobs they've been working are all connected.                                                                                 

An ancient enemy has arisen, and Kate and Curran are the only ones who can stop it—before it takes their city apart piece by piece…
***
Wow! I love this cover! I also like this Kate! I think this model is closer to how she was described in the books
 —or at least how I imagine Kate would look like. 
I like her looks. She doesn't look young. She looks like an ass-kicker and I think her looks are more appropriate for Kate's age than the model on the covers of Magic Rises and Magic Breaks. Curran is a little pale here though... And I am not sure about Sarrat... If I am correct, Slayer didn't have a guard... Hmm...

From Magic Burns
"Pretty sword," he said, twisting Slayer to catch a sun ray. The light danced on the opaque blade and sank into the black chain-mail shirt now showing below his jacket. "Why no guard?"
 "Don't need one."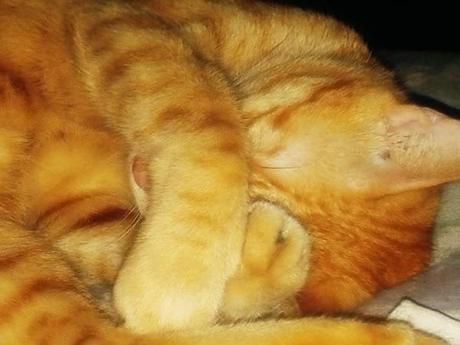 meet our cat Mini aka Mini Beast Lord (hehehe)
he is so sad because we will need to wait for a long time 
for Magic Shifts (sigh)
Actually, this cover rocks! I think it will look awesome on shelves once it's released. I just finished reading Magic Breaks and I am suffering from a major Kate and Curran withdrawal. This is such a great news for me but after seeing the publication date... 
Well, I guess I will just have to get a temporary fix with Magic Steals (Novella - Jim and Dali), which is to be released this coming November 5th.
TERE TEREBOL | i 

♥

 great stories