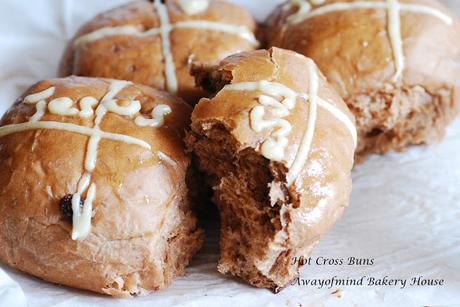 There was a Kookaburra came knocking at my glass window this morning, not once but three times! I thought I heard something bumped on my kitchen window, then I saw the Kookaburra, flew from far and hit on the same window again then another time! 
Easter is coming, baked this soft chocolaty hot cross buns! I tried a recipe using sponge dough and no yeast in the main dough, but it didn't turn out well. Then I tried to bake with water roux method. The bun texture turned out to be soft to my liking, if you like soft bun this recipe is for you.
Yield 13 pieces.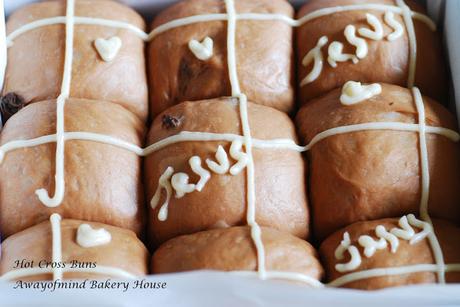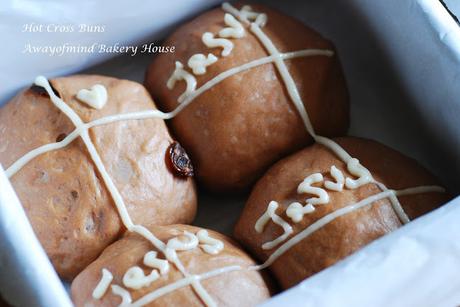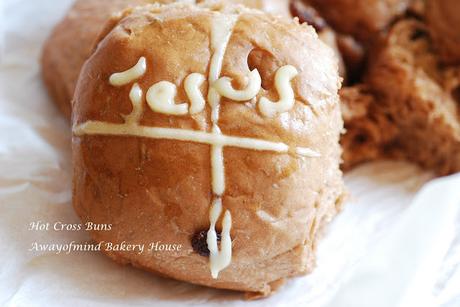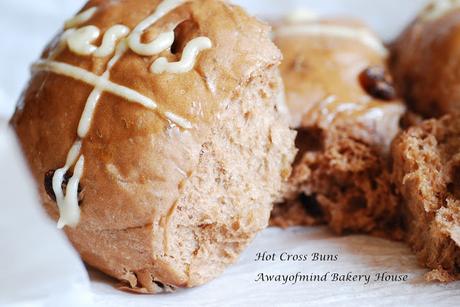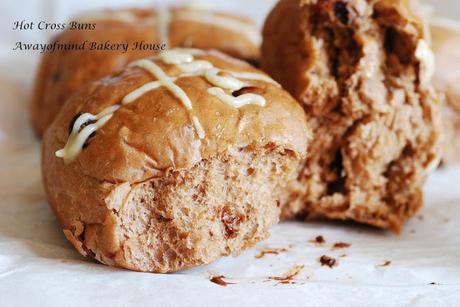 Recipe: 
Water roux:
30g bread flour
150g water
Bread dough:
300g bread flour
55g plain flour
45g cocoa powder (3 tbsp)
80g sugar
7g instant dried yeast
1 tsp All spices powder / Cinnamon powder
1/4 tsp fine salt
130ml-150ml warm milk (gradually add)
1gg
50g raisin, soaked in hot water for 10 mins then drained
50g cold butter, cubes
80g chocolate chips
Cross batter:
2 tbsp icing sugar
2 tbsp flour
1.5 tbsp warm water
Glaze:
1 tbsp honey
1 tbsp hot water
Method:
1. Prepare water roux: 
Mix bread flour with water in a small saucepan, heat up under medium heat to 65C (start bubbles), remove from heat, keep stirring until the mixture thicken. Cover and let it cool down.
2. Prepare the bread dough: Place the butter cubes, bread flour, plain flour, cocoa powder, spice powder/cinnamon powder, into a big mixing bowl, rub in the butter until all mixture resembles fine bread crumbs. Add sugar, salt, egg and dried yeast into the mixing bowl. Add water roux. Stir the mixture with electric mixer using low speed for a min. Then gradually add the warm milk (you may not need to add all the liquid, it depends on the flour you use) Knead the dough until the dough form elastic film. Add chocolate chips and knead in the chocolate chips to the dough using hands.3. Let the dough proof to double its size, about 40 mins, depends on the weather. 
4. Prepare the cross batter: in a small bowl, mix icing sugar, flour and warm water together to form thick paste. Place in a small piping bag.
5. Punch down the air in the bread dough. Divide the dough into 13 pieces (it depends on the baking tray you use). Roll the dough into round and arrange them into your lined baking tray. Let it proof for 30 mins. 
6. Pipe the cross batter on the bread dough, bake in preheat oven at 180C for 18 mins.
7. Remove bread from the oven, brush the glaze on top. Let it cool down on a wire rack.