Dress up your hot chocolate for the holidays with this rich version that includes coconut rum, whipped cream, toasted coconut and a homemade chocolate drizzle.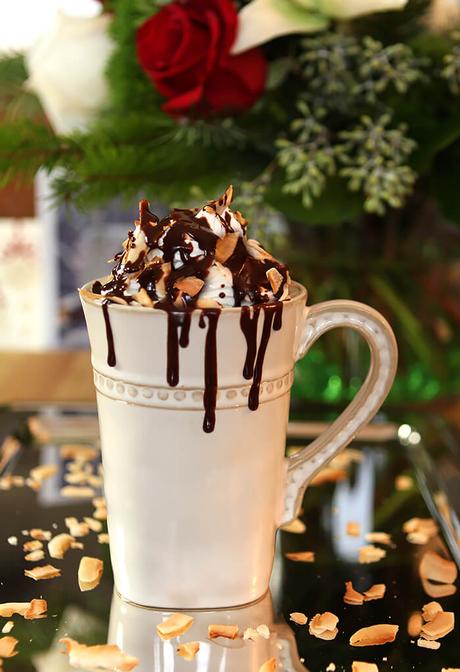 There is nothing I enjoy making more during the holidays than a drink everyone can enjoy. While I do like to make an adult hot chocolate cocktail, the beauty of a drink like this Hot Chocolate with Rum, Toasted Coconut and Chocolate Drizzle is that everyone can enjoy, simply leave out the alcohol for the teens and kids. Watch those teens too!
Although truth be told when my girls were 16 or so, I would let them sample a drink at home. I felt that keeping it elusive made them all that more mysterious and desirous. If I gave them a bit when they asked, it would not be that big of a deal...much like in Italian and French homes. And I was right; we never had an underage problem with them coming home drunk.
Of course some of that may have been that I watched them like a hawk, so there is that. 🙂
When I was contacted by the PR agency representing Blue Chair Bay Coconut Rum wondering if I would like to try their product, all I could think about was using it for a decadent hot chocolate; something with the taste of an Almond Joy but in a very adult drink for the holidays. Um, was this good too.
As important as the rum is in turning this into a cocktail the real secret is to start with a good hot chocolate; don't be tempted to mix some dry cocoa or a Hershey's Bar with 1% milk...or if you do, you don't get to complain that it wasn't to your liking, OK?
This is the holiday season and a little decadence is called for! I love this recipe for hot chocolate from David Lebovitz that combines dark and milk chocolate with just a touch of cinnamon. I wasn't sure about the cinnamon in this cocktail but I couldn't convince myself it wouldn't work and it was perfect. A little spice is nice!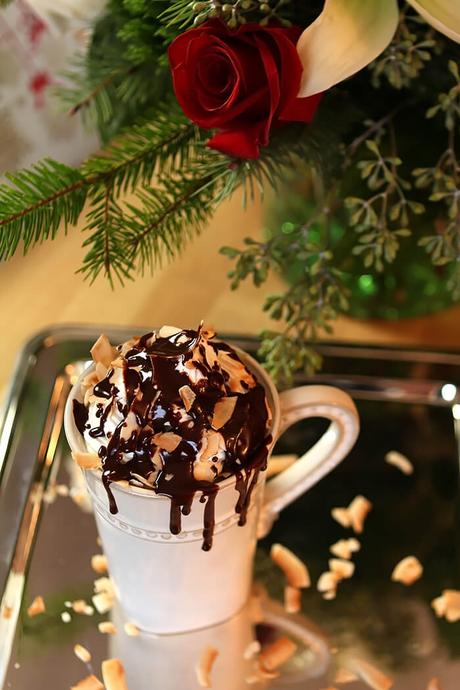 My only caveat is I added a touch of dried espresso. I pretty much add it to almost anything chocolate; it serves to boost the flavor without really making a mocha flavor. Try it...you'll like it! For this recipe which serves eight you will need ( full ingredient list and instructions at bottom of post):
For the Hot Chocolate
1 quart (32 oz) half-and-half or whole milk
8 ounces bittersweet or semisweet chocolate, finely chopped
4 ounces milk chocolate, finely chopped
tiny pinch of salt
1/2 tsp ground cinnamon
1/2 pint whipping cream
For the Salted Butter Chocolate Sauce - Makes 2 cups (optional):
1 cup whole milk or half-and-half
6 tablespoons (3 ounces) salted butter, cubed
1/4 cup packed light brown sugar
8 ounces bittersweet or semisweet chocolate, chopped
1 teaspoon vanilla extract
1 tsp dried espresso
Scant 1/8 teaspoon sea salt
For each Cocktail:
2 oz coconut rum
Whipped cream for garnish
Toasted coconut for garnish
The homemade chocolate sauce is purely optional but I have to tell you, it's divine so try to make it too OK, you won't be sorry!
I typically make my cocktails earlier in the week so I can post them Friday morning for a feature on my blog I've long called 'Friday Cocktails.' But, and this is a big deal if you've been doing something with regularity for seven years, I'm no longer limiting myself to one day.
I want to share more cocktails on Thursday with my Progressive Eats group. I want to not have the pressure of that ONE day that often kept me up writing until late at night. It's been happening gradually that I've gotten away from it so here is my official notice. No big fanfare, but also no more. Now I might surprise you with a cocktail any day of the week!
I've actually already got one made for this Friday and it's amazing; a friend sent me some fruit from a prickly pear cactus and I made a gorgeous pink margarita. Friday. Or maybe Saturday. 🙂
This week got away from me so I'm writing this post doggone close to Happy Hour; at least I can actually drink it now and not have to wait until the next day. But I'm aware that my timing might be off...writing the post while sipping the cocktail is more funner for sure. My English might be less gooder but oh well!! 🙂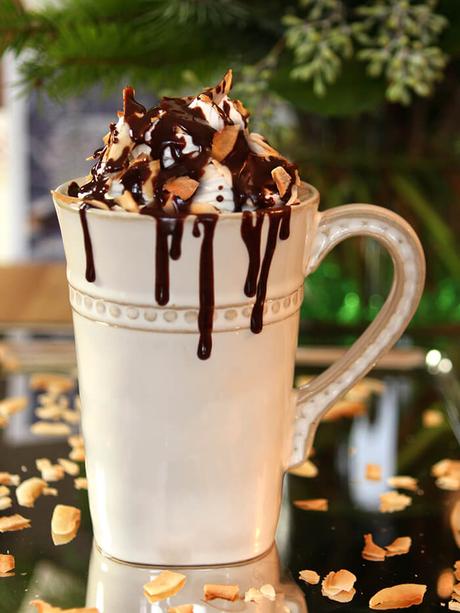 When I agreed to try this rum I had no idea Kenny Chesney was behind it. Doesn't he seem to be beyond mellow; he's sort of a country Jimmy Buffett? While I normally eschew a lot of flavored blends, I thought rum and coconut a great pairing and this rum was the perfect compliment to my recipe.
Blended from rums at one of the Caribbean's oldest distilleries, there is definitely the taste of coconut but the libation is not so sweet that it seemed more at home in a kids cocktail than mine (even if I do think I'm a kid at heart!). That balance of sweet to coconut is interpreted uniquely by each distiller and I found this brew to be right in the middle; not cloyingly sweet but also not so overpoweringly coconut that the rum was lost.
For this cocktail I had my taste testers try it and it was all they could do to not keep digging in with a spoon...luckily I had made extra and we averted disaster...but nothing like seeing neighbors who would fight over the last drop. A sure sign of a successful cocktail!
This Hot Chocolate with Rum, Toasted Coconut and Chocolate Drizzle would be the perfect drink to serve to guests after dinner, in front of the fire or on Christmas Eve. Not everyone loves eggnog but I'm betting EVERYONE will love this! Cheers!

Welcome to Progressive Eats, our virtual version of a Progressive Dinner Party. This month's theme is a Holiday Cocktail Party, and our host is Liz who blogs at That Skinny Chick Can Bake.
If you're unfamiliar with the concept, a progressive dinner involves going from house to house, enjoying a different course at each location. With Progressive Eats it's a virtual party. A theme is chosen each month, members share recipes suitable for a delicious meal or party, and you can hop from blog to blog to check them out. Come along and see all of the delicious and inspired dishes! This month it's all party food; cocktail, appetizers, and desserts. Come join us!
PIN IT! 'Hot Chocolate with Rum, Toasted Coconut and Chocolate Drizzle'