This post may contain affiliate links. Please read my disclosure.
Filled with cocoa powder and marshmallows, these hot chocolate bombs are encased in dark chocolate, drizzled with white chocolate, and covered in sprinkles! They make for a wonderful holiday gift, or winter season treat!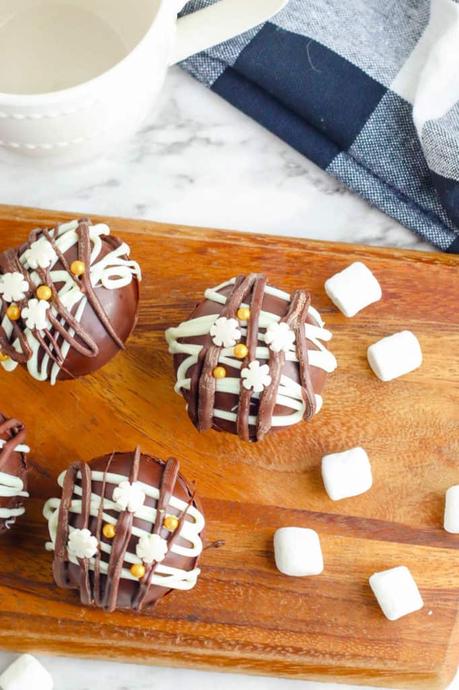 Hot chocolate bombs are the new rage! They are balls of chocolate filled with cocoa powder and marshmallows that melt when covered in warm milk.
Typically, in the winter, I make this healthy hot chocolate on a regular basis. But when I heard of these hot chocolate bombs, I had to switch things up with these festive and fun treats!
These hot chocolate bombs are super versatile too! You can adjust the ingredients as needed to make them suitable for any dietary restrictions.
Use a dairy-free dark chocolate, and vegan marshmallows to make these vegan friendly. Or use 88% dark chocolate and omit the sugar to make them sugar-free!
They make the perfect homemade holiday gift, and fun activity to do with the family no matter what season you're in!
Tools and Equipment You'll Need
Recipe Ingredients and Notes
Chocolate: These hot chocolate bombs use dark chocolate and white chocolate chips to create a rich and luscious flavor. I recommend buying high quality chocolate (at least 70% dark or higher) that includes cocoa butter for the best results.
Marshmallows: Mini marshmallows are a must in hot chocolate. If you are vegan or vegetarian use a vegan brand of marshmallows. I recommend the ones from Trader Joe's or the brand Dandies.
Sprinkles: You can customize these hot chocolate bombs by adding your own decorative sprinkles. Try a red and green theme for the holidays, or hearts for Valentine's Day! Use whatever you have on hand.
Milk: You can use a dairy-free milk, or regular milk depending on your preference.
How to Make Hot Chocolate Bombs - Step by Step
Step 1: Place the dark chocolate chips in a microwave safe bowl and microwave in 30 second intervals, stirring between each interval, until the chocolate chips are fully melted.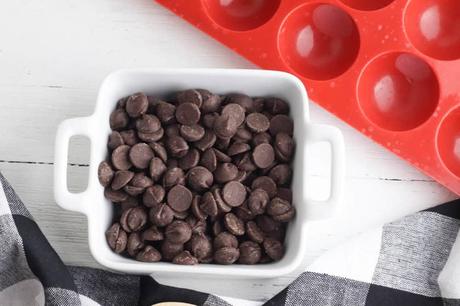 Step 2: Put a spoonful of melted chocolate inside one cup on the silicone mold and use the back of the spoon to spread the chocolate up the sides of the mold. You can also use a pastry brush to brush the chocolate into the molds. Continue this process until all the molds are coated.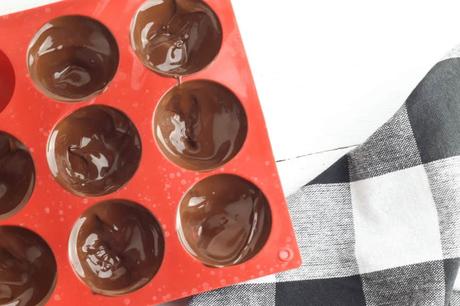 Step 3: Set the remaining chocolate aside for sealing and decorating the bombs. Allow the chocolate to set completely, around 2 to 3 hours. You can speed up the process by placing the chocolate in the refrigerator. When the chocolate is set, remove each of the chocolate pieces from the mold. Add 1 tbsp cocoa powder to half the pieces.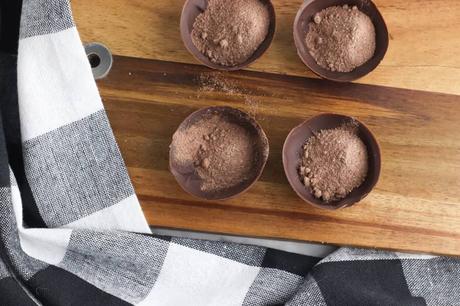 Step 4: Top the cocoa with marshmallows.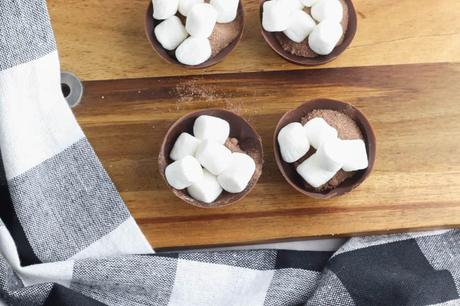 Step 5: Reheat the chocolate in 15 second intervals until melted. Pick up an empty chocolate piece and dip the edges into the melted chocolate.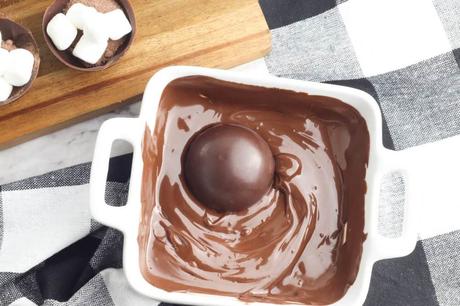 Step 6: Carefully place the empty chocolate piece (dipped in chocolate) on top of a filled piece and lightly press it into place. Use your finger to smooth melted chocolate around the seam. Continue until all the chocolate bombs are sealed. Place in the freezer for 5-10 minutes to allow it to set.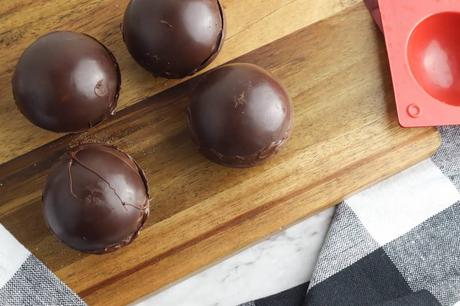 Step 7: Melt the white chocolate chips in 15 second intervals until melted, then place the remaining dark chocolate and white chocolate in piping bags. Drizzle the chocolate over the top of the bombs to decorate. Add sprinkles to the top of each chocolate bomb before the chocolate on
top sets.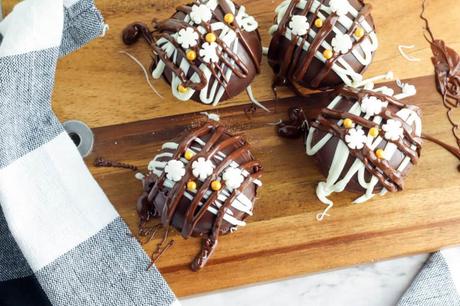 Step 8: Allow the chocolate decorations to set before using, around 1 hour. To make the hot chocolate bombs, place the bomb in the bottom of a mug. Pour one cup of hot milk over the top of the bomb to melt the chocolate. When the chocolate is completely melted, stir to combine.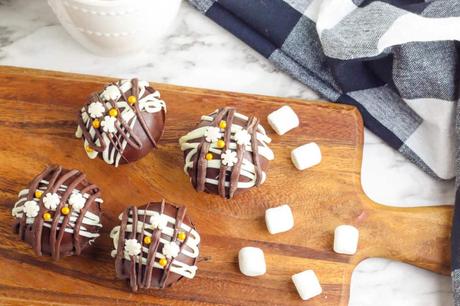 Will Kids Enjoy These Hot Chocolate Bombs?
Kids will absolutely love these hot chocolate bombs! What's not to like! It's round balls of chocolate cutely decorated. They can plop one in a mug, and pour the warm milk over top and watch it melt and do it's magic! It's the perfect ending to a day outside in the snow building a snowman!
Recipe FAQS
What is a hot chocolate bomb?
A hot chocolate bomb is a round chocolate shell that is filled with hot chocolate mix, and usually marshmallows.
Instead of using hot chocolate mix, you place the hot chocolate bomb at the bottom of a mug, and pour hot milk over top.
The hot milk melts the chocolate. Stir with a spoon to create a rich, creamy, chocolate-y hot cocoa you won't soon forget!
How do you decorate hot chocolate bombs?
There are endless ways you can decorate your hot chocolate bombs! Here are a few of my favorites...
1) Melt chocolate and add to a piping bag. Drizzle a back and forth design and allow to set. White chocolate on dark chocolate offers a great contrast.
2) Add your favorite sprinkles! There are so many sprinkles out there, and you can add your favorite to turn these chocolate bombs into a seasonal treat. Use multi-colored sprinkles for a year round festive look. Holiday sprinkles for Christmas, red and white for Valentine's Day, orange and black for Halloween, and so on!
What's The Best Way To Get The Chocolate Shells Out of the Molds?
The best way to get the chocolate shells out is to use Silicone molds. Don't use acrylic molds! It'll be much harder to get the shells out. With Silicone molds, the shells literally just pop out completely intact - it's super easy! I recommend using the 2.5 inch molds.
Do You Have To Temper The Chocolate for Hot Chocolate Bombs?
Tempering chocolate allows you to control the heat of the melted chocolate, and gives the chocolate bombs a glossy professional finish. But, it takes a lot more time and is totally not necessary, as melting the chocolate in the microwave still gives these hot chocolate bombs a smooth and fancy look!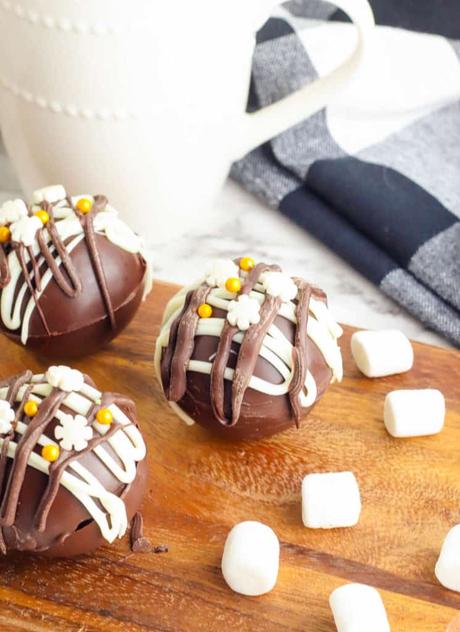 How to Store and Keep
Store the hot chocolate bombs in a cool dry container. You can keep them at room temperature, or store in the refrigerator for longer shelf life.
They will keep for several weeks if kept cool and away from heat.
You can wrap each one individually if giving as a gift, or store together in a chocolate box.
Recipe Variations
Make White Chocolate Bombs: Instead of filling the hot chocolate bombs with cocoa powder, try filling them with white hot chocolate mix for an even sweeter, more decadent feel.
Change the color of your sprinkles to match the holiday! Red and Green for Christmas, Orange and Brown for Thanksgiving, Orange and Black for Halloween, Red White and Blue for the 4th of July!
Top with Crushed Cookies, Graham Crackers, or Cocoa Nibs instead of sprinkles
Make Mint Hot Chocolate: Used crushed peppermint or mint chocolate instead of the marshmallows in your hot chocolate bombs
Make Mocha Hot Chocolate Bombs: Add 1 tsp instant coffee to the hot chocolate bombs.
Make it Vegan! Use vegan marshmallows (like Dandie's), vegan chocolate (make sure there is no dairy added) and your hot chocolate bombs will be 100% vegan friendly.
Top Tips for Making Hot Chocolate Bombs
Use good quality chocolate for the best flavor. It also melts easier, and will create a more beautiful shine. I used 88% dark chocolate for this recipe, but you can use any dark chocolate that is greater than 65-70% dark.
Use a food thermometer to test the heat of the chocolate. You don't want the chocolate to cool too much before you have a chance to add it to your molds, however, you also don't want it to overheat which causes the chocolate to seize.
Make sure your molds are clean and dry before adding the melted chocolate.
Use a small pastry brush to coat the chocolate in the molds. If you feel like your chocolate coating is too thin, you can do another coat - just put it in the fridge for 10-20 minutes in between coats.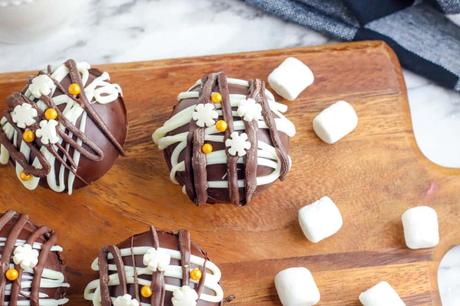 Check Out These Other Chocolate Recipes!
If you have tried this Hot Chocolate Bombs recipe or any other recipe on my blog, then please rate it and let me know how it turned out in the comments below! You can also FOLLOW ME on
FACEBOOK
,
TWITTER
, INSTAGRAM, and
PINTEREST
to see more delicious, healthy, family friendly food!
Hot Chocolate Bombs