I'm talking about the ones you can eat, of course.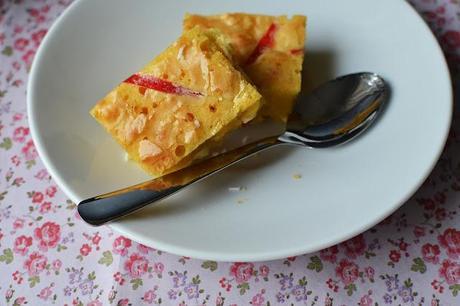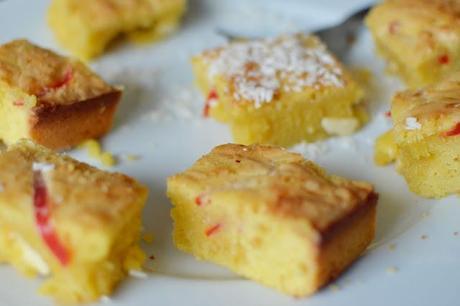 The Norwegian constitution day is coming up on Thursday and I wanted to make something sweet in addition to all the smoked salmon, eggs and champagne for the 17th of May breakfast (which is bigger than the lunch and dinner that day. Don't ask me why.) If you decide to try them,  I assure you that you won't regret it. Recipe is found here. 
Ingredients
200g/7oz butter
 300g/10½oz quality white chocolate, chopped
3 medium eggs
150g/5oz caster sugar
½ tsp pure vanilla extract
200g/7oz plain flour, sifted
pinch of salt
For the chillies
1 large fresh red chilli, de-seeded
1 large fresh green chilli, de-seeded
100g/3½oz caster sugar
150ml/5fl oz water
Preparation method. Heat the oven to 180C/355F/Gas 4. Lightly butter a 20cm x 30cm/8in x 12in straight-sided baking tin and line the base with greaseproof paper. Slice the chillies diagonally. Combine the sugar, water and chillies and bring to the boil, stirring. Simmer for five minutes. In a heatproof bowl set over a pot of barely simmering water, melt the butter with 150g/5oz of the white chocolate, whisking well until smooth. Remove from the heat and allow to cool slightly. In a separate bowl, beat the eggs, sugar and vanilla together until pale. Beat in the melted white chocolate mixture. Fold in the sifted flour and salt, then the remaining chopped white chocolate. Drain the chillies and add most of them to the batter. 9.h Pour into the baking pan, strew the remaining chillies on top, and bake for 25 minutes or until the top is firm and lightly golden. Remove and cool in the pan.
I haven't substituted painting with cooking entirely yet. I have actually five fresh canvases waiting for me to paint on, but I'm not quite sure how to approach them. One is already in the making since end of April. Every painting seems to become another long term project for me these days, so cooking seems to be a comforting way to get immediate results. I think what I need is some kind of deadline that forces me to get things done. Maybe a painting challenge?