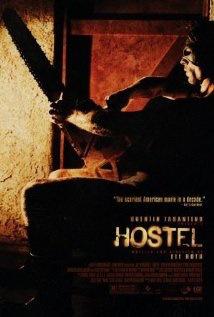 Director: Eli Roth
Writer: Eli Roth (Screenplay)
Starring: Jay Hernandez, Derek Richardson, Eythor Gudjonsson, Barbara Nedeljaova
Plot: Three backpackers head to a Slovak city that promises to meet their hedonistic expectations, with no idea of the hell that awaits them.
There may be spoilers the rest of the review
Verdict: Misleadingly Good
Story: Hostel starts by showing Paxton (Hernandez), Josh (Richardson) and Icelandic Oli (Gudjonsson) traveling around Europe, we meet them in Amsterdam where they are enjoying getting stoned. Paxton is trying to help Josh get over his girlfriend and after a chance meeting with a Dutch man who ends up sending them to Slovakia.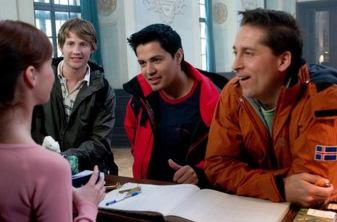 The three friends arrive in Slovakia and find the place filled with wall to wall girls just what the boys were looking for and it is also filled with parties and drugs everything a young adult looking for a good time is apparently looking for. After a dream first night where all three hooking up Oli disappears sending only a message to someone else who is has gone away with. Failing to find Oli, Paxton and Josh decide one more night and they are out of their but after they get drugged Josh finds himself tied to a chair and a man previously bumped into being able to do whatever he wants to him. Josh gets put through a brutal torture experience one that will test even the diehard horror fans out there.
This leaves Paxton searching for one of his best friends alone in a country he knows very little about, finding the girls he gets taken to where the friends are only to discover the real horror of what has happened to his friends and what will be his own fate unless he can find a way to escape.
Hostel is a film that even I thought was 'torture porn' I saw it when it first came out and put it in that category and how wrong I was. This is actually a film that will shock you because when it comes to the torture side of the story you simply don't see any of it. Everything that happens on the horror side is purely in your head, you only hear the screams, you see the tools and you see the aftermath but the actual act is how you imagine it. That is a scarier thing to be thinking about, the story is very simple and has a few twists and turns along the way. Every side of the story does seem to get explained through the film leaving nothing for you to question for our characters. It also gets left open for a sequel and never creates a top big leader for the group. Hostel really is one of those horror films that could easily be one of the best in recent years. (8/10)
Actor Review
Jay Hernandez: Paxton the cocky over the sex crazier friend who is just trying to get his friend laid to help get over his ex. Paxton has to investigate what is happening alone after his friends go missing and manages to become the reluctant hero of the story. Jay does a good job in the role giving it all it needs without exceling. (7/10)
Derek Richardson: Josh the friend who is struggling to get over his ex and this trip is designed to help him but he ends up becoming just another victim of the society. Derek does a good job as the reluctant party animal but doesn't have enough time to make an impact. (6/10)
Support Cast: Hostel has a supporting cast of trappers, killers and victims each one plays their part in the final outcome.
Director Review: Eli Roth – Eli does a great job directing this modern day horror classic. (9/10)
Horror: Hostel uses psychological horror to make most of the impact even though it looks like torture everything you see is before or after it meaning you have to imagine the actual horror making this one of the best for what it does in the genre. (9/10)
Settings: Hostel uses the setting of Eastern Europe to showing how things can look better but in the end have a very dark side to them. (9/10)
Special Effects: Hostel uses brilliant practical effects throughout with the results of the torture scenes with the highlight being the eye scene. (10/10)
Suggestion: Hostel really is a horror fans dream movie, I manages to mold plenty of sub-genres into one film without abusing any of them. (Horror Fans Watch)
Best Part: The suspense in the room with Paxton and his would be murderer.
Worst Part: Will be too much for some people.
Oh My God Moment: Eye scene.
Scariest Scene: Paxton being readied for his torture scene.
Believability: No (0/10)
Chances of Tears: no (0/10)
Chances of Sequel: Has two sequels
Post Credits Scene: No
Oscar Chances: No
Box Office: $80 Million
Budget: $4.8 Million
Runtime: 1 Hour 33 Minutes
Tagline: Shen mer tsui huai neng fa sheng (What's the worst that could happen)
Trivia: The character of Natalyia was deliberately shown to get 'uglier' throughout the film. Just like her personality.
Overall: Hostel really is a film that gets slammed for being too gory or even torture porn, when you watch look again it really is a psychological horror that has shocking moments.
Rating