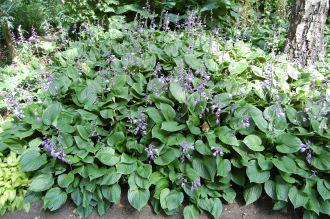 Hosta ventricosa (18/07/2015, Kew Gardens, London)
Position: Partial shade
Flowering period: Summer
Soil: Moist, well drained
Eventual Height: 60cm
Eventual Spread: 90cm
Hardiness: 3b, 4a, 4b, 5a, 5b, 6a, 6b, 7a, 7b, 8a, 8b
Family: Asparagaceae
Sub Family: Agavoideae
Hosta ventricosa is a deciduous herbaceous perennial with a clump forming habit. Its waxy blue/ green leaves are cordate with entire margins, deeply veined, up to 22cm long and 20cm across. Its pale purple flowers are funnel shaped and appear on erect spikes which are up to 90cm tall. Its roots are stolons which aids its slow spread.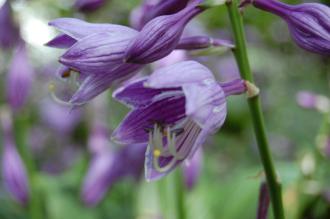 Hosta ventricosa Flower (18/07/2015, Kew Gardens, London)
Hosta ventricosa, commonly known as the Blue Plantain Lilly, is native to west China and North Korea. In its native habitat it grows on river banks in forests and areas of grass.
The etymological root of the binomial name Hosta is named after the Austrian botanist Nicolaus Thomas Host (1771 to 1834). Ventricosa is derived from the Latin ventriculus menaing 'belly' and the epithet osus meaning 'very'.

The landscape architect may find Hosta ventricosa useful as a low ground cover plant with architectural leaves. It is particularly useful in shady locations and for woodland planting schemes. Snails may be a problem in damp locations.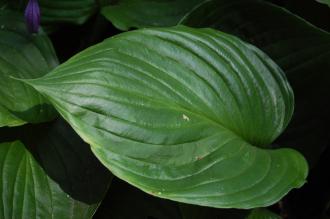 Hosta ventricosa Leaf (18/07/2015, Kew Gardens, London)
Ecologically, Hosta ventricosa flowers are attractive to nectar loving birds.
The Royal Horticultural Society has given Hosta ventricosa their prestigious Award of Garden Merit in 1993.
Hosta ventricosa prefers moist, humus rich, well-drained soils. It tolerates most pH of soil. It will tolerate damp soils.
Hosta ventricosa requires little maintenance. Large clumps may be divided in spring as its leaves first appear.


Landscape Architecture