I have elderly South Asian parents with whom I've been trying to create healthy boundaries. With these past COVID years, I hadn't seen my folks in person in nearly 3+ years.
This past week a lot has been happening with mentally preparing to return to work (I've been off on medical leave for much of the summer), something inside me was telling me to "call home."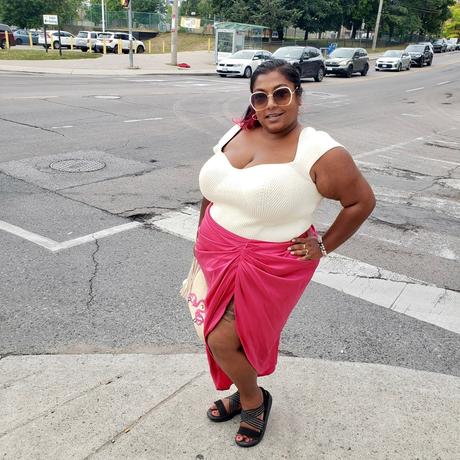 The Outfit I wore to visit my mom in hospital: Top from
H&M;
Skirt from
Shein
Sandals are
Sketchers
; Flamingo wicker purse is vintage.
I called my folks to find out that my mom and dad were leaving for the ER right at that moment. My mom had been having trouble breathing and was extremely pale; she could barely take two steps without struggling for breath.
My partner and I met them in the ER – although my folks have been in Canada over 40-years, their ability to understand and explain themselves in English isn't very strong. So having me there gave them the confidence they needed and my mom the comfort of having a woman take her to the washroom, etc.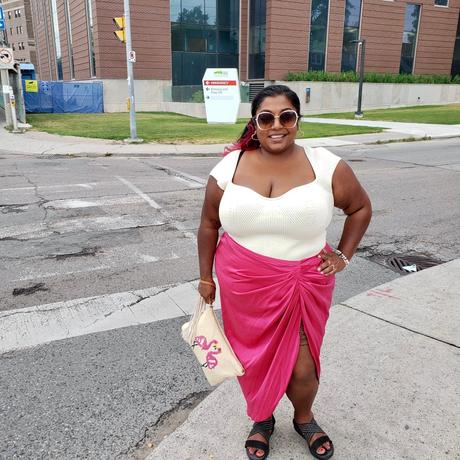 Hospital Fashion … if you don't laugh, you'll cry.
It's been an emotional rollercoaster, but happily with the care (the formerly known as) Toronto East General Hospital she is slowly recovering from several days of blood transfusions.
Happy to report that upon writing his my mom has been discharged from hospital and is back home in the care of 3 South Asian men: My Dad, My Uncle (her brother-in-law) and My 36-year old Brother. **sigh**.
Please keep her in your thoughts and prayers as her care at home will be questionable, to say the least.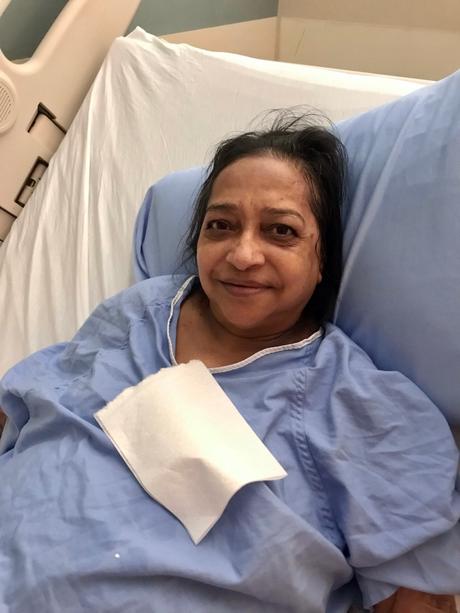 Here she is … my mom with improved health in her hospital bed.
When I visited her in hospital, I was able to give her a manicure and pedicure all the while listening to her go on and on about how fat I've become, and how uncomfortable it has been in a shared room. We visited her at home and were finally able to give her the side-walker and cane I bought for her pre-Covid. She's used both and has shared how much it's helped give her some independence again to confidently walk to the pharmacy and nearby walk-in clinic.
Anyways, as I struggle to be a "good daughter" to my South Asian mom … I've done my best to wear an outfit that both makes me feel and look good, and doesn't get too harshly criticized by family members. Hope it provides some outfit inspo for you.
Top is from H&M; Skirt is from Shein and the Sandals are Sketchers.