Some of you may wonder why we started off in Tivoli seeing Villa Adriana, then went to Villa Lante/Franese and then came back to Tivoli to D'Este? Well we didn't, we went to D'Este after Villa Adriana and whilst you may think I got over excited and missed this one for a while, I am going to claim that going in order is just dull.  Confusingly there appears to be at least two Villa D'Estes in Italy, this one near Tivoli and another one near Lake Como.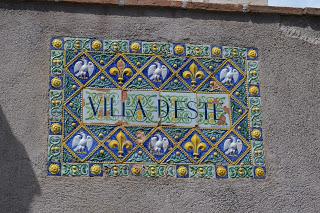 Villa D'Este is about water.  Lots of it, water spouting everywhere.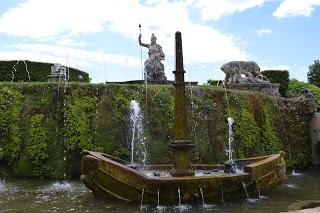 There are fountains and pools everywhere.  As with other gardens we visited on this trip, this garden was sadly damaged during the Second World War, but still much remains.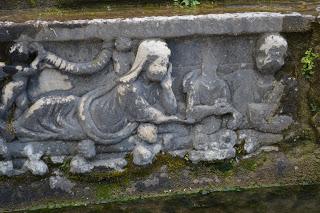 There is also a lot of carving and elements borrowed, taken (plundered?) from Villa Adriana.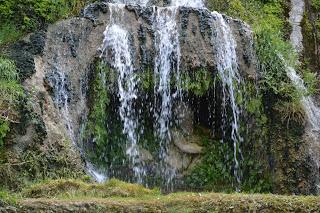 and did I mention water?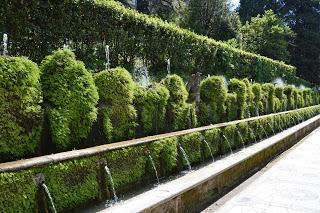 lots of it.  It makes a very cooling space and the sound is quite wonderful.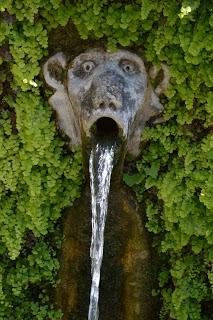 The different faces of the water spouts add real character.  I look though at the water and think about even in this modern world we live in there are still huge parts of the globe where clean fresh water is hard to come by.  Whilst we buy expensive bottled water and let our taps flow, people die from water-borne diseases every day.  I look at this use of water, that we have seen used extensively in these grand Italian statement gardens and cannot believe that clean running water was in abundance when these were built.  I think about the diverting of water to make these features and the impact that this might have had downstream on the people.  What was the line of the song about holidaying in other peoples' misery?*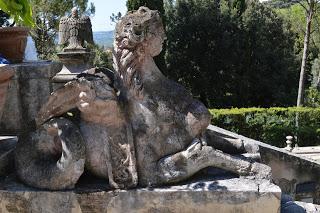 We moved on to ponder this young lady who had hooves, a tail, wings and water spouts (not working) from her breasts.  It was like someone had been given a catalog to put her together and the pages kept turning accidentally.
Cardinal Ippolito II D'Este, who originally commissioned the garden, might have had a bit of a thing about breasts.....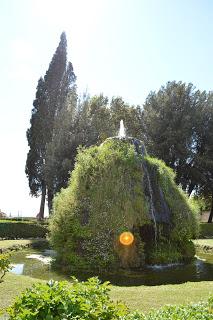 maybe.....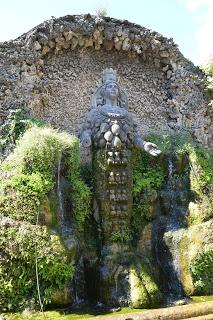 possibly?
Moving on...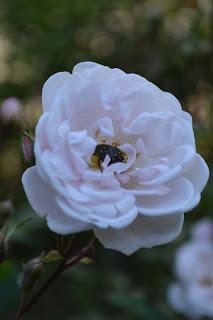 The gardens are filled with the scent of roses,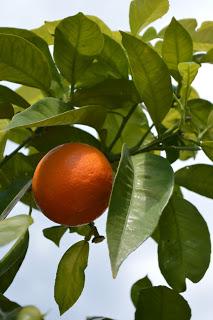 and pots of lemon and orange trees line the canals.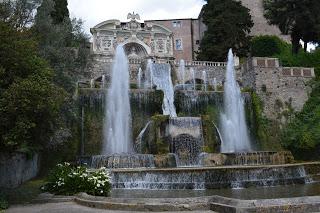 There is (of course) the grand statement water feature.  We have to be reminded that great wealth created this garden.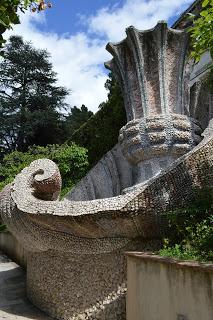 and also this wonderful well-head.
Even outside the Villa there is sculpture and water,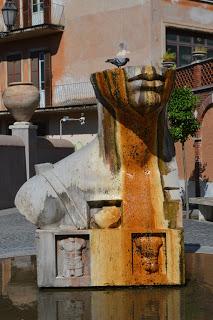 I found this modern piece quite stunning.  The pigeon perching on it was an added bonus.
This is a fantastic garden to explore.  It is very steep with lots of steps and slopes and you discover things as you turn each corner.  As a statement garden I did like it, it has the wow factor that you expect, in fact probably more wow than you expect.  It was a good visit and we returned to the hotel happy, tired and with our legs feeling a little achey from all the steps.
So onwards we went as the tour continued.
Hortus Romam 1 - Rome
Hortus Romam 2 - Villa Adriana
Hortus Romam 3 - Villa Lante
Hortus Romam 4 - Villa Farnese
Hortus Romam 6 - Ninfa
* Holidays in the Sun  Cook/Jones/Rotten/Vicious 1977