Villa Farnese, aka Villa Caprarolo I think was about thirty minutes or so from Villa Lante, to be honest we were all talking (hard to imagine I know) so I was not hugely paying attention.  One of the joys of this holiday was being a passenger and not having to think about driving at all.
The Villa itself is decorated with the most incredible wall paintings.  You might think you have seen wall paintings before, but this mansion takes you to another level.  We spent a good hour just staring at walls and ceilings.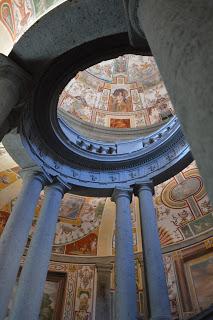 This is just a glimpse of how amazing it is inside.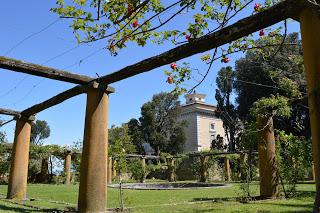 The gardens near the mansion felt calmer, greener than they had at Lante.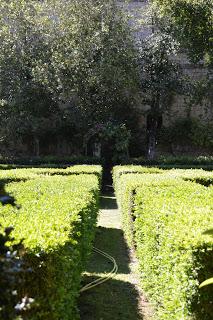 There the similar topiary/knot garden elements at the front, but the calm space was what I felt Lante was missing.  We did not see the equivalent there.
The gardens are very steep and you go for quite a long walk through the woods.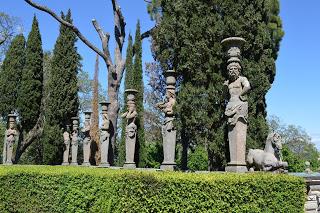 You arrive to find statues standing guard.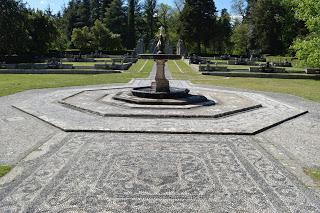 There is also the formality we had grown used to seeing.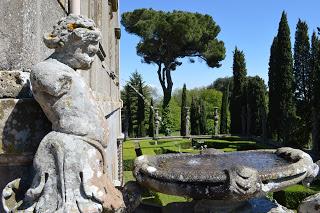 and lots of water.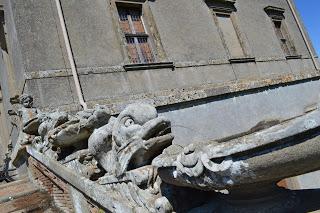 dolphins lined the stairs,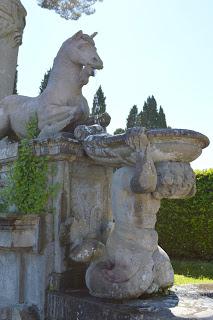 and horses spouted water.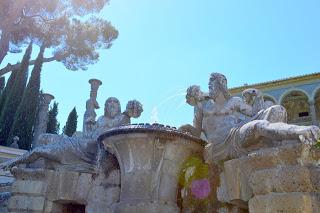 There was the large grotto at the top of the cascade,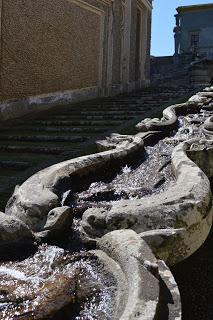 and the cascade itself which was very similar to the one at Lante but just a little more fancy, the chains just had a little more detail as they were dolphins and fish, not just scrolls.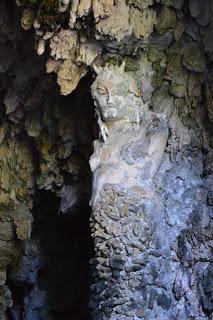 We even found a grotto of devils, tucked away.  These grottos are a feature of these gardens and as we walked around we realised how much these gardens when visited as part of the Grand Tour had influenced our own grand gardens.  In particular I thought about the grotto at Calke Abbey, which has been fairly recently restored and seeing these ones in Italy made me realize what they were trying to achieve.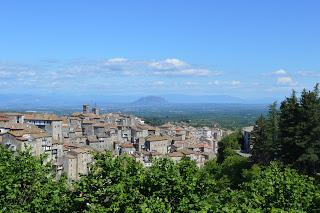 Did I mention the views?
Hortus Romam 1 - Rome
Hortus Romam 2 - Villa Adriana
Hortus Romam 3 - Villa Lante
Hortus Romam 5 - Villa D'Este