Day three and its the big day, the one where we visit three gardens:  Villa Lante, Villa Farnese and Bomarzo.  I shall tell you now I was probably most excited about Bomarzo, but that is not the subject of this post.
Villa Lante is in Bagnaia which is a fairly small town.  We arrived a little early for the garden so we went for a coffee in a local cafe.  This resulted in some excited discussions about Leicester City (who, for those who have been living in a bucket) had just at that point won the Premier League.  Their manager Claudio Ranieri is Italian and from the environs of Rome so it was big news there as well as for our group of Leicester tourists.  Here I must add a caveat: I am not a Leicester City supporter, but most of the people I was with seemed to be and the 'we're from Leicester' resulted in us being serenaded by one of the locals.  It was all a bit magical.
Anyhoo, to the garden, which was a pleasant wander up from the town square.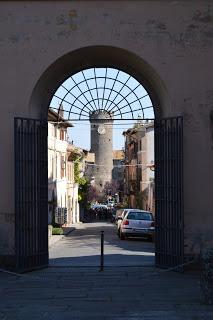 This is the view back towards the square.  The clock tower was rather fine.
The gardens are dominated by topiary and water.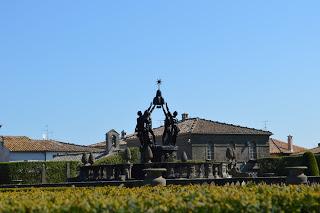 Fountains are a key feature.  If you want a proper description then Wikipedia has a good one here.  I am not going to take you on a factual tour, but one more of what I liked and how I felt about it.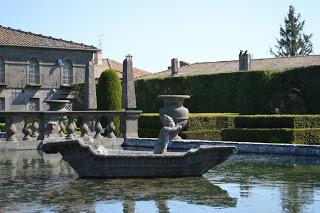 The water features all work from natural water pressure, sadly it was explained to us that the pressure system no longer worked as it had due to age deterioration.  As the gardens were mainly built in the late 1500s I think we can forgive age catching up with them.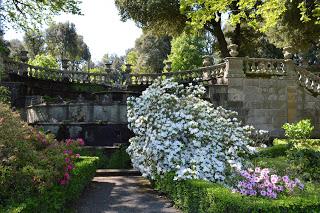 People often talk to this type of garden being mainly green, and indeed it is very green, but there was also some color.  This is apparently a fairly late addition but it was welcome and I think it works well.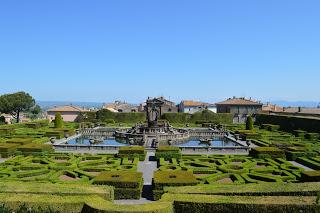 The garden is a series of terraces, it is perfect for strolling around.  This is  a lucky photo as 'dodge the crowds' was the name of the game.  There were several large groups 'doing the tour' the same as we were.  As I stood here I thought about how this garden was developed for one man to wander around and show off.  This garden is the equivalent of manspreading, it shouts 'this is what I can do, this is how powerful I am'.  As I looked down on the town below all I could think is that the garden is designed to look down.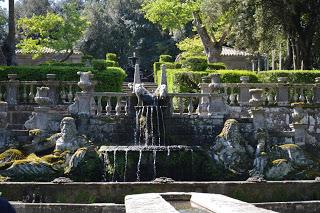 There are big stamps of wealth and power in the shape of huge features.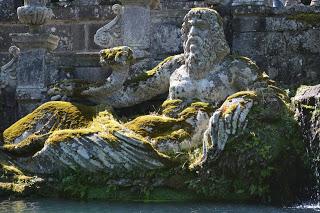 The statues were impressive,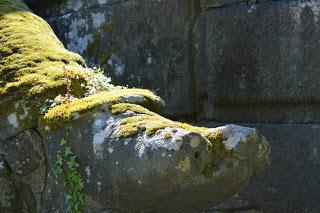 I rather liked their mossy feet.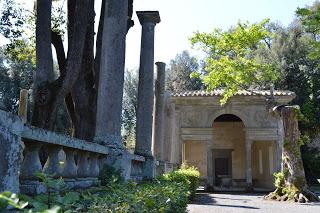 The top terrace sees pillars and matching twin summer houses,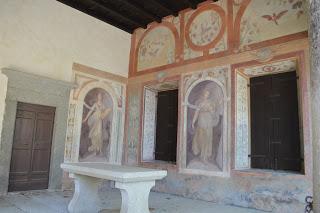 that just exude cool and calm and have the most beautiful wall paintings.
I think this was my favorite wall painting which is in one of the lower buildings closer to the topiary garden.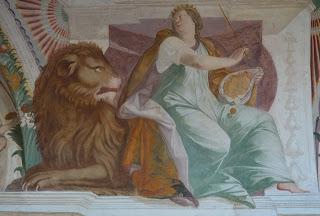 She looks slightly surprised at seeing a lion so close, well you would be wouldn't you?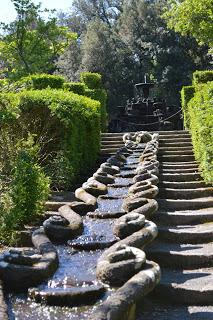 I have to include a picture of the famous water-rill that cascades down the garden.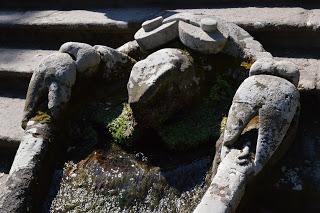 It is topped with a shrimp, the symbol of Cardinal Gambara as the Italian for shrimp is gamberi (apparently).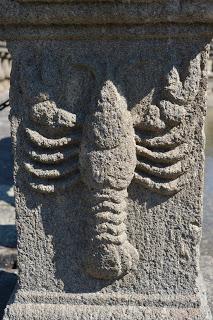 The shrimp motif was repeated throughout the garden.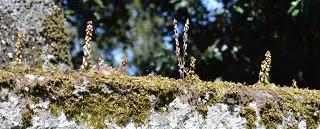 I got distracted by detail, I loved this mossy wall with its tiny wild flowers upon it.  The gardens have been through a period of restoration following damage from Allied bombing during the Second World War.
This is a 'great' garden, built on great scale with great wealth.  You look at it and cannot help but be in awe.  It did not, for me, feel like a garden to particularly enjoy though.  I almost cannot explain this but it felt so formal, so staged that I could not really imagine where I would sit for a cup of tea when the day is over and I want to ponder things.  Maybe we just did not see it as it was a tour, but I did not get a feeling of a private space where the owner would sit in their gardening trousers and just unwind.  It felt like life is always on show, always on duty.  Maybe it was and therein lies probably my feelings for this garden, it did not feel happy.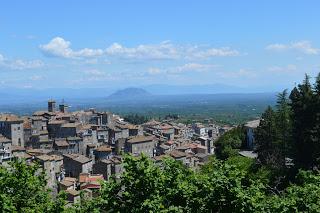 The views across the town and beyond left me breathless.  I think my abiding memory of this holiday will be the views that stretched for miles and miles.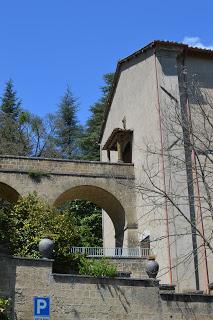 As we walked through the  town I had a 'Clough' moment.  Any visitor to Portmeirion would recognize this detail I am sure.
We then returned to the cafe for one of the best meals I think I had whilst in Italy, very simple pasta and porcini mushrooms and a jug of fizzy white wine followed by tiramisu, I was in heaven.
Part 1 - Rome
Part 2 - Villa Adriana
Part 4 - Villa Farnese