I have recently returned from a garden-visiting holiday around Rome.  Yes this does mean several posts about 'what I did on my holidays' so I would apologize in advance, but it would not be sincere.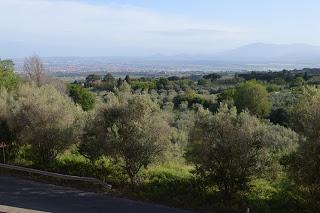 The base for our holiday was near Frascati, just outside Rome.  As soon as we arrived it was clear we were not in Kansas anymore, the landscape was clearly very different from home.  Everywhere there were olive trees, the sun shone on their greyish-green leaves and glinted.

There were also acacia trees and cypress trees around the hotel.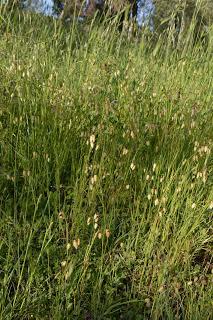 and swathes of quaking grass.  I have not seen it growing wild before, it was a delight.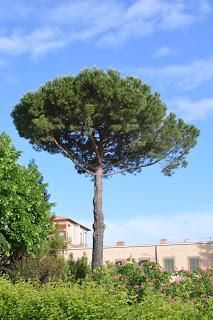 The Stone Pine, or Umbrella Pine was everywhere we looked.  What a fantastic architectural tree it is.  As someone who dislikes conifers generally it turns out I might love pines.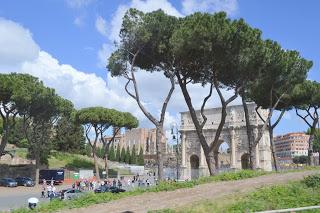 In Rome itself we had a flying tour around the city with a few stop offs for tourism, shopping and eating ice cream, correction, not ice cream, tartufo.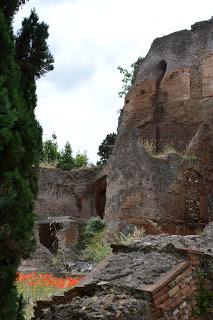 Whilst we knew we should be admiring the ruins (and we did, honestly we did), I could not resist admiring the poppies.  They are a few weeks ahead of us here so it was a delight to see them.  They were also so red, so bright vermillion red.  After some discussion we decided this was probably due to the clear Italian sunlight.  There were flashes of these red poppies throughout our holiday, once or twice orange plastic fence mesh seen at a distance was mistaken for poppies.  We did a double check after we realised.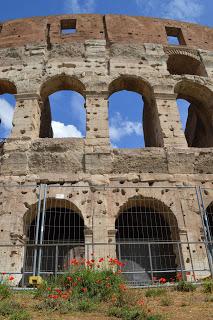 The poppies set off the color of the Colosseum stone well.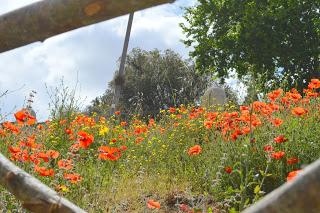 and when we turned around there was this bank of wild flowers behind us.  It was incredibly beautiful.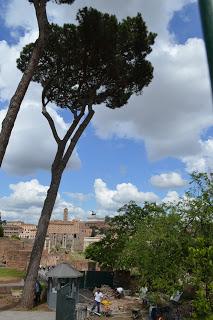 These Stone Pines overlooking the Forum were just perfect.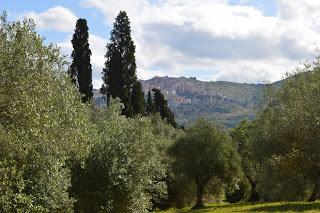 We journeyed back to our hotel, through more olive groves and cypress trees......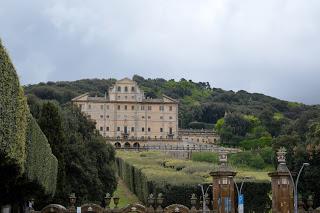 ......stopping briefly to admire the Villa 

Aldobrandini

 in Frascati.  Sadly we were not able to go in, but it was a taste of things to come.  The holiday had begun.




Episode 2:  Villa Adriana


Episode 3: Villa Lante