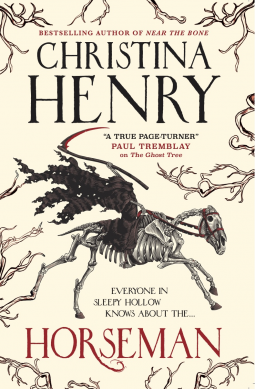 Everyone in Sleepy Hollow knows about the Horseman, but no one really believes in him. Not even Ben Van Brunt's grandfather, Brom Bones, who was there when it was said the Horseman chased the upstart Crane out of town. Brom says that's just legend, the village gossips talking.
More than thirty years after those storied events, the village is a quiet place. Fourteen-year-old Ben loves to play "Sleepy Hollow boys," re-enacting the events Brom once lived through. But then Ben and a friend stumble across the headless body of a child in the woods near the village, and the discovery makes Ben question everything the adults in Sleepy Hollow have ever said. Could the Horseman be real after all? Or does something even more sinister stalk the woods?
***
Of course I knew about the Horseman, no matter how much Katrina tried to keep it from me.
***
(@TitanBooks, 28 September 2021, ebook, 278 pages, #ARC from the publisher via @ NetGalley and voluntarily reviewed)
***
I'm a huge fan of the author and couldn't wait to read Horseman, her take on the famous story by Washington Irving. I really loved this book. I loved the way the author develops the setting and brings the little town of Sleepy Hollow which seems very sinister at times to life. The characters are well written and really come to life on the page. Having read Irving's original story I can see its inspiration running through the book. The book is very dark at times as Ben determines to find out if the stories of the Headless Horseman are real or if something darker lingers in the forbidden areas in woods around the village. I was gripped from start to finish. I really loved this book.