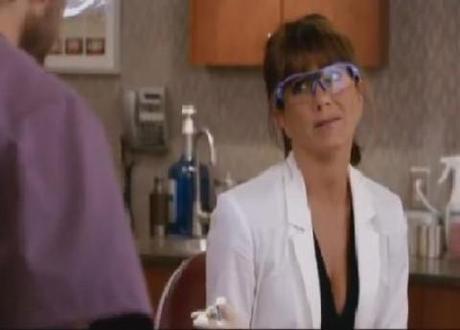 Jennifer Aniston in Horrible Bosses
In new comedy Horrible Bosses, three friends with miserable work lives decide to free themselves from their, well, horrible bosses. Not, as you may imagine, by handing in their notice: the protagonists enlist a "murder consultant" in order to bump off their evil employers, played by Jennifer Aniston, Kevin Spacey and Colin Farrell. Hilarity ensues – or not?
"Charmless vulgarity." The New Yorker.
Video nasty. Writing in The Daily Express, Allan Hunter clutched his pearls and exclaimed: "When did crudity become the norm in American comedy?" Hunter was unimpressed by the bad behaviour on display: "Isn't there some little corner of Hollywood that still believes in the sweet and charming?" Adam Woodward of Little White Lies felt that Horrible Bosses was crude rather than clever, "prizing its R cert status over substance". In The New Yorker, Richard Brody agreed, despairing of the "charmless vulgarity" of the film. Peter Bradshaw was a bit kinder: "The tonal challenges and problems inherent in ultra-black comedy are not addressed," he wrote in The Guardian.
"It's not as dark and disturbing as it easily could have been." Film4.
Not nasty enough? Alex Larman at Film4 complained that the dark comedy just wasn't dark enough: "It's not as dark and disturbing as it easily could have been. While there are scenes of death, self-mutilation, cocaine binges and staged sexual abuse, these are played, oddly, for cosy laughs rather than anything more impactful."
"You need somebody inside a comedy to tether the absurdity to reality." Jason Bateman, Guardian interview.
Bateman's the boss. Christopher Tookey reserved particular praise for Jason Bateman's performance as one of the murderous employees: "The skilled comedian Bateman has the best moments, underplaying when all about him are going over the top," he wrote in his Daily Mail review. Over in The Telegraph, David Gritten was similarly enamoured, describing Bateman as a "master of deadpan", while David Jenkins called the actor "Hollywood's most sympathetic screen presence" in Time Out.
More on film

Tabloid
Harry Potter and the Deathly Hallows
Iron Lady trailer