Pittsburgh, PA's HOREHOUND announce their teaming up with Hellmistress Records to re-issue the Horehound Self-titled 2016 debut for both CD and first-time colored vinyl variants. The seven original tracks have been re-mixed, re-mastered, and now include a bonus song of Portishead's, 'Mysterons', covered a la doom!
Digital Streaming on Bandcamp and other outlets, as well as the new CD will be available 4/20/2018, which is the second anniversary of the original release date.
Vinyl press is expected to be available on June 1st.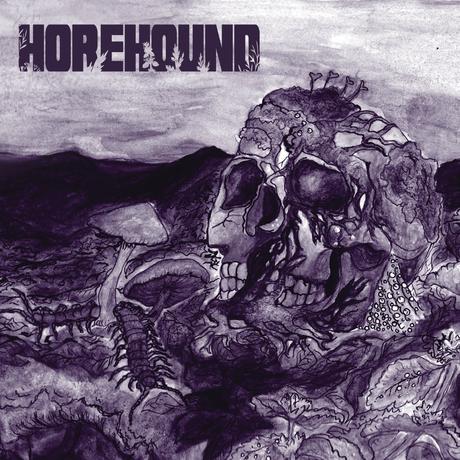 Horehound - Track List:
1. World to Come 2. Sangreal 3. Crowns and Thrones 4. The Dead Don't Lie 5. Waters of Lethe 6. Myope 7. Waking Time 8. Mysterons (bonus track on re-issue only)
Recorded by Matt Schor at War Room. Mastering by James Plotkin at Plotkinworks. All music written and performed by Horehound, with the exception of "Mysterons", originally written and performed by Portishead. Cover Art by Sasaya Orenda Hamer-Pennisi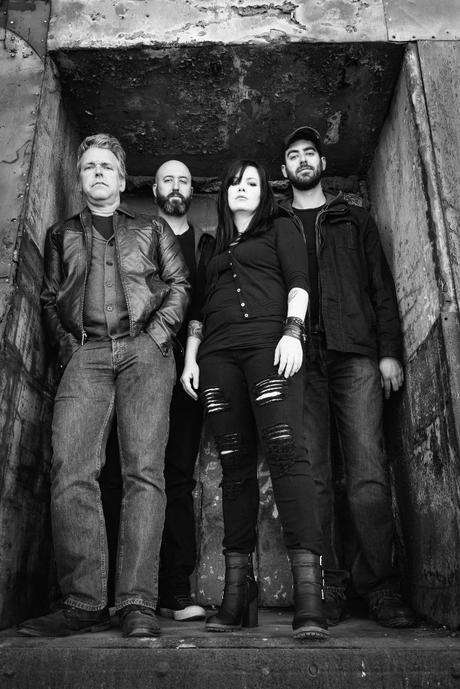 Photo by Trevor Richards HOREHOUND is (left to right):
JD Dauer - drums Brendan Parrish - guitar Shy Kennedy - vocals Nick Kopco - bass BIO:
Horehound had become a Pittsburgh, PA hometown heavy underground favorite quite soon after forming in early 2015, performing with both local legends and well-known touring acts. In one year, Horehound released their self-titled debut album (both digital and CD) in April 2016, via Blackseed Records. The album immediately coiled around the heavy music media world, appearing for two consecutive months on the Doom Charts collaborative, and cemented their standing as more than just local favorites.
Recently Horehound has engaged that debut album for a 2018 re-release with Hellmistress Records, the new East Coast label of veteran Melanie Streko (All That Is Heavy, Meteor City Records). The re-release is anticipated in early spring and will be re-mixed/mastered for both CD and vinyl pressing, including a bonus cover song, "Mysterons" originally written and performed by Portishead.
Fans have described Horehound as "fucking heavy, doomy, catchy, and downright amazing." Horehound would not disagree, citing their inspirations as Kyuss, (the) Melvins, and Alice in Chains, but you can hear a heavier sludge inspiration dwelling in the grinding guitar, haze-laden bass, bruising drums, and ethereally demanding vocals.
Horehound has made it quite evident in recent performances that their current lineup – including founding members Shy Kennedy (vocals) and Brendan Parrish (guitar) – have found their true sound with drummer JD Dauer and bassist Nick Kopco.
The quartet is fiercer and impassioned to demonstrate it in sharing their next recording, currently being mixed and mastered for a 2018 release. The six track, Holocene, maintains the original Horehound-heavy, but has driven into deeper depths of dark, hardened post-doom metal. More information on the new release and the band to come. HOREHOUND - Upcoming Live Events:
04I19I18 - Philadelphia, PA @ Century (w/Wasted Theory, Void King 04I20I18 - Brooklyn, NY @ Hank's Saloon (w/Eternal Black, Begotten, Somnuri) 04I21I18 - Jewett City, CT @ NEW ENGLAND STONER AND DOOM FEST 05I10I18 - Pittsburgh, PA @ Brillobox (w/Mos Generator, Limousine Beach) 05I26I18 - Pittsburgh, PA @ Cattivo (w/Ufomammut, White Hills) 06I16I18 - Aliquippa, PA @ Fallout Shelter (w/Rule Of Two, Everyone Hates Everything) 09I28I18 - Pittsburgh, PA @ DESCENDANTS OF CROM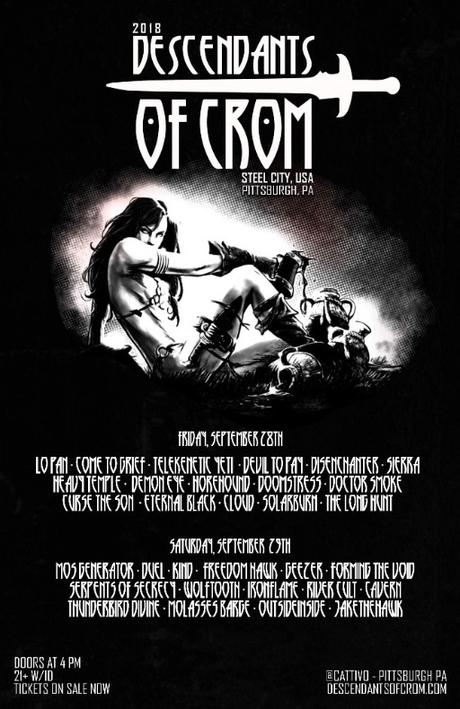 Media Reception to Horehound:
"Horehound is a fantastic band on the way up, and 2018 should be the year that doom metal fans outside of Pittsburgh start buzzing this band up." ~ Metal Injection
"Horehound deliver stoner doom grooves, drenched distortion and fuzz underpinned with solid, tight rhythms and fronted by powerful and distinctive vocals... Horehound play it real, with feel and attitude." ~ Doom Charts


"Horehound is a band that all fans of Thee almighty riff should put on their watch list.There's great balance to be found on their debut Self-Titled and they constantly fluctuate their songwriting tactics so that each of the album's seven original compositions stands apart from one another." ~ Teeth of The Divine




http://artistecard.com/horehound

https://horehound.bandcamp.com/
https://www.facebook.com/horehoundband
https://twitter.com/horehoundband
https://www.instagram.com/horehound420/