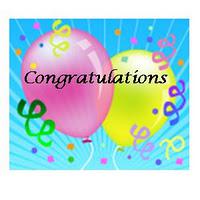 I hope everyone had a wonderful Easter.  I was gone most of the weekend and I never found time to enter any of the great giveaways that were happening but my bookshelves are filled to overflowing as it is so it worked out for the best.
The winner of The President's Vampire by Christopher Farnsworth is:
Ramblings of a Part time Druid
Check out her blog at Kitten Reads.  I've already heard back from my winner so I'll get the book out in the mail this week.  Thanks to everyone who entered.  I can't wait to check out some of the blog links that you left in the comments.  I'm sure I'll find lots of new blogs to follow.
(The winner was selected using random.org)
Note: All opinions provided on this blog are my own. If a product was given to me for review, the source of that product is noted in the post. Bookstore links are generally affiliate links and I do earn a small amount for each purchase. Other affiliate links will be noted in the post.