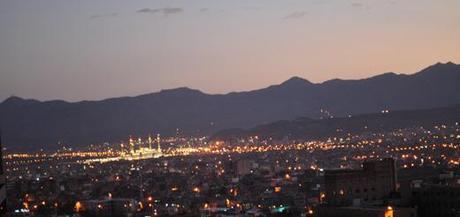 Overlooking the Sana'a cityscape. Masjid Al Saleh (Saleh's Mosque) is brightly lit towards the middle of the shot. (Photo: CIPE)
After living in Egypt, Kuwait, Jordan and Oman, and traveling through other countries in the region, Yemen remains one of those still left on my list of places to visit. Since the country took a turn toward political uncertainty, I wonder what will have to happen before I get a chance to cross it off.
It is apparent to me that Yemen has democratic prospects on the horizon and that there are strategies to halt what may seem an inexorable march toward crisis. I was heartened to read Christopher Boucek's testimony before the Senate Committee on Foreign Relations' Subcommittee on Near Eastern and South and Central Asian Affairs. In his remarks this Tuesday, Boucek stressed that,
"Washington must do more to address the underlying sources of instability—a collapsing economy, rampant corruption, unemployment, and resource depletion—if Yemen is to avoid becoming a failed state and a breeding ground for terror."
The Arab Spring has confirmed that there is no state stability when citizens live under regimes that squash their dignity and fundamental freedoms – the freedom to participate in the political process, and the freedom to work and provide for one's family. At this unique point in history, it is becoming increasingly clear – not just for Yemen experts such as Boucek, but for representatives in Congress, the administration, and State – that a "Yemen strategy" focused solely on combating terrorism follows the age-old metaphor of the doctor who treats the symptoms not the infection itself.
Instead, Boucek offers reality-based solutions to address the systemic problems that Yemen faces: improve the legal system, support land reform, and build state capacity.
Some will inevitably say, "Great, but how?" But we cannot under appreciate the importance of correctly identifying Yemen (and the region's) core challenges.
Only then can policymakers apportion government funds to most adequately support Yemen's retreat from failed state territory.
Only then can international actors and local partners construct programs that adequately respond to issues that negatively influence daily life for Yemenis.
Only then do I have a chance of someday visiting Bab al Yemen.
CIPE's groundbreaking film, Destructive Beast, exposes the economic and social costs of corruption in Yemen. Directed by acclaimed filmmaker Khadija al Salami, the 43-minute documentary film captures the toll that abuse of power, neglect, and bribery have taken on economic growth and development in a country already on the brink of collapse. Please e-mail [email protected] if you would like to view or download a copy of the film, available in Arabic with or without English subtitles.