Circuit Breaker Day 39
In the past, I had never fancy Hongkong Egg Bubble Waffle 
香港鸡蛋泡泡华夫饼 
as I find the after taste too overpowering for me.  The whole perception change when I tried one at the HK airport lounge a few years back.  
It was so good that I actually had a 2nd helping and that soon lead to me purchase a bubble waffle iron!  Hectic life took over and soon I totally forgotten about my toy.
It was during a recent trip to Canada and we dined in at one of those cafe that offers HK snack food and upon my sister in law's recommendation, I had some and once again, 
old memories rekindled.  It was really good.  I wonder why can't we have authentic food in Singapore.  Somehow, I always feel that ours always cut corners and lacks the taste.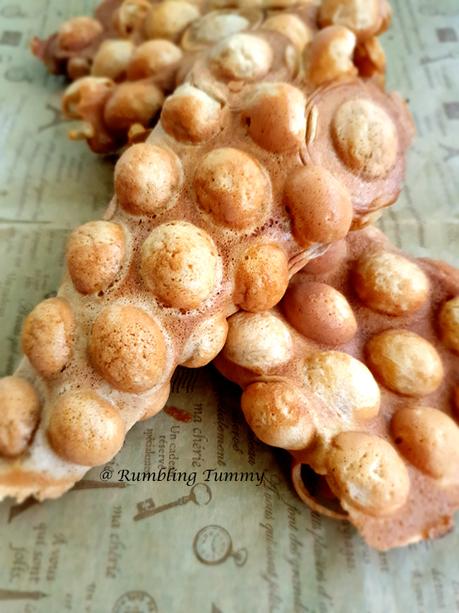 Findings: My first piece, I did not grease the iron as it was supposed to be non stick but I was wrong.  So please grease the iron no matter what.
When eaten fresh, it is crispy on the outside and chewy on the inside.  Unfortunately, this turns soft very quickly but give it a toast in the toaster, it is just as good.
For the next round, I think I will be more generous with my vanilla and also need to work on the browning.
What you need:
Yield: 4- 5 pcs
140g cake flour
1 tbsp rice flour
½

 tsp baking powder
1 tbsp custard powder
30g tapioca starch
2 egg
100g castor sugar
30ml evaporated milk
140ml water
15g veg oil
¼

 tsp vanilla extract
Method:
Sift cake flour, rice flour, baking powder, custard powder and tapioca starch.
In a mixing owl, whisk eggs and sugar until light.
Whisk in evaporated milk, water, oil and vanilla extract.
Whisk in the egg batter into the flour until smooth.  
Sieve and then clingwrap.
Let it chill for 1 hour before cooking.
Heat a waffle iron and lightly grease the iron.  Pour the batter and when you cover, place a plate under to catch the drippings. Closed and cook for 1 min 20 sec or until golden brown.  Repeat same time for the next side.
Serve hot.
Enjoy!

If you have enjoyed this post by Rumbling Tummy, be sure to follow her on Facebook, Instagram, Pinterest, Twitter and Google+ .