Now here's a combination you can bet on, and you don't even have to fly to Vegas, baby! Based on the 1992 film, Honeymoon in Vegas tells the tale of scared-of-the-altar Jack and his long suffering girlfriend, Betsy, who fly to Vegas to tie the knot. In walks con man on-the-make, Tommy, a dashing Vegas gambler who believes Betsy is a spitting image of his deceased wife. The winner is the audience who goes on a hilarious romp through love, humor, and competition for true love. This romantic comedy comes to life at the Marriott Theatre in Lincolnshire now through October 15 and will leave you in hysterics.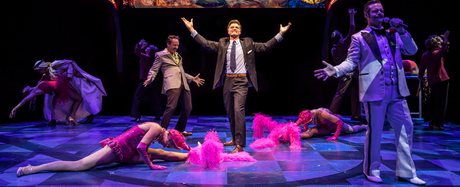 Samantha Pauly as Betsy has looks that are as beautiful as her voice and she was delightful. Jeff Award-winner Michael Mahler as Jack is in his prime with comedic antics at its best, especially when he joins rank with the Elvis impersonators. Jeff Award-winner Sean Allan Krill was the suave, sophisticated con man with a great voice, who you don't trust anyway. But Marya Grandy as Jack's late mother, Bea Singer, stole the show every time she was on the stage. With a big booming voice and great lines, Grandy got a thunderous applause on opening night. Of course, the flying Elvis impersonators brought the house down. Mention must be made of the new overhead screens that helped light the scenes, bringing a bright, colorful addition to the sets. And of course, the costumes were show-stopping thanks to the imagination of Emmy Award-winning costume designer Brian Hemesath.
The winning team included 10-time Jeff Award-winning director Gary Griffin, Tony Award-nominated choreographer Denis Jones, and Jeff Award-winning musical director Ryan T. Nelson and Jeff Award-winning associate choreographer William Carlos Angulo.
To reserve tickets, call The Marriott Theatre Box Office at 847.634.0200 or go to www.ticketmaster.com. Visit www.MarriottTheatre.com for more information. Next up on the Marriott stage is Newsies, from October 25, 2017 – December 31, 2017.