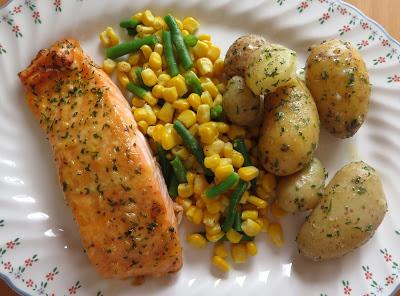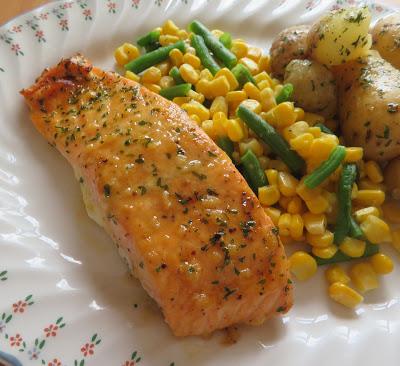 We are a pair who really love fish, and as a cook I love working with it. Not only is it a very versatile ingredient, but it is really good for you and cooks quickly.  We both adore Salmon and this Honey, Mustard and Garlic Salmon is one of the ways we really enjoy eating it.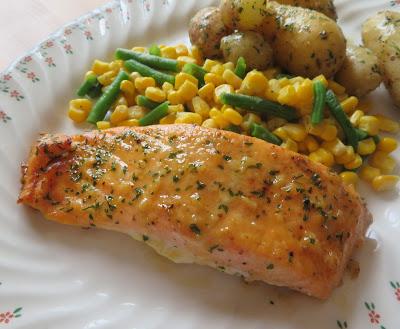 I will confess however, I am not overly fond of skin on my fish, which is why I really love these boneless and skinless salmon fillets I get from
Seafresh
.   They're boneless and skinless and come from cente cuts, or the thicker part of the salmon and not the tail, which means they have a beautifully rich and flavor that is not overly fishy, if you know what I mean!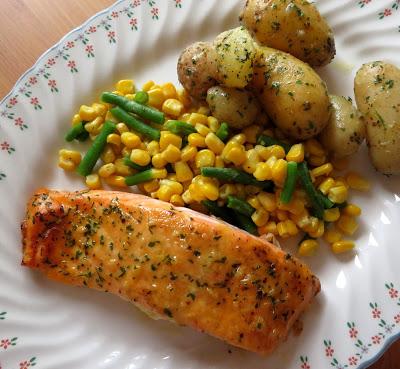 Salmon is so good for you as well. Its one of the oily fishes which means it is filled with rich protein and healthy omega 3 acids.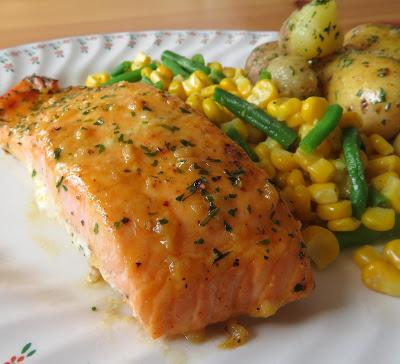 This is such a simple and delicious way to prepare it. You simply season your fillets, top and bottom and put them into a baking dish.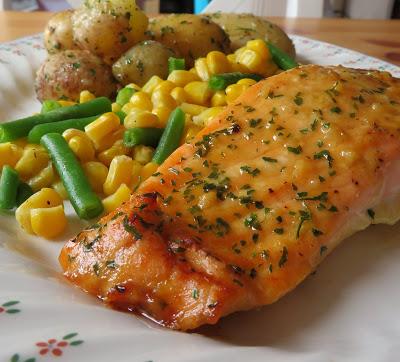 A mix of honey, mustard, butter and garlic is spooned over top and then you simply pop them into the oven and bake.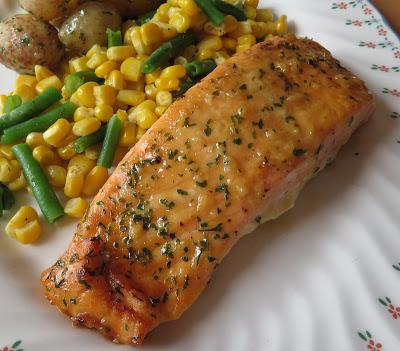 They are done in about 13 minutes tops.  Easy peasy.  I did pop mine under a hot grill for a minute to gild the edges a bit, but that was more for presentation than anything.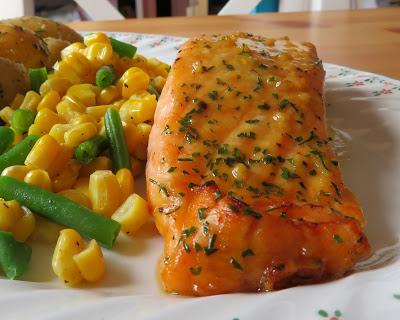 Thirteen minutes will give you perfectly cooked salmon. The recipe is for two people, but you can very easily double everything and serve more.  My friend Tina had brought us some beautiful potatoes freshly dug from their garden.   There were some lovely looking tiny ones.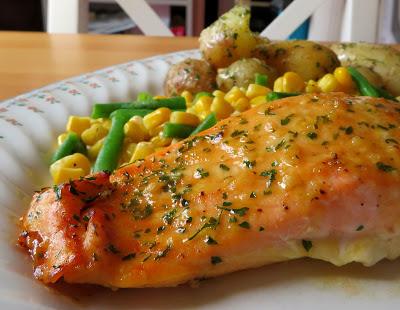 I boiled them to serve with the salmon. You forget how really delicious freshly dug potatoes are, fresh out of the ground. Oh my but they are a little taste of heaven.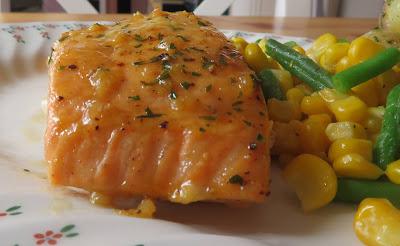 I also cooked some corn and green beans. I had a bit of frozen corn in the bottom of a bag and a handful left of frozen beans.  They were the perfect side to serve with the salmon and the potatoes.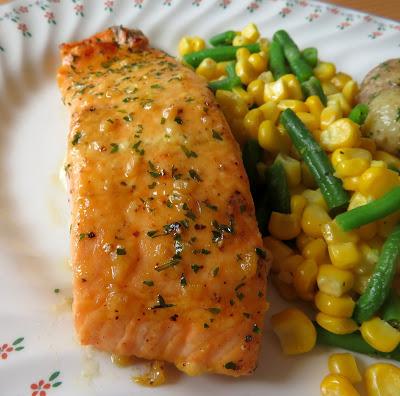 Todd said it was the best meal he'd had in a while. (Cheeky!!)  But really it was delicious. The fish  from Seafresh is so amazing.  I have never had any fish from them that I didn't like.  It is frozen
fresh
at the
source
and so it is some of  the freshest fish that you can find.  Their
salmon fillets
are absolutely gorgeous. Boneless and skinless and individually frozen so that you can take out as many or as few as you want to cook at any given time.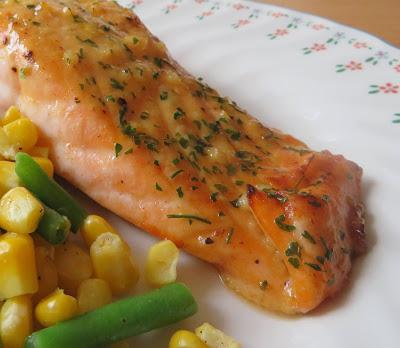 Salmon is one of those fishes that goes really well with, and that can stand up to strong flavours like honey and mustard and garlic.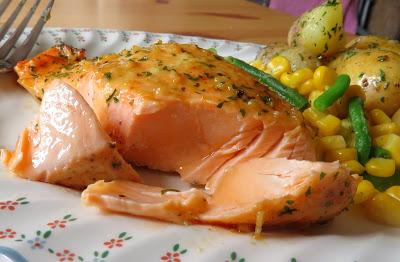 Just look at how perfectly cooked that fish is!! I am getting hungry again just looking at this photo!  
Yield: 2
Author:
Marie Rayner
Print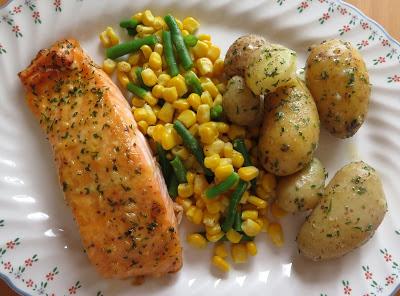 Honey, Mustard & Garlic Salmon
This is the most delicious salmon. Quick and easy to do and perfectly cooked. Sized for two people but can very easily be doubled.
prep time: 5 M
cook time: 13 M
total time: 18 M
Ingredients:
2 (6 oz) boneless, skinless center cut salmon fillets
2 TBS butter, melted
1 1/2 TBS Dijon mustard
1 1/2 TBS liquid honey
1 tsp minced garlic
salt and black pepper to taste
minced parsley to garnish
Instructions:
Preheat the oven to 200*C/400*F/ gas mark 6.  Have ready a small baking dish with sides, large enough to hold the salmon fillets in a single layer with some space between them.
Pat your salmon dry. Season on the bottom with salt and black pepper. Place into the casserole dish.  Season on top.
Whisk together the melted butter, mustard, honey and garlic. Spoon this  mixture evenly over the fillets.
Bake in the preheated oven for 13 minutes or until the fish tests one. It should flake easily with the tines of a fork.
If desired you can pop it briefly under a hot grill to gild it a bit.  Sprinkle with parsley and serve immediately.
Did you make this recipe?
Tag @marierayner5530 on instagram and hashtag it #EnglishKitchenCreated using
The Recipes Generator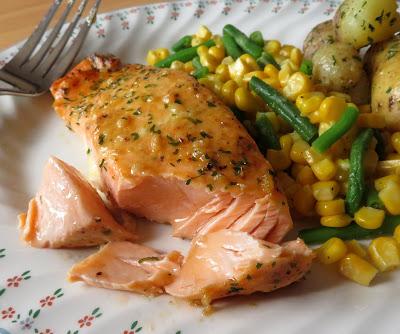 At the moment when those of us who are still self isolating are unable to get the shops and home delivery slots can still be somewhat difficult to get. Shopping at online shops like Seafresh is the way to go!  They make it so easy to shop.  Just log on to their easy to use shop, choose what you want, pop it into your cart and then pay.  There is same day dispatch on all orders place before 1 PM, and free delivery on order over £50.  I have been getting fish from them for a while now and I really can't fault them.  Everything has been impeccable, from the ordering, to the packaging, delivery, quality, etc.  And their customer service is examplary.  Right now they have some really nice deals on as well, with a free sample of breaded wholetail Scampi being added to every delivery over £50. (on orders placed before August 14th)  As well on any order over £140 you can get  £20 off by adding the code
BANK20
at the checkout.  
As with any fish dish, quality speaks for itself.  When you are starting with really good fish, you really don't or shouldnt' have to do very much to it to get the best from it.  The Salmon fillets from Seafresh are beautiful. I think they are the best I have ever eaten and that says a lot!  If you are looking for quality fish at a great price with a fabulous
delivery service
I can't recommend Seafresh highly enough!  Their
product
, delivery service, packaging and customer service are exemplary in my opinion and so is this recipe!! A few things about Seafresh:
Same Day dispatch on orders received before 1 PM.
All packages are carefully hand packed.
Free delivery on orders above £50, £8 on orders below that amount. 
Responsibly and sustainably sourced.
Air

Blast

Frozen at source within 4 hours of being caught.
Wide variety to choose from. 
Do
check
them out on their
website
to find out more.
Follow them on
Facebook
,
Twitter
and
Instagram
.
This content (written and photography) is the sole property of  The English Kitchen. Any reposting or misuse is not permitted. If you are reading this elsewhere, please know that it is stolen content and you may report it to me at:
[email protected]

Follow my blog with Bloglovin