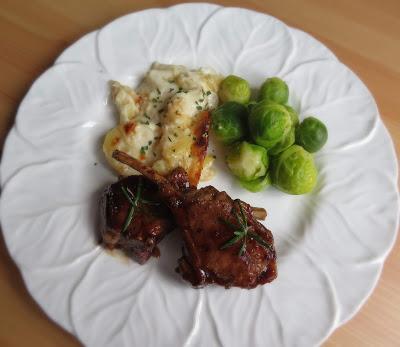 I confess that lamb was not something I had ever eaten prior to moving here to the UK. My mother did cook lamb chops once when I was a teenager, but they smelled like burning mittens so none of us would eat them.  I strongly suspect it was mutton and not lamb.  In any case, the smell was enough to put us all off for a very long time.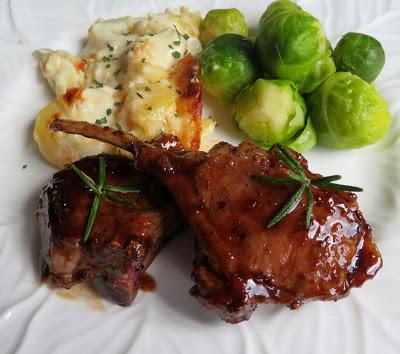 My mother often spoke of a lamb stew that she had enjoyed in the hospital when she was having my brother.  It was a taste memory that she carried with her all the days of her  life.  My brother just turned 60 last week, so that was a very long time to be thinking about what something tasted like.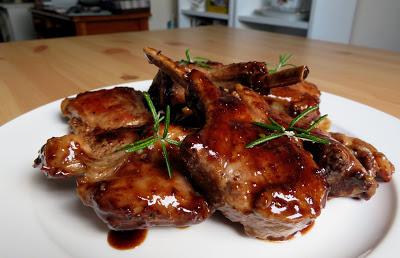 I know all about that.  The summer before 12th grade I went on a school exchange trip and we stayed at Carlton University in Ottawa.  Each night we were taken to a restaurant in Ottawa called "The Cascade Restaurant."  The very first night I ordered the Barbequed Chicken.  It was so good I ordered it every night that we were there and I have been thinking about the taste of it ever since!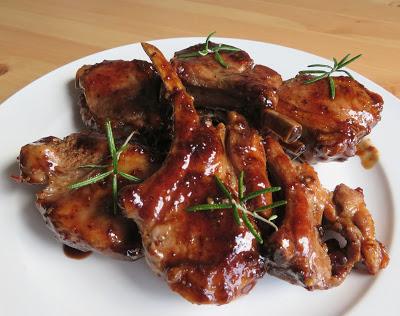 Taste memories can be very specific and they stick in your brain, often becoming even more delicious (or not as it were) in the memory as years go by!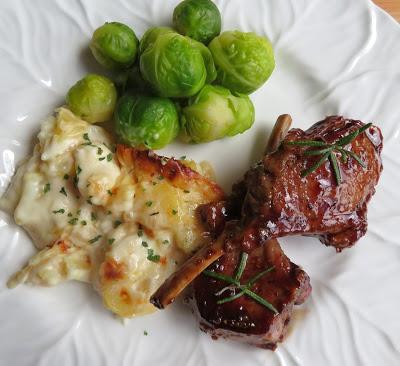 My ex husband would never eat or try lamb because his father wouldn't and so it was not something I ever cooked when we were married. It was not until Todd and I got married that I took the risk of trying it.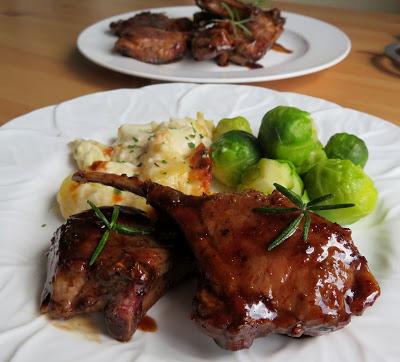 Our church congregation had taken us out for supper at a restaurant to celebrate our marriage and there was saddle of lamb on the menu at the restaurant.  I took a chance, ordered it and I have to say I fell in love with it at first bite.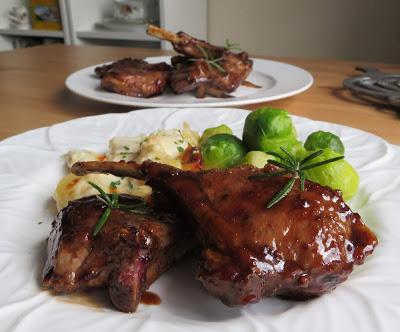 This was proper lamb.  British lamb. Succulent, tender and almost sweet. It was incredibly edibly delicious.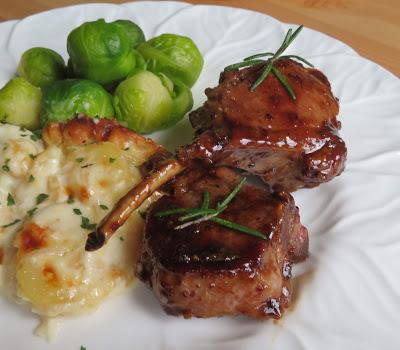 Since the I have enjoyed lamb in many ways.  I do so adore a good lamb stew and I have several really delicious recipes fot that on here.  This
Simple Lamb Stew
is beautiful and probably my favorite. Then there is my
Lamb Stew with Feather Dumplings
, also very good. I also have a delicious recipe for
Small Batch Irish Lamb Stew
which is very pleasing!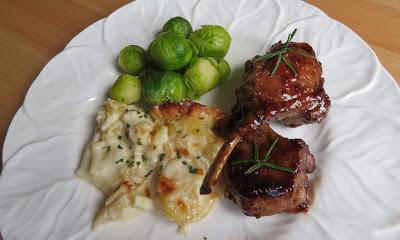 I also have several recipes for lamb chops. 
Spiced Lamb Chops with Roasted Roots
. which has a very Indian-like feel to it.  One of my favourites is
Garlic Lamb Cutlets with a Mint and Sun Blush Tomato Sauce
.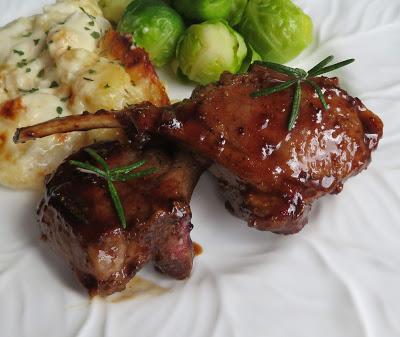 There are actually quite a few Lamb Recipes on this blog.  You can access all of them
here
.  Tagines and stews, and steaks, etc.  All very delicious, I can assure you.  These chops I am sharing today are especially delicious.  They are seasoned and flash fried, and then a super simple honey, mustard and balsamic vinegar glaze is produced in the pan drippings.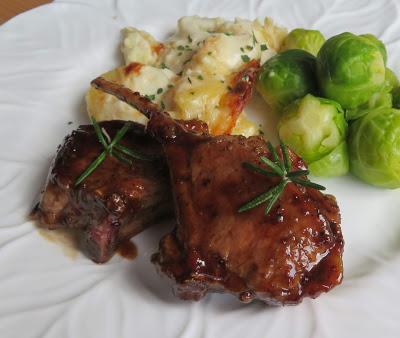 They are coated in this and briefly reheated before serving.  Oh but they are so delicious.  Tender, perfectly cooked, and that flavourful glaze, well  . . .  its like manna from heaven.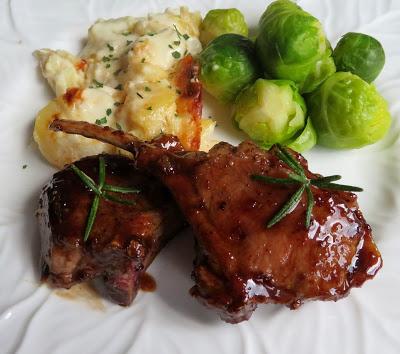 Honey Mustard & Balsamic Lamb Chops
Yield:
4
Author:
Marie Rayner
These cook quickly and taste amazing.  Quantities are for four but I have put quantities for two in brackets should you wish to serve a smaller family.
ingredients:
4 (8) lamb chops, well trimmed
freshly ground black pepper
fine sea salt
light olive oil to fry
120ml (60ml) good balsamic vinegar (1/2 cup (1/4 cup)
2  (1)TBS liquid honey
2 (1) TBS grainy Dijon mustard
2 (1) cloves of garlic, peeled and crushed
6 (3) sprigs of fresh rosemary
instructions:
How to cook Honey Mustard & Balsamic Lamb Chops
Pat the lamb chops dry and season all over on both sides with salt and black pepper to taste.  Whisk together the balsamic vinegar, honey,  mustard and garlic.  Set aside.
Heat a bit of oil in a large non-stick skillet along with the rosemary.  Add the seasoned chops and sear well on both sides, cooking for about 2 minutes per side, or to the level of doneness you desire.  Remove to a plate and keep warm.
Add the balsamic vinegar mix to the pan and allow it to bubble up. Cook until the mixture thickens and turns sticky.  Return the chops to the pan, turning to coat them in the glaze.  Serve immediately.
Did you make this recipe?
Tag @marierayner5530 on instagram and hashtag it #EnglishKitchenCreated using
The Recipes Generator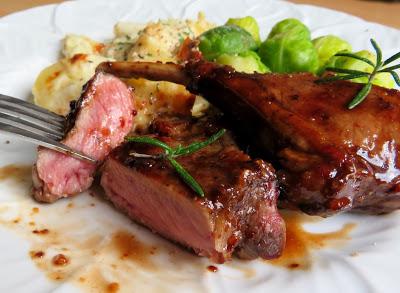 We enjoy our lamb on the pink side.  Its so juicy and tender.  Today I servd it with some Dauphinoise Potatoes and Steamed Brussels Sprouts.  This was a fabulous dinner!  I have given quantities so you can either cook for 4 or for 2.  I also like to use French trimmed loin chops.  The meat is so succulent and delicious.