Honey garlic shredded beef sandwiches can be made ahead in the slow cooker. Topped with cucumber, carrots, cilantro and sriracha mayo, they are full of flavor and easy to assemble for a weeknight dinner.
One of my favorite ways to use the slow cooker for meal prep is to cook a big batch of protein and enjoy through the week. From crock pot pulled pork to slow cooker whole chicken, it's efficient, and can save you money on ingredients, as well!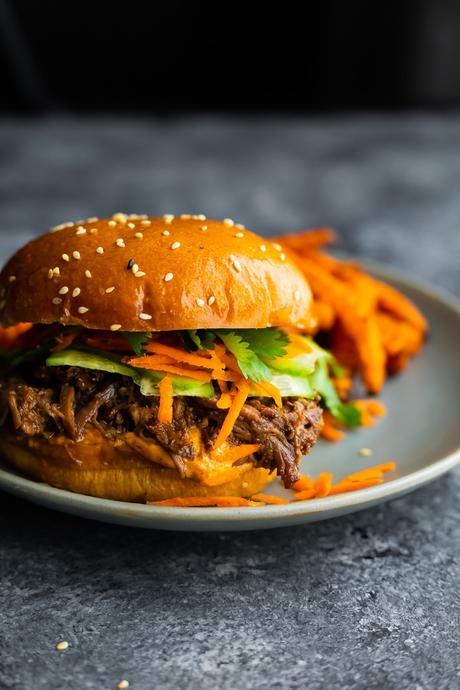 These honey garlic shredded beef sandwiches are part of a meal prep plan where I cook a big batch of slow cooker honey garlic beef, and use it up in three meals through the week.
Putting together these sandwiches is as simple as reheating the beef and shredding a few vegetables, and you are rewarded with incredible flavor!
Reasons you'll ♡ honey garlic shredded beef sandwiches
they are full of flavor with fresh vegetables, sriracha mayo, and juicy honey garlic beef
you can prep components ahead, making this a ten minute dinner
they are kid-friendly and enjoyed by all
Recipe video
Wondering exactly how to these sandwiches come together? Watch this 1-minute video for step by step instructions! You can find more recipe videos on my YouTube channel.
Continue reading:Honey Garlic Shredded Beef Sandwiches