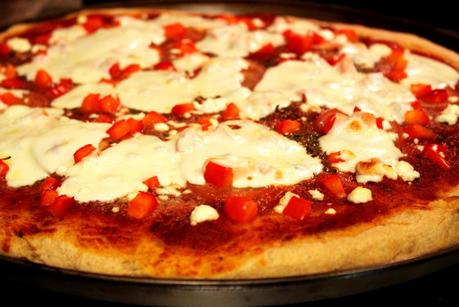 Ok everyone, it's a milestone.
The husband made whole wheat pizza dough, from scratch, in our kitchen, all by himself.
I wasn't even there to witness it! (or to help!)
He got the recipe from a friend of ours – who makes the best pizza dough EVER. He substituted whole wheat flour for all purpose flour, and kept the rest of her recipe the same.
My husband is so obsessed with pizza, I think it was a little dream of his to make pizza from scratch at home.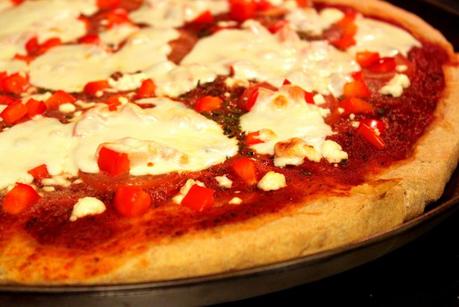 And it was my dream that he would (on his own) substitute whole wheat flour for white! Victory

We topped it with freshly made pizza sauce, red peppers, tomatoes, dried oregano, garlic, fresh mozzarella and goat cheese crumbles.
It was delicious.
Here is the recipe, courtesy of my friend – I really can't take credit for this one – it was all her!
The Ingredients
Makes 1.75 lbs of pizza dough
2 teaspoons active dry yeast
1 teaspoon sugar
1 ¼ cups warm water (105° – 115° F)
3 1/3 cups whole wheat flour
1 ½ teaspoons kosher salt
4 teaspoons extra virgin olive oil
The Directions
Step 1: In a 2-cup liquid measure, dissolve yeast and sugar in warm water.  Let stand until foamy, about 3-5 minutes.  Insert dough blade in work bowl and add flour, salt and 2 teaspoons of olive oil.
This was the husband's work station: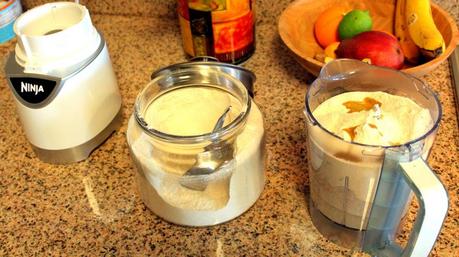 Step 2: With machine running on dough speed, pour liquid through small feed tube as fast as flour will absorb it.  Process until dough cleans sides of work bowl and forms a ball.  Then process for 30 seconds to knead dough.  Dough may be slightly sticky.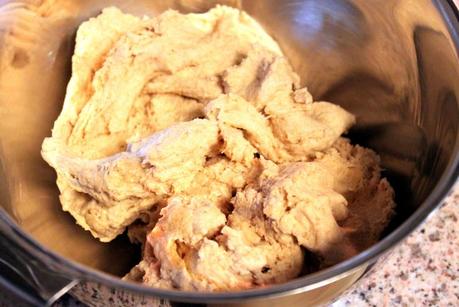 Step 3: Coat dough evenly with 2 teaspoons olive oil (I just put the olive oil directly into the bag); transfer to a 1 gallon plastic food storage bag and seal the top.  Let rise in a warm place for about 45 minutes.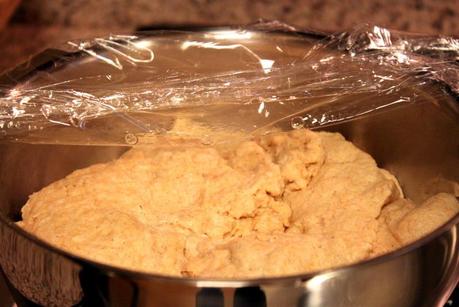 Step 4: Place dough on lightly floured surface and punch down. Spray a pizza pan with olive oil cooking spray. Stretch out the dough on the pan until it's perfectly round and the thickness you want it to be. (Note: this amount of dough makes a pretty thick crust, so if you want a thinner crust use 3/4 or 2/3 of the dough)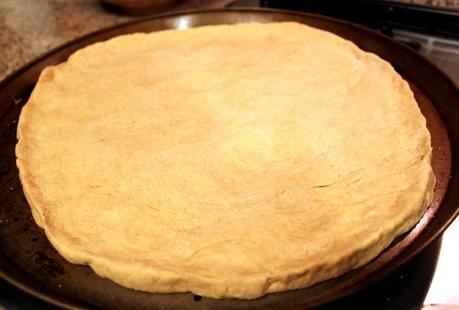 Step 5: Top with sauce.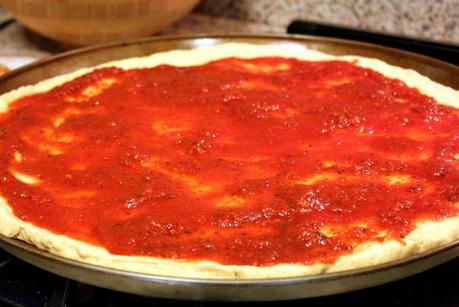 Step 6: Add whatever toppings you like – we chose red peppers, tomatoes, dried oregano, garlic, fresh mozzarella and goat cheese crumbles – but you can add tons of veggies to this like spinach, kale, red onions, squash – the possibilities are endless.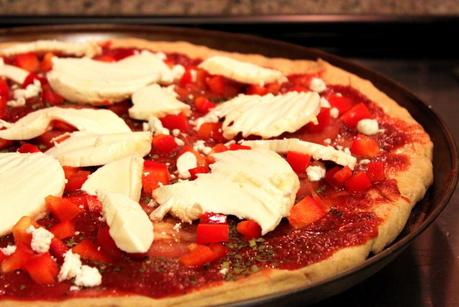 Fresh mozzarella is definitely a weakness of mine.
Step 7:  Bake the pizza at 450 degrees for 17-18 minutes, depending on your oven. Let it cool a bit before slicing.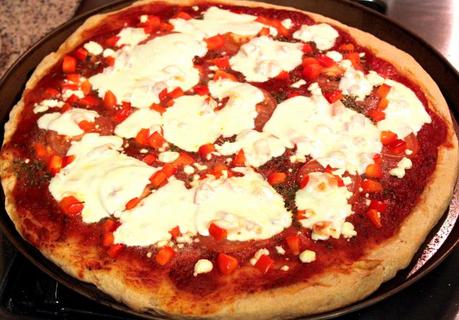 Can't you just smell the hearty Italian flavors, the spices, and the freshly made bread??
The crust is perfectly flaky and soft, and has a good amount of fiber because it's made with whole wheat!
Time to dig in.