Every year I try to make homemade Valentine's with my children for school. It has really become an obsolete thing to see construction paper hearts with lace glued to them, but I think it's more special and from the heart that way. So this year I took to Pinterest for inspiration and gave my two middle children a choice. My oldest wasn't left out of the fun of making, just the fun of actually handing out. She didn't find out until it was too late that she could hand out Valentine's at school yesterday. So she did an awesome job helping her brother create his special Valentine's for his classmates.
What does a 9 year old girl want in her Valentine's?
Well, music of course. My 9 year old decided she wanted to make these iPod inspired Valentine's for her classmates.
They were much more work than she had anticipated. I am glad I started on them on Sunday. I had her pick out some of her favorite love titled songs. I found the examples used on the craft weren't very up to date and most kids wouldn't know what they were so I told her to come up with four song titles that included feelings of love and friendship in the title. I think she came up with a good list of songs too.
I helped her get all of the paper cut out and I wrote out the songs on 24 squares of paper and got a cramp in my hand creating 24 little menus. Normally I would have just printed them out, but our ink is running a little low so we had to go old school. I put one together for her to show her how it was done and then she did 23 more. Lucky for her she hasn't been getting any homework lately because they are working on these huge state projects which she is very far ahead of the game on hers. So she spent a good part of the evening working on these. I think it was worth it in the end. She liked the final outcome and at least she was original and didn't hand out the same mass produced cards.
You tell me, what do you think of her ilove ipod?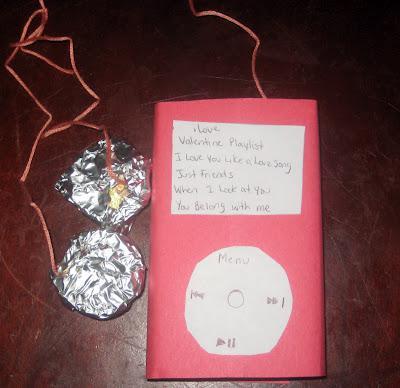 What does a 4 year old boy want for Valentine's?
Rockets of course! There was no changing his mind, once he saw rockets he was hooked. So rockets it was. We couldn't gather up enough Life Savers so we went with Mentos on this one. Made for a slightly longer rocket that way and my son was thrilled. I told him on Monday when his big sister got home from school she would help him make his rockets and he couldn't wait. As soon as the girl walked in the door after school he was bugging her. Are you done with your homework yet? I wanna make my rockets? Can we make them now? I'm sure my oldest was thrilled with me.
I have to admit this project didn't have much of his actual creativity in it. He mostly watched and held things. He did pick which of his friends got which rocket and insisted on writing Love on two certain little girls Valentine's. Awww, my baby boy has other loves in his life besides mommy. I'm crushed! But anyways, cutting wouldn't have gone over well and had we allowed him to tape it would have been completely covering the rocket making it impossible to write on so he was the foreman on this job. He was very pleased with the outcome though and most importantly he had a great time sharing them with his friends yesterday.
Here were his rockets: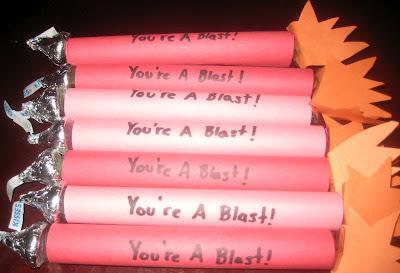 Who knows what next years Valentine's creations will bring. Maybe a few old favorites will make a comeback, or maybe we'll find something new. Even though it's a lot of work though I love creating these with my kids.
Are you a store bought Valentine kind of person, or handmade?