Package it as a gift, eat it with a spoon, dollop it on pancakes... there are so many reasons to make this homemade pumpkin butter.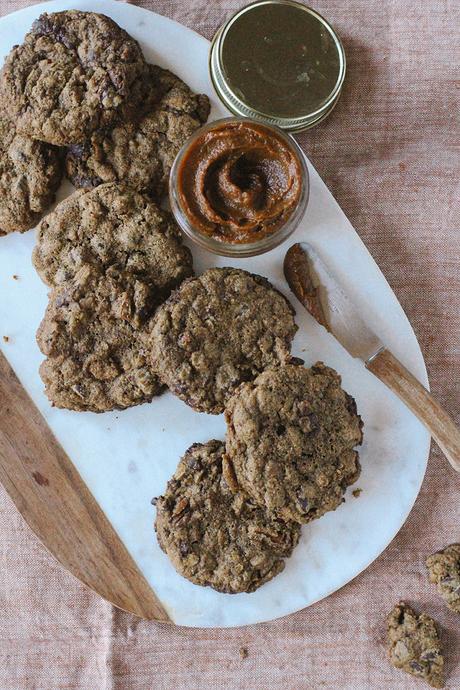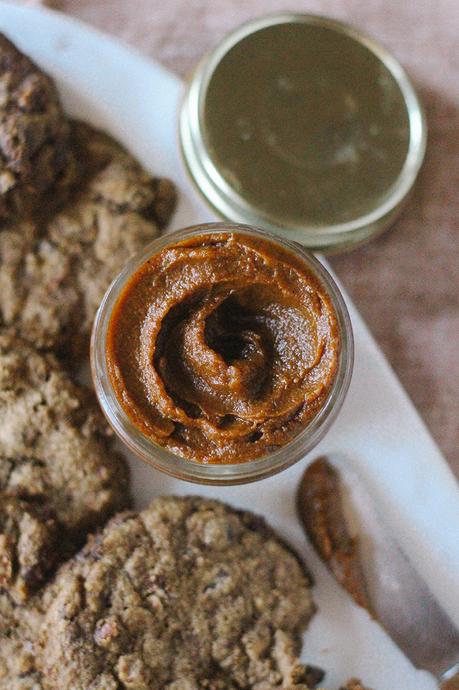 Are You Here for the Food?
Homemade Pumpkin Butter
Reasons to make this homemade pumpkin butter:
It will make your whole house smell warm and comforting with all the fall notes and none of the candle-store fakery.
Simple ingredients. Sweeten with maple syrup and coconut sugar, which both add a lot more flavor than refined sugar.
With homemade pumpkin butter in the fridge, you can instantly turn breakfast into a wholesome pie-like experience. I like to have multigrain toast, or better yet, toasted cranberry-walnut bread, with a smear of cream cheese and homemade pumpkin butter. It tastes like a healthy strudel.
You can package it in little jars and turn it into a gift for friends, guests, or hosts. Spread that Thanksgiving cheer.
You can add it to cookies for a slight hint of fall in a chocolate-chip bite. Speaking of cookies...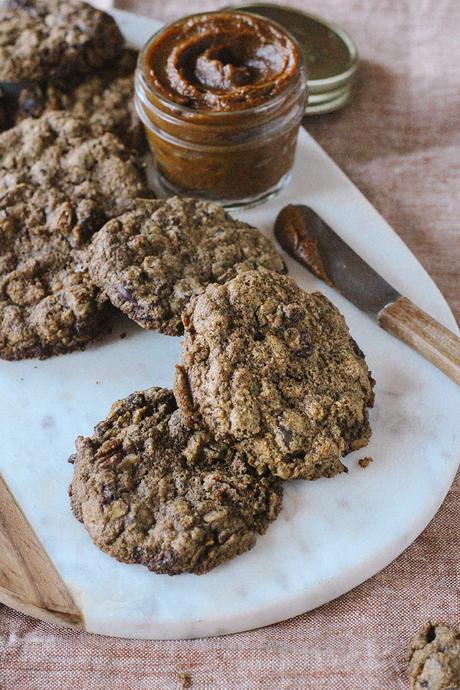 Are You Here for the Food?
Pumpkin Butter Cookies (whole-grain & gluten-free)
I started with this Pumpkin Butter Cookie recipe from , added the nuance of oat flour and the nutty and slightly bitter notes of buckwheat flour for a gluten-free, whole-grain version. Admittedly, my version is not the explosion of pumpkin I craved. It's more subtle, so if you want that hint of fall flavors and spice, proceed. If you want the pumpkin explosion, continue on this quest with me. I'm still experimenting.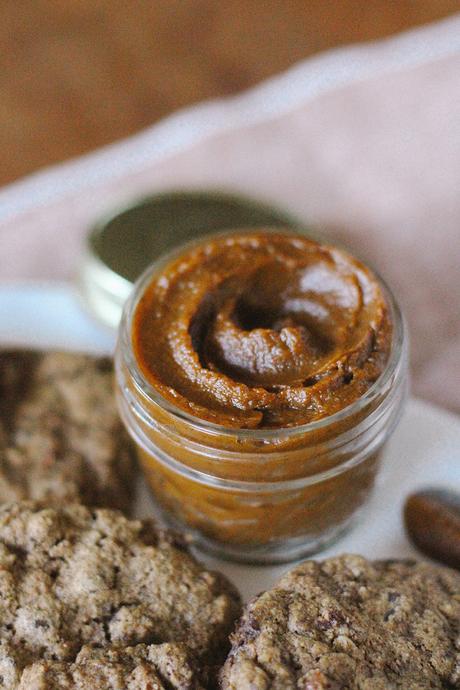 Are You Here to Connect?
The Zen of Pumpkin Butter
When I wrote my cookbook, I had to pay a LOT of attention to the cooking and baking process. My editors were constantly asking for specifics to help the reader. What does the mixture look like at that point? How many minutes? What's the coloring after 3-5 minutes of cooking? While somewhat laborious, these questions led me to look more closely, to use my senses more. What was the aroma? Could I describe it accurately? Were there any helpful sounds?
In the midst of the very (!!!) stressful book-writing process, I found moments of pause. I found moments of deep inhalations that grounded me. As spices hit my nose, or the butter began to brown, I found a beat. In that moment, I would remind myself that I could stay in the stress, or reframe everything as excitement (because the body reacts the same for both). I could be frantic, or I could remind myself that this was the only time I'd be testing recipes for my very first cookbook. Didn't I want to enjoy that somehow?
The holidays, like cookbook writing, can be a stressful time, but maybe this homemade pumpkin butter, with all its comforting aromas, can be a reminder, to pause and take it in. We only get one big holiday season a year, so maybe we can choose to be excited instead of stressed.
PS: If you're curious about my cookbook process, check out this post in which I peel back the curtain.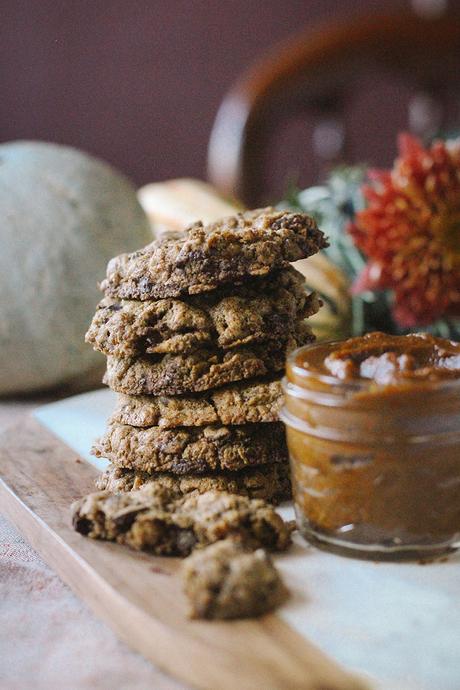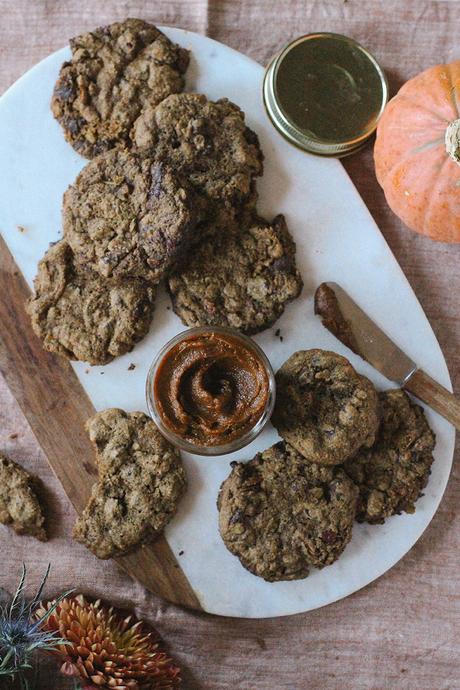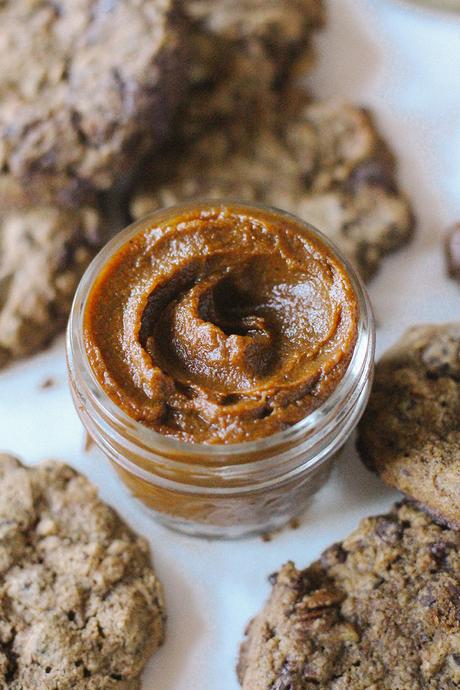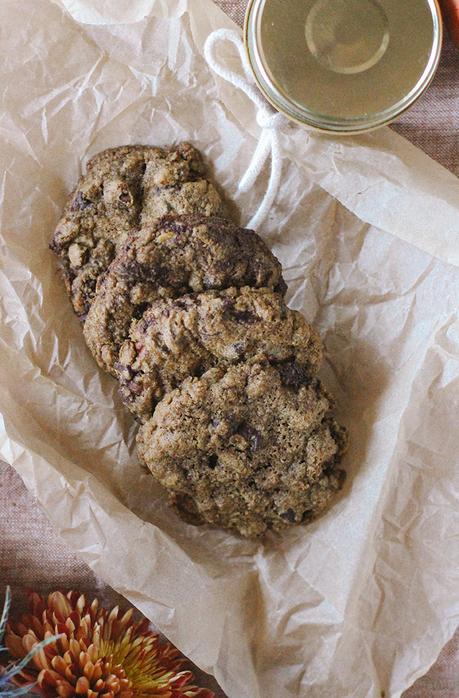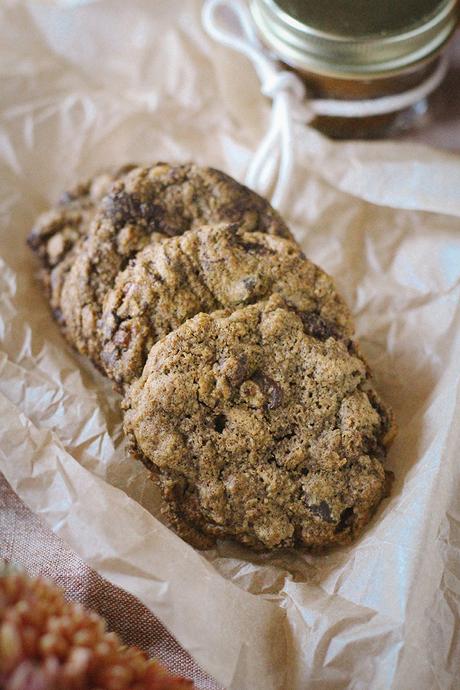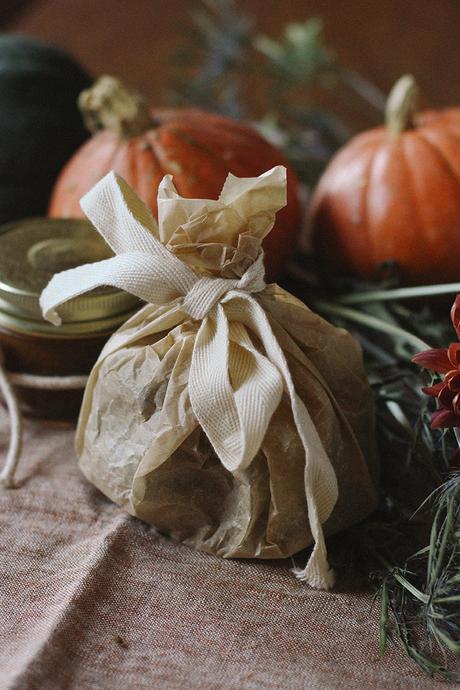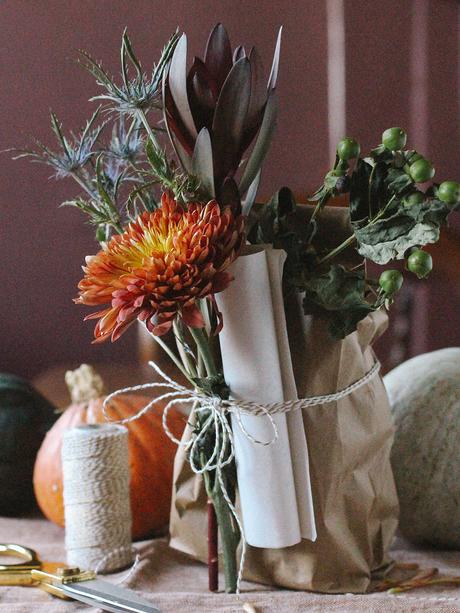 Are You Here for the Dogs?
[Always.] I tiptoed into the bedroom and couldn't find Maple Le, only to discover she was completely covered by the comforter. Our little girl loves to be cozy and snuggled, and she's not loving my new morning routine. It's far too early for her liking.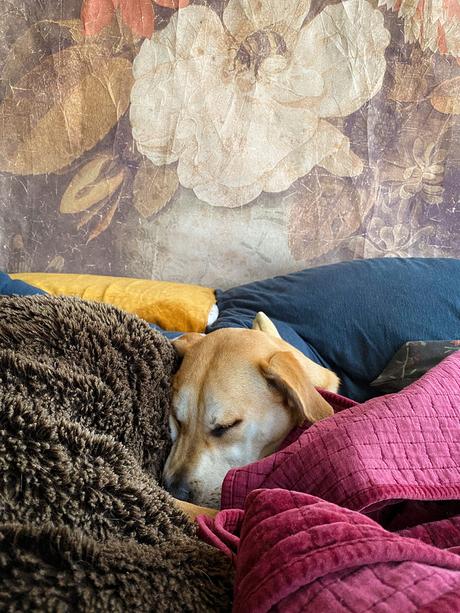 You Might Also Like: Chai-Spiced Pumpkin Pie Bowl
This pumpkin pie breakfast bowl, from my book, The Gluten-Free Grains Cookbook, tastes like an indulgent bite of pie with a healthy, nutty streusel topping. The recipe calls for pumpkin puree, but you can one-up my original recipe with homemade pumpkin butter instead.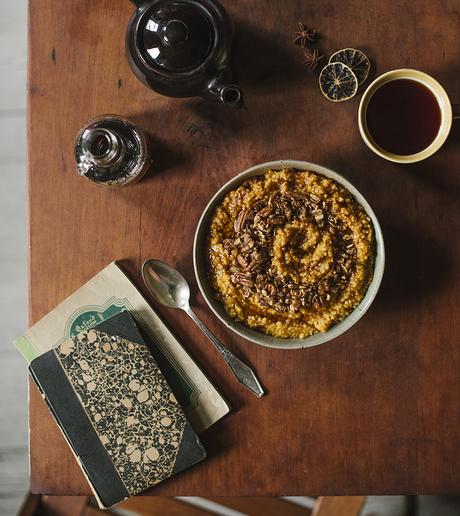 Homemade Pumpkin Butter
Pumpkin Butter Cookies (Whole-Grain & Gluten-Free)