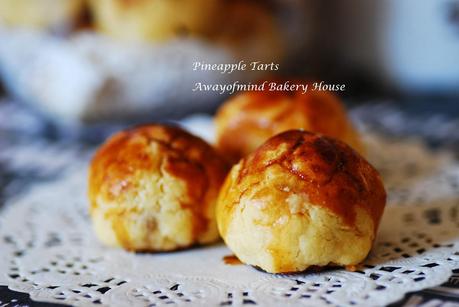 Hi! I'm back just to post this delicious melt in mouth homemade pineapple tarts and jam. I had tried a few recipes for the pineapple tarts before and this is the first year I'm making my own pineapple jam, what I want to say is I think I'll start making my own jam in future, it is not as difficult as what we think it is, but for sure it needs lot of time to prepare the pineapple jam. I didn't separate the pineapple juice with its fiber but cooked them together as I believe the sweet juice should go into the jam. It is with less sugar, no preservative, is the best of best, right?!
This is my best pineapple tarts I ever made because there is a story behind the making of it. I just moved into my new place and my whole kitchen stuff still somewhere in the ocean. I rely on a medium size pot and a medium size saucepan, an oven and a microwave to do all my daily cooking. In this situation I was indecisive on whether I want to make my own Chinese New Year cookies, anyway, I went ahead to buy four big pineapples from Geant Hypermarket then to realize I forgot totally that I don't have a blender with me!! Thank God for a new friend who is willing to lend her blender to me. However, by the time I get hold of the blender, the four pineapples were no longer in good condition to make the jam. Then I went to Spinneys (a premium supermarket here) and bought five boxes of cut pineapples. Just for your information the price for the initial four pineapples is equal to one box of cut pineapples (about QR12.90 per box, can you imaging how expensive it is!) 
Come back to pineapple jam making, there are many versions out there but for me this is what my family love. My hubby popped in many pieces and thumbs up for the lovely pineapple filling. The pastry for the pineapple tart is so crumble and just melt in mouth!! The best part was the pastry dough is very easy to handle. I'm using back the previous recipe for pineapple pastry.

人在异乡要吃家乡的华人年饼是难上加难,幸好排除万难黄梨塔终于出炉了!在这预祝大家:               

新年快乐,年年顺心!身体健康,万事如意!
Wishing you and your family a prosperous Chinese New Year!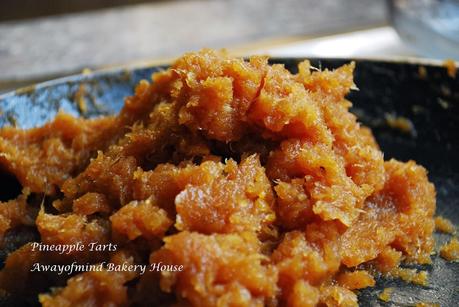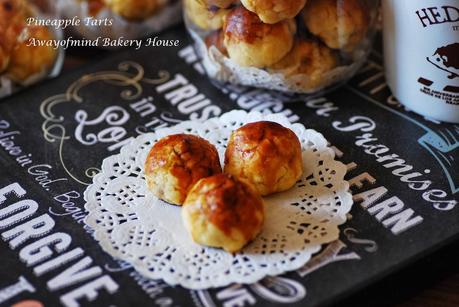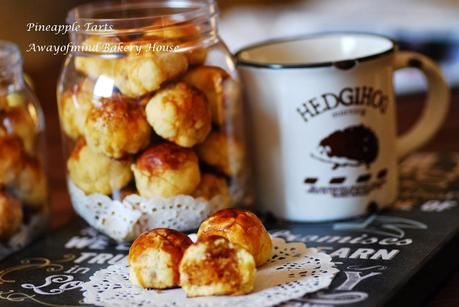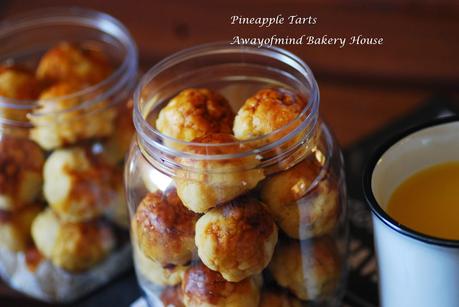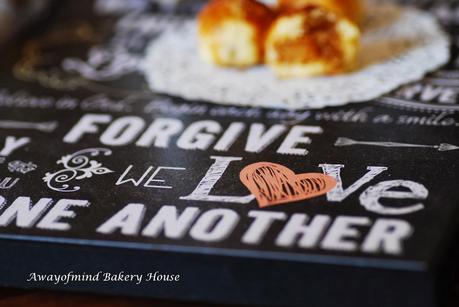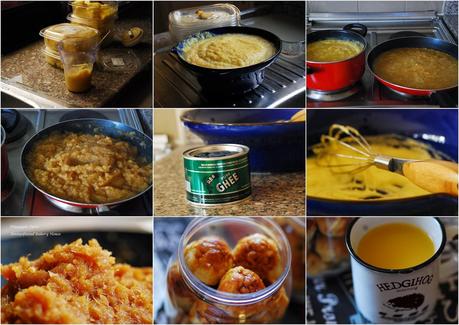 Ingredients for pineapple jam (~enough to make 170 pieces):1.5kg of pineapple puree (Blend the cut pineapple, no separation of pineapple juice with fiber)2 tbsp of ground cinnamon1 medium size lemon (Blend the lemon together with skin)300g fine sugar (to taste, as some pineapple is very sweet and some may be a bit sour)Method:1. It is best if you have a big wok because the juice in the pineapple can dried off easily but if you don't have the wok then you can use a deep big pot to do the job. Mix the pineapple puree with lemon puree and add ground cinnamon. 
2. Cook the pineapple-lemon puree on high heat until it is boiling, continue to cook for 30 mins before turning the heat to medium low. Add sugar and continue the cooking for another 75 mins or until the juice dried off and the pineapple jam turning stiff. Remember to stir the pineapple jam once in a while to prevent burning at the bottom (As my pot is not big enough, I cooked the puree into two batches)  
3. Cool down complete before keep in fridge for a day.
4. Roll into small balls, set aside for later use.
Note: 
1. the cooking time may vary (mine is about 1 hour 45 mins) as it is depends on the size of your pot/wok and the juice contains in the pineapple. 
2. The pineapple jam is not mean for spreading so the texture is a bit stiff so it is able to roll into a ball for the enclosed pineapple tarts. 
Ingredients for pastry (enough for 54 pieces): 
250 g QBB (Ghee)
50 g icing sugar 
2 egg yolks
1/2 tsp vanilla essence 
350 g plain flour
50 g corn flour
Glazing:
1 egg yolk
1 tsp water 
1 tsp honey 
Method:
1. Use a hand whisk, cream QBB and sugar until light. Whisk in egg yolks one at a time until well combined. Add essence and whisk until fluffy. 
2. Sift plain flour and corn flour together and fold into the QBB mixture to form a soft dough. 
3. Divide dough using a teaspoon and roll into balls. 
4. Flatten a piece of dough and place a piece of the roll pineapple jam in the middle. Bring the edges of the dough together and press lightly to seal. Roll it in between your palms to shape it into a ball. 
5. Place the pineapple dough on baking tray lined with parchment paper. 
6. In a small bowl, mix the egg yolk, honey and water together for the glaze. 
7. Brush the glaze on the pineapple rolls with a brush. 
8. Bake in preheated over of 180C and bake for 20-25 mins or until it turned golden brown. 
9. Cool on wired rack before store in airtight container.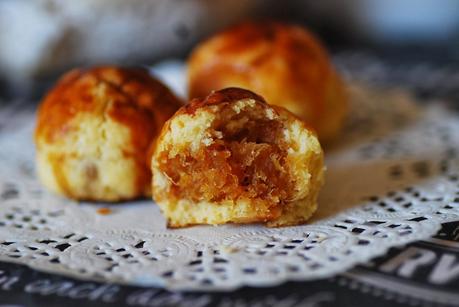 I'm so happy to see this pineapple tarts, how about you?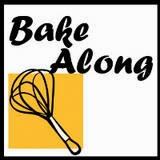 This post is link to the Bake-Along hosted by 
Joyce
, 
Lena
 and 
Zoe
.