I went to the movies this weekend. I am guilty of two things. I movie hopped. Well, okay we intended to movie hop but found ourselves rather unlucky to find out that the theater had a basement level. So instead of dodging into another theater free of charge as we did in our teenage years, I paid for more tickets and escorted my law-abiding self into the second movie. What I AM guilty of though, is bringing a big bag of goodies into the theater. And no, they were not consistent of a $10 popcorn or $5 candy bar. Instead it was Apple Pie graham cracker chocolate bars, cinnamon sugar popcorn, dulce de leche filled chocolate cones, and homemade cookies. Since candy was the theme of the evening, why not candy inspired cookies? Unless you have a good reason why I shouldn't mischievously bring marbled chocolate peanut butter cookies sprinkled with sea salt and stuffed with snickers bars into the movies, then please proceed. Because if there is one thing that lights up my life more than sneaking candy cookies into the theater, its using leftover candy cookies to surprise everyone at home with homemade ice cream sandwiches! This is the only time ice cream takes a back seat and something is center stage. Choose your favorite candy bar. Sneakers is my bias point. Until next time…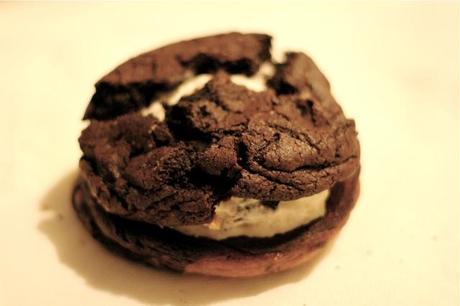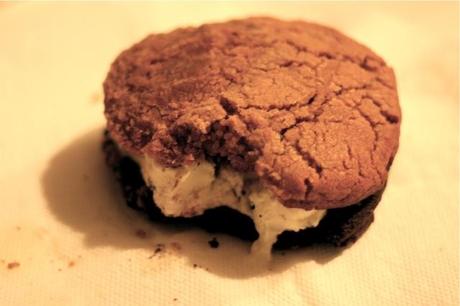 Marbled Peanut Butter & Chocolate Snickers Cookies
INGREDIENTS:
Peanut Butter Dough
3/4 cup organic Jif Peanut Butter
1/4 cup non-hydrogenated shortening
1/4 cup unsalted butter, at room temperature
1 1/4 cups firmly packed light brown sugar
1/4 cup organic whole milk
2 teaspoons vanilla
1 organic cage-free egg, (room temperature)
2 cups flour
1 teaspoon salt
1 teaspoon baking soda
1 cup chocolate chips
Chocolate Dough
1 cup (2 sticks) butter, at room temperature
1 cup organic cane sugar
3/4 cup brown sugar
2 organic cage-free eggs
1 teaspoon vanilla
1 3/4 cup all-purpose flour
1 1/4 cup cocoa powder
2 teaspoons baking soda
1/4 teaspoon salt
4-5 regular-sized Snicker bars, chopped into small pieces
3/4 cup chocolate chips
METHOD:
Preheat oven to 375°F.For the peanut butter dough, cream the peanut butter, shortening, butter and brown sugar in the bowl of a mixer. Add the milk, vanilla and egg, and blend just until combined.
Add flour, salt and baking soda. Blend until flour is combined, scrape bowl and mix 20 seconds more. Place bowl in freezer for at least a half hour. An hour is preferable
For the chocolate dough, cream together the butter, sugar, and brown sugar until well combined. Slowly beat in egg and vanilla until well combined. In a separate bowl, mix together the flour, cocoa powder, baking soda, and salt. Slowly add the butter mixture until well combined. Stir in chopped Snickers pieces and chocolate chips.
Take a tablespoon of peanut butter dough and a tablespoon of chocolate dough and press together. Gently roll into a ball and place on a lightly greased baking sheet.
Place in oven and bake for 7 minutes. Rotate pans front to back and top to bottom in oven and bake for 5 minutes more.
Note: It is essential that your dough be chilled before baking. Because of its (delicious) fat content, the dough doesn't ever freeze rock solid, which means you can make it a day ahead and toss it in the freezer without worry. If the batter is warm, even a little, it will spread and give you thinner cookies which will taste the same, but the texture of a large chewy cookie is a little nicer and makes for a prettier cookie!