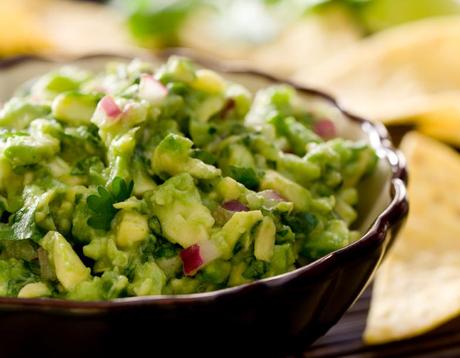 How good does that look? I love Guacamole. I love the texture of it, the flavor, and the add-ins you can use to spice it up (I once had guacamole with balsamic vinegar and goat cheese in it – delicious!).
I also love that it's really good for you. Avocado has fiber and tons of healthy fats (monounsaturated fat – the kind that helps lower cholesterol). And the best part is that you can use avocado (or guacamole) in so many different ways: as a topping for Mexican food, as a dip on it's own, in sandwiches, as a topping for tortilla soup, the list goes on and on.
My husband loves guacamole, or "guac" as we lovingly call it, and oftentimes I will come home from work only to find him sitting at the table with a bowl of guac, a bag of chips, and a book.
I enjoy making Guacamole at home, because it's so easy and you just can't beat that fresh taste. I made this recipe for "Glammed Up Guac" from the book, Must Have Been Something I Ate, and it was the perfect twist on a traditional guacamole.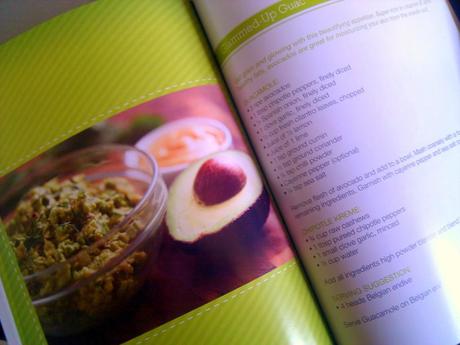 The Ingredients
3 ripe avocados
1 Tbsp chipotle peppers, finely diced
1/2 Spanish onion, finely diced
1/3 cup of fresh cilantro leaves, chopped
Juice of 1/2 a lemon
Juice of 1 lime
1 tsp ground cumin
1/2 tsp ground coriander
1/4 tsp chili powder
Cayenne pepper (optional)
1/4 tsp sea salt
The Directions
Remove flesh of avocado and add to a bowl. Mash coarsely with a fork. Mix in remaining ingredients. Garnish with cayenne and sea salt to taste.I like eating this guac with whole wheat pita, or organic all-natural corn chips, or even
SunChips / SunBites
.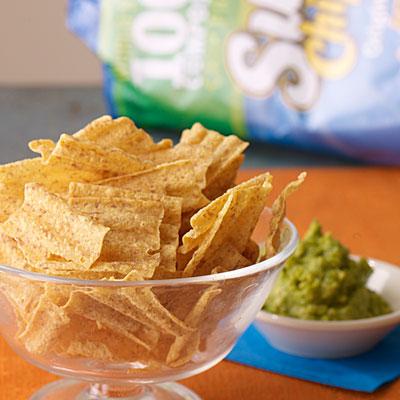 Photo courtesy of cookinglight.com