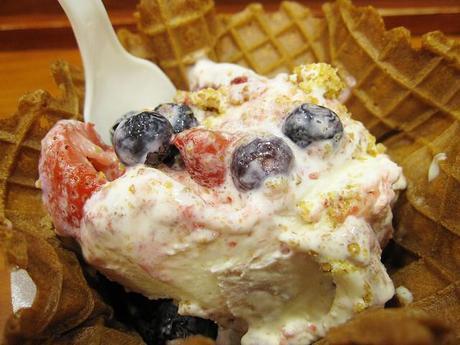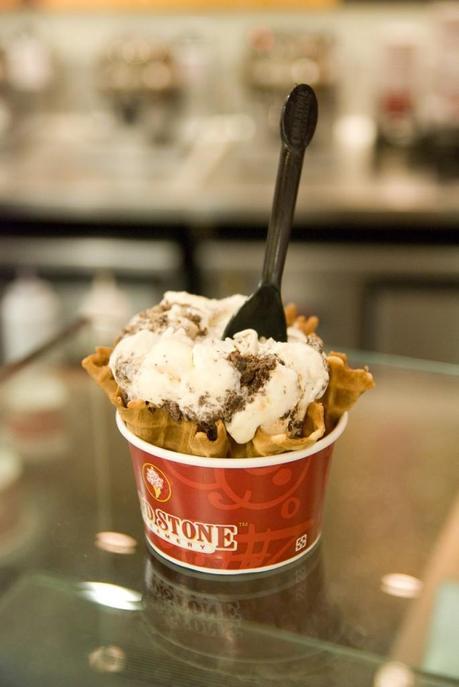 Someone recently asked me what is the mark of a good friend? I realized today, its anyone who introduces you to awesome ice cream! A
 sweetheart not too long ago introduced me to Cold Stone Creamery. How I have lived over two decades and never heard of this beloved ice cream chain before is beyond me. Their ice cream is so good, its orgasmic. No exaggerations here. I'm known to make funny noises while eating my

Founder's Favorite

and

Chocolate Devotion

flavors. If you never heard of Cold Stone either, its time to emerge from hibernation and get with it dolls. If you have been exposed to the light, tell me what's your favorite flavor? I have a new one, and it snuck up on me. The friend always orders the same one. He first started with their

Cheesecake Fantasy

which is a berry filled bliss. 
But then one night we walked in and my friend ordered the Pie Who Loved Me, which is still a cheesecake delight, but instead of berries, cookies and pie crust take their place. When I got home, I had one spoon, then another, and another. Now every weekend when we meetup to order our two flavors, I end up eating half of his. Ha! Women…so self-entitled. Fast forward now to a deep desire to impress my friend with my "I can make anything the store can dish up attitude" since he's dubbed me the brown Martha Stewart, and I snatched up an ice cream maker on sale at Target (my new fave store now that I'm a wannabe domestic goddess) and came home flicking through the instructions, browsing recipes online, until finally I grew the courage to make some homemade custard. And since I am quite a challenging damsel (re: over confident, but don't ask why), I of course thought of no better way to start off this homemade discovery than by making the Pie Who Loved Me flavor, which can easily be described as a decadent cheesecake with cookie crust and fudge drizzled on top.
Well, twelve hours later and we are still in shock, both stumbling over each other with ideas and what flavors to make next. I plan on making all of our Cold Stone faves, then heading into the shadowy abyss of sherbert, sorbets, and gelato. All I can say is, if you have fifty bucks on you and want some ice cream tonight, and every night after that without leaving the house, this was more than I hoped for, and you'll get addicted too. Cheers to ice cream-a-holics!
Homemade "Pie Who Loved Me" Ice Cream
adapted from David Lebovitz's Cheesecake Ice Cream
Makes about 3 cups (little less than 1 quart)
Ingredients:
8 ounces cream cheese
1 cup sour cream
1/2 cup half-and-half
2/3 cup sugar
Pinch of salt
4 graham crackers
5 Oreos
chocolate syrup or fudge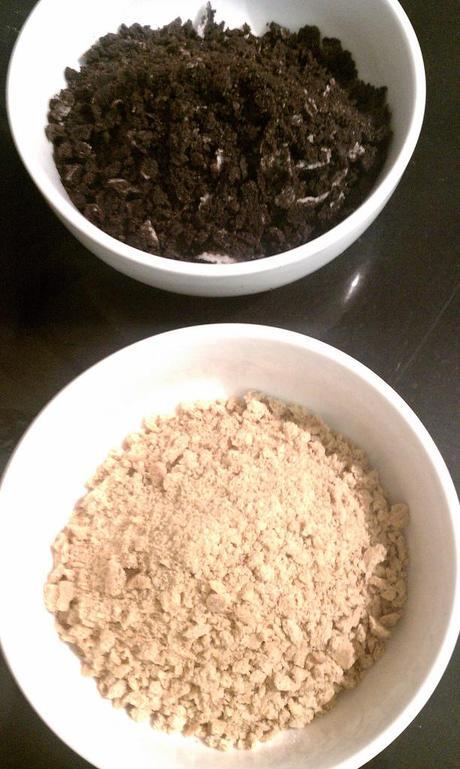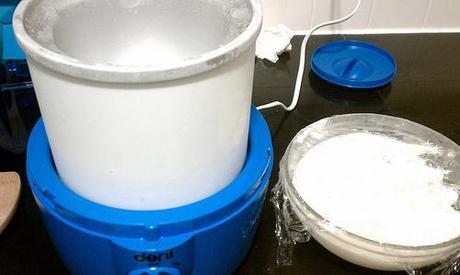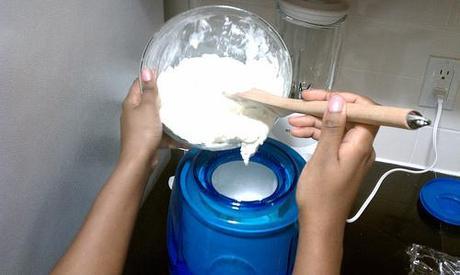 Method:
1.

For the Ice Cream Fillings:

Place the graham crackers in a food processor or blender and pulse until you have what resembles crumbly pie crust. Empty and do the same with the Oreo cookies. (I removed the cream from the cookies for a bit of a healthy kick. The point of homemade ice cream is knowing what goes into your custard and cremes. God knows what they use to make Oreo creme right!) Set aside.
2. For the Ice Cream: Cut the cream cheese into small pieces and throw them into a blender. Then add the sour cream, half-and-half, sugar and salt. Blend until smooth.
3. Transfer the mixture to a bowl, cover it, and chill it in the refrigerator for at least 4 hours. (I chilled mine in the freezer).
5. Once the ice cream mixture has chilled for at least 4 hours, freeze it in your ice cream maker according to the manufacturer's instructions. (Mine was pretty simple. Just turn it on, pour in chilled mixture, and let churn for half an hour). During the last few minutes of churning, add in the pie crust, Oreos, and fudge.
6. Transfer the ice cream from the machine to a freezer-safe, airtight container. Place a layer of plastic wrap over the ice cream, fasten a lid on the container, and place the container in the freezer for at least 4 hours before serving.
7. To serve, top the ice cream with any remaining pie crust or homemade whip cream!
THE VERDICT:

Holy smokes! It was good. So good, I don't even have pictures of the actual ice cream. I'm so sorry! We kept tasting and tasting, waiting for it to harden, that by the time it was ice cream consistency, that bad boy came right out of the freezer and straight into our tummies! The difference between mine and Cold Stone's? Well, hands down the homemade custard tastes exactly like cheesecake. The flavor is more robust and rich, whereas Cold Stone I believe either lessens the amount of cream cheese, or perhaps even uses just a cheesecake flavoring and not actual creme cheese. I guess it depends on your palette. I like both, sometimes you just want a hint, and sometimes you want to eat what tastes like a batter! And yes, my friend loveddddd it. He adores the Oreo crunch. All in all, I'm considering starting an ice cream shop. No joke!