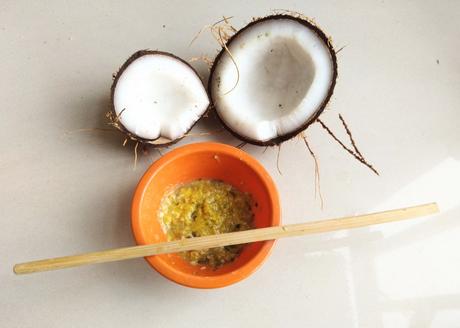 In this recipe, I will be preparing a nice and unique face mask out of a coconut. As we already know, coconuts are loaded with antioxidants and nutrients. And it's quite helpful for your skin, especially during this time of the year.
So I thought, why not prepare a homemade coconut face mask out of simple ingredients easily available in the kitchen.
Benefits of the Coconut Face Mask
Fights dryness and flaky skin
Gives you youthful and healthy skin
Reverses the effects caused by tanning
Works great for oily skin
Calms skin irritation
What you Need
Fresh coconut paste: 1-2 tablespoons
Turmeric powder: half to 1 tablespoon
Aloe vera gel: 3-4 tablespoons
Honey: half tablespoons
Lemon juice: 5-8 drops (you can skip it if you think it's too much for the skin)
Benefits of the Ingredients
Coconut paste
It acts as a moisturizer for the skin and prevents dryness while deeply nourishing it.
Continue reading Homemade Coconut Face Mask Recipe at Beautyholic.