Most of you know by now that I'm a sucker for our cat and for Disign Sponge. So when they published a recipe for cat treats this evening, I rushed to the store to get tuna and oat flour.
RECIPE: Crunchy Tuna Cat Treats
Makes about 3 dozen treats

1 (5 ounce) can tuna, no salt added and packed in water, drained
1 cup oat flour*
1 large egg
1 tablespoon olive oil
1 heaping tablespoon dried catnip (optional)

*It's easy to make your own oat flour. Simply grind old-fashioned oats in a spice grinder (or a super clean coffee grinder) until it is transformed into a light powder. There you have it — oat flour!

1. Place a rack in the upper third of the oven and preheat oven to 350 degrees F. Line a baking sheet with parchment paper and set aside.

2. In the bowl of a food processor fitted with a blade attachment, combine drained tuna, oat flour, egg, olive oil and catnip. Blend until mixture is smooth. It will be thick but pliable and not terribly sticky.

3. Roll dough into 1/2 teaspoon balls and place on prepared cookie sheet. Use a skewer to press an X-shape into each cookie ball.

4. Bake cookies for 10 to 12 minutes until they are dried on top and slightly browned. Allow to cool completely before offering to your kitty.

5. Place treats in an airtight container and store in the refrigerator for up to seven days.
This is the DesignSponge recipe, I left out the catnip (our store did not have them, and the pet shop was closed by then) and as you can see I was a little too lazy to press X-shapes in the cookie balls. Instead I pinched a piece of dough together en pressed it on baking paper. They don't look as great as the ones on DesignSponge, but our cat loves them anyway.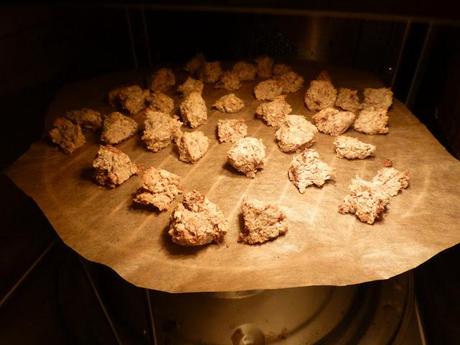 As humans we tried them too, let's just say the cat loves them more than we do!