This post may contain affiliate links. Please read my disclosure.
This classic alfredo sauce without heavy cream is delicious with your favorite pasta! Made with parmesan cheese, black pepper, skim milk, and garlic powder, you will want to prepare this creamy sauce for your next fettuccini alfredo recipe. I promise, this is the best homemade alfredo sauce you'll ever try - it's total comfort food, is gluten free, and can easily be made vegan too!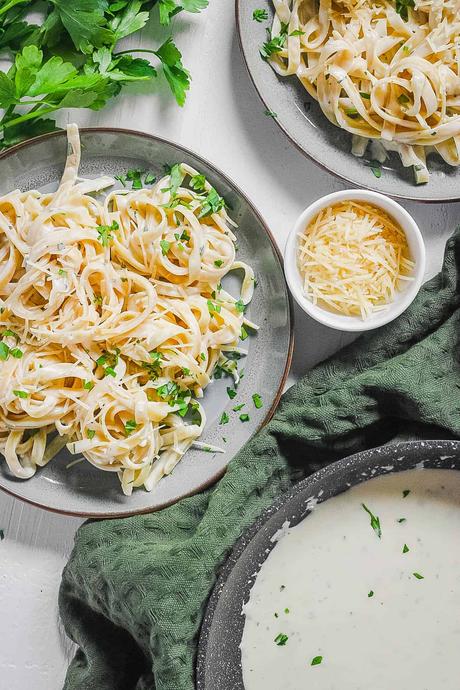 Made without wheat flour, with no butter or a roux, this easy alfredo sauce recipe (without cream) is a lighter version of authentic Italian alfredo sauce since it is made with low-fat milk. Just like the real thing, you will not be able to get enough of this sauce. Savory and perfectly seasoned, this sauce has a creamy texture you will love paired with silky fettuccine noodles - all thanks to the cream cheese and milk.
Latest Recipe Video!
One of our favorite dinner recipes, we like to keep this healthy alfredo sauce recipe in rotation because it is such a crowd-pleaser and so simple to make. With just a handful of steps, you will have a simple sauce ready to be drizzled over your favorite pasta dish!
This is a great recipe for anyone looking to switch things up in the kitchen or experiment with something new. This cream cheese alfredo sauce is ready in under 30 minutes and perfect for busy weeknights. The best part about this recipe is how versatile and easy it is! It's naturally gluten free, and has a vegan option too.
If you love creamy white pasta sauce with your favorite noodles, then this is the best alfredo sauce to make any pasta dish shine! This alfredo sauce without cream is way better than what you'll find at Olive Garden, it's tastier and healthier too!
👩🏽‍🍳 Why This Recipe Works
Family-Friendly: This traditional alfredo sauce is a great recipe for all ages! When tossed with pasta it makes for an easy kid-friendly dinner too.
Tasty: This easy recipe is full of flavor all thanks to fresh parsley, salt, pepper, cream cheese, and a splash of milk. You will want to make this cream sauce all the time!
Easy: This alfredo sauce recipe is stress-free, made with simple ingredients, is totally fail-proof, and will help you get dinner on the table in less than an hour.
Healthy: This recipe is low carb, lower in calories, and lower in fat than most as store bought alfredo sauces.
🥛 What Can I Use Instead of Heavy Whipping Cream in Alfredo Sauce?
You can totally make a cream sauce without heavy cream! One of the easiest ways to substitute heavy cream in alfredo sauce is to use a thickener + milk. We chose corn starch + milk because it gives that same creamy texture without the fattiness that heavy cream brings.
But the great thing about this recipe is - you can use any type of milk instead of heavy cream such as whole milk, skim milk, low-fat milk, and different types of unsweetened dairy-free milk.
🥘 Ingredients
You don't need a lot of ingredients for this easy homemade alfredo sauce recipe! With just some pantry items and a couple items from the refrigerator, you will have a flavorful sauce ready in no time. If you do not have these ingredients, then you easily find them at your local grocery store.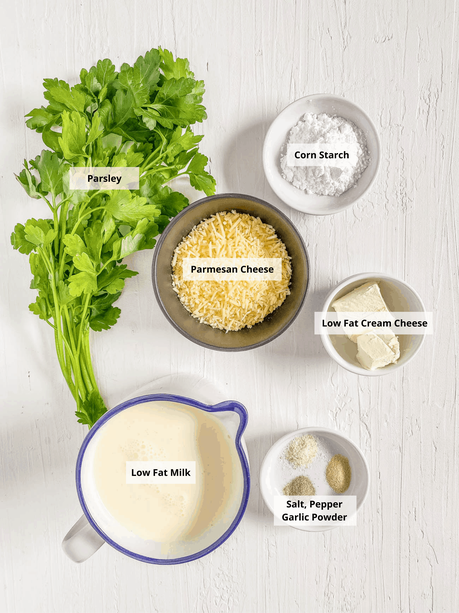 Dry Ingredients
Corn Starch: Also known as corn flour, cornstarch is a great gluten-free substitute for wheat flour. Cornflour mixed with water allows this sauce to be a thicker sauce.
Garlic powder, salt and black pepper: Just a little bit of these three spices is all that is needed to add flavor to this creamy alfredo sauce recipe.
Wet Ingredients
Milk: We made this light alfredo sauce with regular milk instead of cream, and chose low-fat organic milk for this recipe, but you can use any type of milk!
Water: Cold water is needed to mix with the corn starch. Be use to use filtered water.
Freshly Chopped Parsley: Brings fresh and bright flavors to this dish.
Cheese: Both cream and parmesan cheeses are needed to make this sauce rich and thick.
📖 Variations
Vegan Alfredo Sauce Recipe Without Heavy Cream: Use soy or unsweetened almond milk in place of the dairy milk. Substitute the cheese for ½ cup a vegan parmesan cheese and six tablespoons of nutritional yeast. You may need to add more corn starch to make sure the sauce is thick enough and the best quality.
Add Herbs and Spices: To give this recipe a little more flavor, feel free to add white pepper, a dash of paprika, or fresh coriander or rosemary.
Extra Creamy Consistency: Add sour cream or mozzarella cheese to give this recipe more decadence.
Thickener: Instead of using corn starch, feel free to use arrowroot powder, regular wheat flour, or tapioca flour. Keep in mind, the way this recipe is written it doesn't need butter or a roux. If you use wheat flour, you'll need to add butter and make a roux, and this recipe will no longer be gluten free.
Alternative Milks: Use any kind of milk you like such as unsweetened flax, cashew, coconut, or oat.
Chicken Alfredo: If you are serving meat eaters, feel free to add in some shredded chicken breast to the pasta and sauce! You can also make vegan chicken alfredo by using tofu or meatless chicken tenders with pasta.
🔪 Instructions
See the complete list of ingredients and detailed instructions below for how to make classic alfredo sauce without cream.
Heat Milk: First, heat the milk in a saucepan over medium heat until it simmers.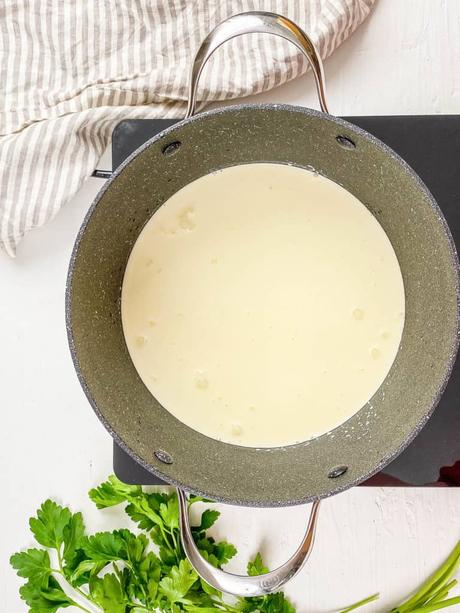 Combine Corn Starch and Water: Meanwhile, combine the cold water and corn flour in a bowl until mixed.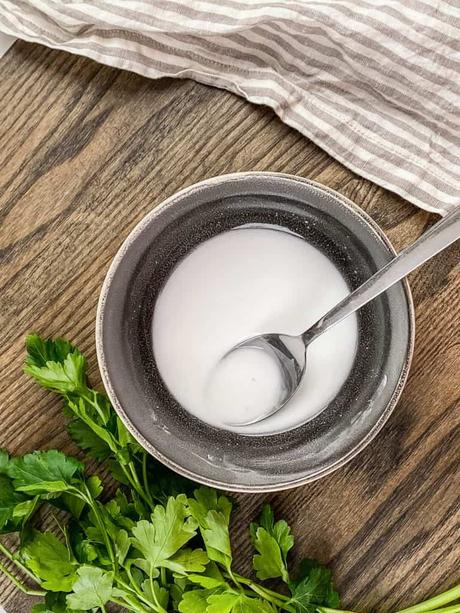 Thicken Sauce: Once the milk has just started to simmer, pour the cornflour mixture into the milk while whisking to make sure no lumps form. Reduce heat and continue to stir until sauce is smooth and thickened.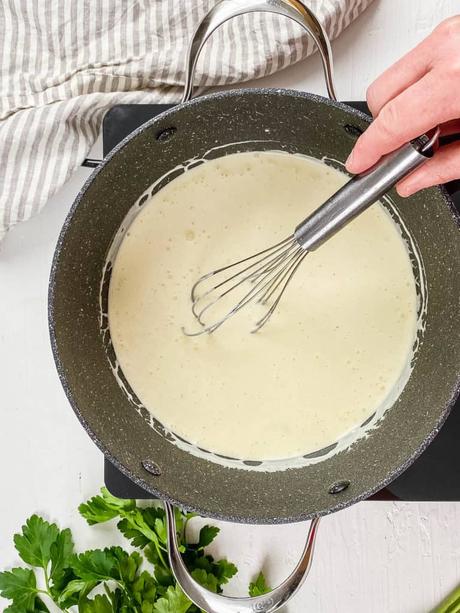 Add Cheese and Seasoning: Next, add the cream cheese, parmesan cheese, garlic powder, salt, and pepper. Whisk until smooth.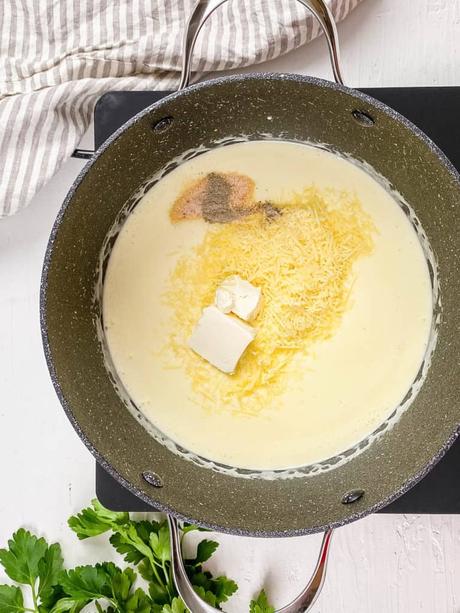 Season and Serve: Adjust the seasoning to taste, then stir through the chopped parsley and serve immediately with your favorite pasta.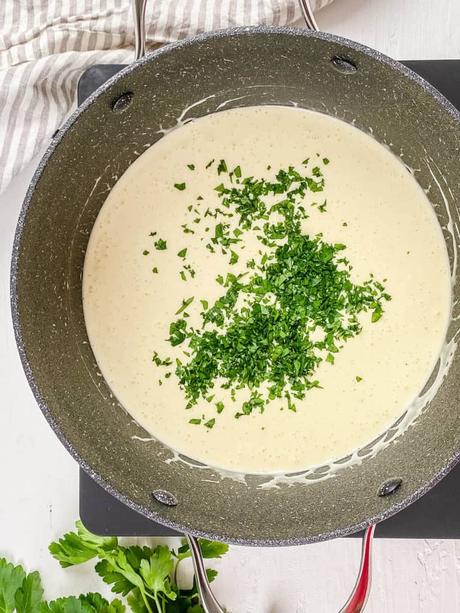 We chose fettuccine pasta to make the classic dish: fettuccine alfredo without heavy cream!
❓Recipe FAQs
Can you use evaporated milk instead of heavy cream in pasta sauce?
No, evaporated milk is not the same texture and will not yield the same results. You can use any type of other unsweetened milk in place of heavy cream. You may need to adjust the amount of corn starch if you use a plant based milk versus regular milk though.
Is heavy cream and heavy whipping cream the same thing?
Heavy cream has a little more fat content than heavy whipping cream, but they are both similar dairy products. Both are traditionally used when making alfredo sauce, and helps to give the sauce that thick creamy texture.
What can I substitute for heavy cream?
Instead of heavy cream, you can use silken tofu and soy milk, cottage cheese and milk, and flour and milk, or corn starch and milk.
👨‍👩‍👧 How to Serve
Serve this homemade alfredo sauce without heavy cream with your favorite type of pasta.
For a low carb option, you can also pair this cream free alfredo sauce with palmini noodles, heart of palm noodles, shirataki noodles, zoodles, etc.
🧊 How to Store
Allow the sauce to completely cool prior to storing in an airtight container. Once the sauce has cooled, trasnfer it to an airtight container and place in the refrigerator for up to four days.
To freeze this sauce, transfer it to a freezer-safe bag or container and freeze for up to six months.
💭 Expert Tips
If you want the sauce to be a little thicker, add more of the cornstarch mixture.
Toss this tasty sauce through cooked fettuccine pasta to create fettuccine alfredo!
Ensure the milk doesn't come to a boil otherwise the corn starch mixture, when added, will form large lumps very quickly.
Serve with your favorite pasta.
For best results, always use cold water to mix with corn starch before adding to the heated milk.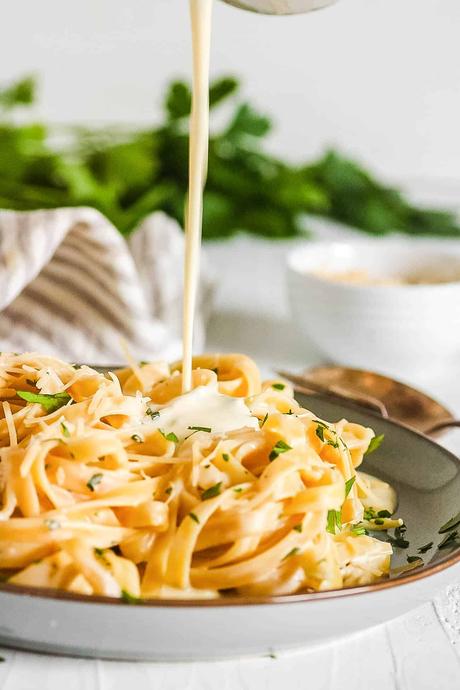 🥕 More Popular Recipes!
📋 Recipe Card
Alfredo Sauce Without Heavy Cream