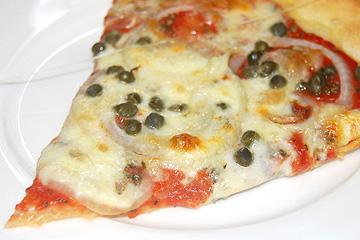 Unless you have a brick oven in your backyard, pizza isn't exactly something that you can make at home; the regular kitchen oven simply can't reach high enough temperatures. It is however possible to approach the flavors of a pizzeria-style pizza by using a few expedients.
There is more than one way to make home-style pizza, the method that I am about to describe is quick and reliable. As usual with Italian cuisine, quality and simplicity of the ingredients is essential. Pre-made bread shells, pizza sauce and pizza mozzarella must be avoided! Here is what you need: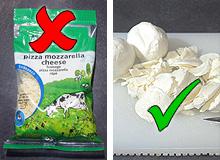 - 1 perforated pizza pan
- 450 g bread dough (from a bakery or bought frozen in specialty stores)
- ¾ cup uncooked strained tomatoes (fresh or from a quality brand, e.g: Mutti, Pomì, Molisana)
- 300 g fresh bocconcini mozzarella
- some extra-virgin olive oil
- one pinch of salt
- one pinch of dried oregano (optional)
- some fresh basil leaves (optional)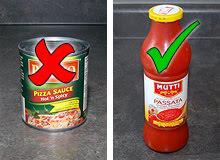 - your favorite toppings (I used capers and onions)
The perforated pizza pan is essential to allow the dough to cook evenly without becoming crunchy. Its holes allow excess moisture and the CO2 produced by the leavening process to escape so that the dough can cook rapidly without forming bubbles. The thin aluminum allows the pan to match the temperature of the dough that lays on it, preventing any hardening.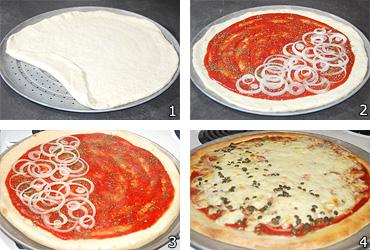 First, warm up the oven to 450 °F (230 °C). Allow 15 minutes for the oven to fully reach its temperature.
Flatten the bread dough into a disc that fits the pan. The dough should feel fluffy and slightly elastic. If it's too elastic, give it some time to relax its gluten strands.
Coat the pan very lightly with some olive oil, then transfer the dough onto it (1).
Add the strained tomatoes, a pinch of salt, the oregano and any toppings that need to be fully cooked, e.g.: onions, fresh mushrooms, peppers (2).
Half-bake the pizza base for 7 minutes. This allows the dough to cook through, without the weight and moisture of the cheese.
While the base cooks, chop the mozzarella in small bites and prepare any additional toppings that don't need to be fully cooked, e.g.: capers, olives, ham.
Remove the pan from the oven (3) and quickly add the cheese and the remaining toppings. Put the pan back in the oven.
When the cheese is completely bubbly and starting to brown in some spots (after about 7-8 minutes), the pizza is ready (4).
Add a drizzle of olive oil or of chili oil (if desired) and the basil leaves, serve immediately.