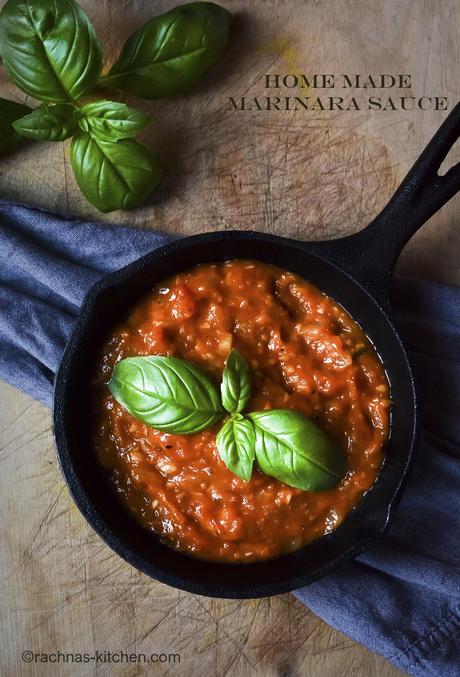 Home made marinara sauce is an Italian sauce prepared by cooking juicy ripe tomatoes along with onion, garlic, basil, salt and peppers. It is a fresh, deep red, mellow tomato sauce which goes well with many Italian recipes whether it's Pasta or Spaghetti or . As many of you would know that now a fifth taste that is Umami apart from sweetness, sourness, bitterness, and saltiness also exist. Umami is nothing but a savoury flavour which we can taste through receptors specific to glutamate. Tomatoes are rich in natural glutamate which creates umami flavour.
Literally Marinara means " SAUCE OF THE SEA " in Italian. Some resources claim that this marinara sauce was originated in mid 16th century by the cooks on the Neapolitan ships voyaging back from America. That's how it got this name - Sauce of the sea.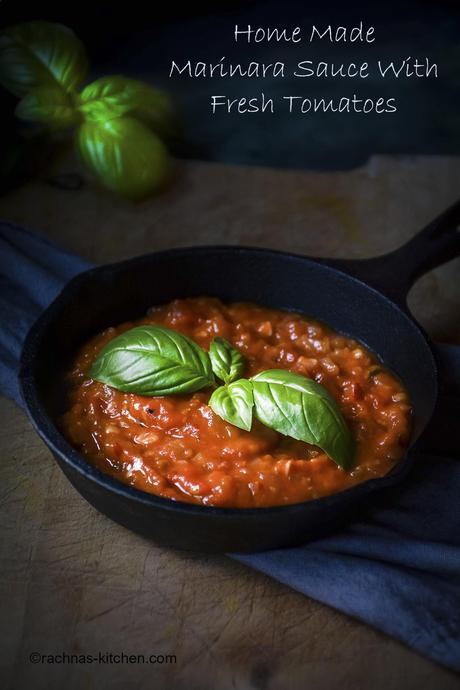 Traditionally marinara sauce is cooked for long hours to get silky, mellow flavour but today I am sharing a quick marinara sauce recipe. Sometimes we don't have enough time to plan our meals. This is a apt recipe when you need a quick sauce for your pizza or pasta.(also if you don't want to visit market immediately to buy).
Due to excessive use of tomatoes some times marinara sauce becomes acidic. So to reduce that I have used onion. Also usage of honey in recipe can reduce acidity in the sauce.
Tips to reduce acidity in home made marinara sauce - Some other tricks are also there to reduce acidity like you can throw a celery stalk or a carrot or both in sauce pan while making sauce. After the sauce is done, take the celery or carrot out the sauce pan. You will never ever get acidic flavour in your sauce.
Let's see the recipe now.
Ingredients
1 tablespoon extra-virgin olive oil
2 large cloves garlic, minced
2 medium onion, chopped
500 grams ripe tomatoes, blanched and chopped
1 bay leaf
1 bunch fresh basil
1/2 tablespoon honey or sugar
1/4 teaspoon salt
A pinch of freshly ground black pepper
½ teaspoon vinegar
Crushed red chili flakes, to taste
Mixed herbs, to taste
Step by step on home made marinara sauce with fresh tomatoes
Step 1. Place a heavy bottom sauce pan over low heat. Pour olive oil.
Step 2. Add chopped garlic and onions. Saute till garlic and onions get translucent. Be careful onions and garlic should not change colour.
Step 3. Now increase the heat to medium and add blanched tomatoes, honey, salt and pepper. Gently place a bunch of basil and bay leaf on top. Bring the mixture to boil and then simmer on low heat for 20 minutes, pan covered, stirring occasionally.
Step 4. When sauce has thickened and reduced, remove basil and bay leaf. Add vinegar and crushed dried mixed herbs. You can also add chili flakes which is optional.
Step 5. Use an immersion blender to puree sauce little bit but don't puree it entirely. Some texture should be there. This step is optional and you can also skip this step completely.
Enjoy ! It can stored covered in refrigerator for 6-7 days.
Recipe card - Marinara Sauce with fresh tomatoes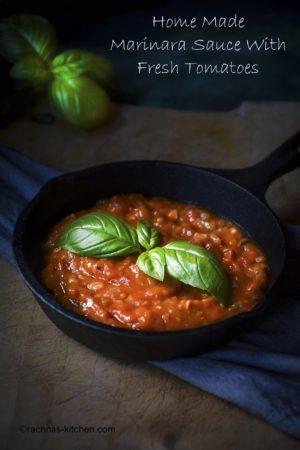 If you are looking for some sauces recipes, you may might be interested in following.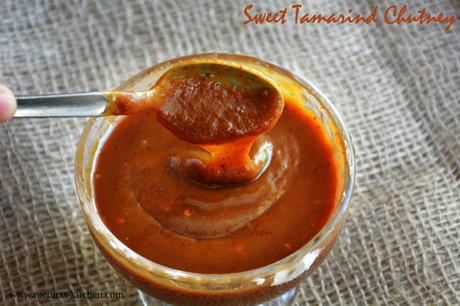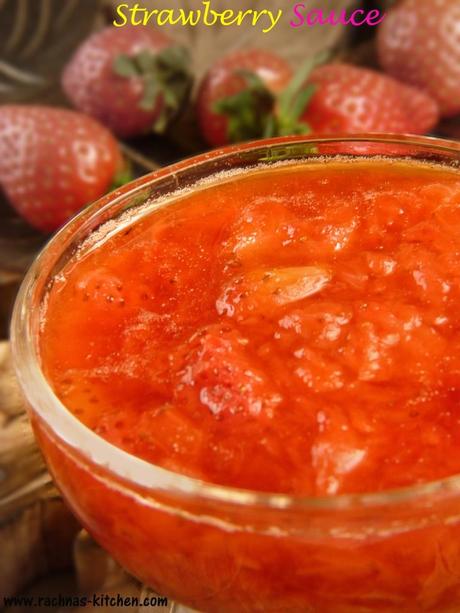 3. Green Vegan Cashewnut Chutney