An interview with Little Red's mom Susan…
Little Red is one of the former Vick(tory) dogs…
last Christmas Little Red had some challenges with the Christmas tree and decorations
2-6-11 We've had a rough few days. I decorated my Christmas tree and put up my house decorations over the weekend. When I turned on the lights, Little freaked. She ran to my bedroom where she usually is too afraid to go and didn't leave for two days (except for potty breaks). I tried to comfort her and help her see that the lights wouldn't hurt her. She was too terrified to respond to anything — even treats. I've never seen her so frightened –not even her first days here. I stayed home from work on Monday (I was sick and sick at heart). I stopped lighting any of the inside Christmas lights to see if would help her. It has, but even unlit — the tree seems like a scary monster to Little. She finally came back into the living room last night and slept in her usual spot. She let me cover her with her blanket. But tonight, she is back in my bedroom curled up on a dog bed. If she hears me get treats for the other dogs, she comes out to investigate but as soon as the treats are gone, she hurries back to the bedroom. It doesn't help that it's been sub-zero for days (yesterday 27 below without wind chill). Little's feet are so cold that she doesn't want to do her usual running. Exercise helps relieve her stress but it's just too cold. All of my dogs are scurrying out and right back inside. Maybe tomorrow will be warmer and Little will be able to go for a good run. We'll see.and the good news… a gift for Little12-11-11 What a difference a week makes. This is a picture I just took of Little sleeping on her easy chair with a fully lit Christmas tree! This past week has been about helping Little overcome her fear of the inside Christmas lights. I took the advice of so many of Little's Facebook friends. I used lots of treats, the Chill Out spray, melatonin, and very small steps every day. Now the lights are on and Little is comfortable enough to fall asleep in the Christmas glow. Yesterday when we went to her CGC class, she stood between the seats and pressed her cheek against mine like she always does. But she stayed close the entire drive and put one paw on my shoulder. If she could have climbed into my lap, she would have. Little really wanted to be close to me and I like to think she was thanking me for all of the treats and love. I know I was thanking her for all of the bravery and trust.1-14-12 Can you say relaxed!!!  Little loves listening to her new CD — "Through a Dog's Ear". She got this wonderful gift from her good friends CeilaSue and CiCi. We love it! All 5 dogs respond to this music in the most amazing way. After breakfast (which is at 5 am in my household), the dogs are up and down and in and out and have a hard time settling. Now I put on the CD and the dogs all take extended naps while I have time to sink into a novel before the day really gets going. The music is classical piano pieces and the cadences are designed to calm dogs. It's been clinically tested with shelter dogs and I can say unequivocally that it works!!! We've been listening to the music every morning in preparation for Little's 1st acupuncture session. I played the CD for her to keep her calm. It was really a special time. I'll write about it later this weekend. Right now we've got some more listening and napping to do.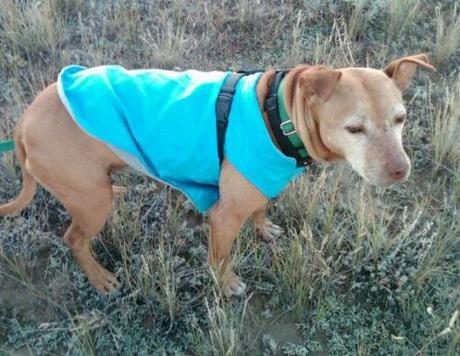 "no matter what she did, Susan never felt the diminutive pit bull truly relax. Little Red slept with her eyes open, her body curled up tight, on guard through the night. Her muscles were always tense, almost as if anticipating a kick or blow. Susan was desperate to help her dog feel safe.
Then one night, she put on a CD of specially arranged classical music designed to calm dogs. "She heard that music, and she just sprawled out on her bed and sighed. She went to sleep with her eyes closed, like her whole body was breathing a sigh of relief."
"Susan uses the music every day for Little Red, in addition to acupuncture and lots of tender loving care. "It was like a miracle. There's something intoxicating about that music," she says.
http://www.sfcv.org/article/classicals-new-bow-wow-dogs
now onto the interview…
please tell a little bit about your background with dogs/pit bulls... and general background…  I've been involved with rescue dogs for many years although I've never had a pit bull and didn't know much about them. When I heard about the Vick bust, I became interested in learning more about the dogs who were rescued.   It wasn't so much that they were pit bulls as much as the fact that the Vick dogs had suffered such abuse and they were surviving and thriving with love and attention.  It seemed like a miracle that such traumatized dogs could learn to trust people again.
when / why / how did you meet little red and decide to adopt her?  I was volunteering at Best Friends in February 2009 and had heard that 22 of the Vick dogs went to BF.  One particular dog broke my heart – her picture seemed so sad and poignant.  It was Little.  I sponsored her and read everything about her through BF.   I had her picture in my office and I looked at her face every day.  I volunteer once a year for a week at BF and in 2010, I asked if I could meet her.  The staff took me to where she lived (Beefcake was her companion) and I got to watch her in the yard.  She was the "out" dog  so she was right in front of her unit and I asked some of the staff to take her picture with my camera.  The next Feb. (2011) when I went on my annual visit, I asked if I could volunteer in her unit.  I had no idea I could volunteer where she lived.  That year, I spend 6 days watching her and I got to observe her shy dog class.  I was already in love with her but never dreamed I could adopt her.  I was sure so many people with experience with pit bulls would have already applied and I'd never have a chance.   On the last day at BF, I screwed up my courage and went to the adoption office to inquire about her status.  I was shocked when Kristi Littrell told me that several people were interested in adopting her but no one had put in a formal application.  That was it for me.  I completed the application and did all the things necessary to be qualified.  Little passed her canine citizenship test in August and a few weeks later I brought all of my dogs to  Best Friends to meet her.  The meeting went very well and in Sept. 2011 she came to live with me.
what is the hardest thing about adopting little red (the process, problems you've had with her health, emotional trauma, or?)  Little's emotional trauma was very difficult and enormously sad.  She was very frightened and nervous for the first few weeks and months.  She was afraid of coming inside the house and I had to carry her through every doorway.  The normal sounds of a household (washer/dryer/dishwasher) frightened her and she wasn't sure if she could trust me.  It took many weeks for her to feel comfortable at home.  I believe she also missed her caregivers very much, especially Betsy Kidder who had been with her since she was rescued.  She was very lonely and sad about losing all of her canine and human friends.
progress you've had with little red … examples  
She smiles every day and she loves to run and prance around her pasture. She also jumps on my lap for her special treats.
why did you want to adopt a pit bull ?
I didn't necessarily want to adopt a pit bull.  I wanted to adopt Little Red.  Something in her eyes made me want to help her regain the joy in life that every dog should feel.
how many dogs do you have?  5 dogs counting Little:   Cheeto, a heeler cross from Old Friends at BF; Daisy a beagle from my local shelter, PomPom, a 3-legged Pomeranian with 3 teeth who was abandoned; and Ella a mini-dach rescued from a puppy mill.
does little have a favorite best friend?   She and Cheeto are good friends.  She also likes my PomPom very much.  The little 3 lb dog bosses her around and she is so happy to obey.  Little  really  likes other dogs and is very comfortable with them.   In September, we visited with Halle (another Vick dog) and her 2 pit bull brothers.  Little was in heaven. She adored them all and fell in love with Jagger, a small pit bull pup with a spinal abnormality. Little was totally smitten with Jagger  and followed him everywhere.  She loves pittie play. None of my other dogs play like pit bulls do and Little misses that..
little's favorite toy, food, treat, place?
Little doesn't play with toys.  She loves boiled chicken which is the treat all my dogs love.  I cook it for them every week. .  She also found an antelope horn in the pasture and she carried it around and chewed it for several months until it was gone.  Santa is bringing her a new one for Christmas.  I'm going to let her "find" it in the pasture.
does little like to travel ?  No she doesn't.  She is a homebody who likes to run in her pasture and snuggle in her bed.
fears/phobias still to overcome?  Loud noises, changes in her routine, new people. Sometimes she dreams and I can tell that she is upset.  When that happens, I sit with her and play special music that is bio-acoustically engineered to calm her (Through a Dog's Ear  cd's).  I also use an herbal spray (Chill Out) that helps her regain her emotional composure.
biggest reward from adopting little?  How happy she is to be in a home.  We are very bonded to each other and I love to hear her snore lightly each evening as she drifts peacefully off to sleep.
unexpected joys?  challenges? Watching her run with abandon across the pasture.  She has a 6-acre fenced yard so she never has to be leashed.  She loves to explore and when I whistle for her, she comes racing to me at top speed, circles around and stops at my side.  She looks up at me and smiles her funny, squinty smile and it makes me laugh.
The biggest challenge is her health.  She has allergies that flare quite frequently.  Because she is Babasia positive, my Vet does not want to keep giving her antibiotics for fear that she will develop an immunity.  When her feet flare, they can get infected very quickly.   We've tried so many things to help her and have had the best results with acupuncture and laser treatments for her feet.  She is also on a grain free diet. She has new boots for the snow and that will help to keep her feet dry.
anything else you would like to share?  Little is a constant joy.  She has started to smile more and more and she now comes to me to seek attention and affection.  She's home and she knows this is a safe place where she will always be loved.  She has blossomed.