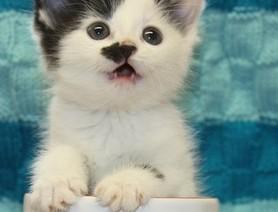 Luminus AKA Kitler. Photo credit: Wood Green shelter
Late last week, shelter officials in Godmanchester, Cambridgeshire, England, reported that the kitten has been passed over by hundreds of prospective owners because she has a patch of black fur underneath her nose that is reminiscent of the notorious dictator's distinctive toothbrush 'tache. The kitten was found alone and close to death at the side of the A421 near Kempston, Bedfordshire, by a member of the public on July 21.
"We rehome five and a half thousand animals every year but we cannot find a loving owner for Kitler. We think her unusual markings are putting people off," a spokeswoman for Wood Green shelter told The Daily Telegraph.
Kitler re-homed. In a heart-warming piece of good news it turns out over 500 people rung the shelter to offer Kitler a home. In a blog posting today, Wood Green said, "We are delighted to say that we have now found a wonderful, loving home for Luminus (Kitler) and we hope this will be the start of a long and happy life for her, now that she has a second chance." The shelter reminded that "we still have many other cats looking for loving homes and find that the black and white cats are often the last to be picked as people prefer the more colourful pets." Click here for the shelter contact details.
Offers to re-home Kitler flooded in from across the world. Potential owners from Hawaii, Romania, the Czech Republic and America all promosed Kitler a happy home. Wood Green chose not to reveal who they decided to give Kitler to in the end.
Hitler likeness spotting. "Finding likenesses of Hitler has become a semi-popular pastime for people with a dark sense of humor," noted HuffPost UK. "In fact, the orphaned kitty that made headlines this week would be right at home on a website called, Cats That Look Like Hitler."
Does your cat look like Hitler? The website offers guidelines for determining if a cat qualifies as a feline Hitler: "We're looking for that toothbrush 'tache, that most unfashionable of facial adornments. Or the flock-of-seagulls hairdo. Perhaps an evil glint in its eye, or maybe a Kitler will be Sieg Miaowing their paw all the way to their dinner plate. Of course, the best Kitlers will have all of the above."